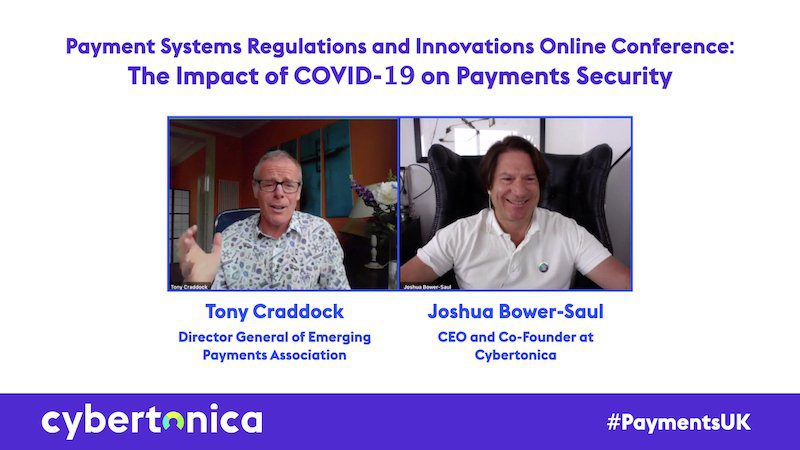 Cybertonica CEO and Co-Founder Joshua Bower-Saul along with Tony Craddock of The Payments Association discussed the Impact of COVID-19 on Payments Security at Payment Systems Regulation and Innovation Online Conference on June 4th, 2020. Cybertonica Business and Marketing Admin Naz Tuzunalper is sharing Cybertonica's highlights and impressions from the conference.
Hosted by City & Financial Global, Payment Systems Regulation and Innovation Online Conference focused on all aspects of payments innovations, including regulatory framework, in the context of the new challenges brought on by the current global crisis.
Issues covered in the event include: 
Reducing the risk of fraud and cyber risk with and within the next generation of payments security
Shaping and re-shaping the payment industry: privacy, data access and regulatory considerations
Highlights from the Webinar: The Impact of COVID-19 on Payments Security
Tony Craddock, Director General of The Payments Association, kicked off the session with the question of what the data access scales contribute to conversion around data tracing and privacy. Our CEO and Co-Founder Joshua Bower-Saul shared that Cybertonica's foundation is based around privacy regulations including the GDPR, PSD2 and open banking. He said: "Just the way it will be allowed to trace people who carry the coronavirus to protect the rest of the community, we are tracing the virus carriers in the payment, banking and cyber world… We use the right applications of the regulations to get access to the needed data and then we synchronise that data to get a mosaic picture of that persons behaviour."
Talking about the future trends and changes, and referring to the token symbolised as our company logo, Joshua said: "It is possible to tokenise anything on a device with the consent of the user." He added "That token can be a much less intrusive way of tracking where that device is in relation to other devices, and what kind of trajectory it has had during the day."
The need to create an optimal balance between the need for security, privacy and frictionless customer journeys was further demonstrated by our ScreenWiZeTM solution. ScreenWiZeTM can track devices by checking behavioural data points on the use of the phone based on gyroscopic movements, the speed at which the device is moving, and it automatically traces back and fills in the data base to provide frictionless secure authentication.
With reference to COVID-19 related real-world problems, Click & Collect fraud trend was mentioned. Joshua said: "The online market is growing 40-50% currently in the COVID-19 situation, there has been a problem with people committing fraud by getting cards, ordering Click & Collect from another city and having someone else pick it up before the card can be established as being fraudulent or stolen…" Further mentioning that this is the kind of operation where we are able to triangulate that data and prevent fraud before it takes place.
The discussion continued with Tony asking: "The security and fraud world is so nuanced with a jargon and tech… automation, robotics, machine learning and artificial intelligence – all of them are ways of coming through…So for the listener, what is the direction of travel? What are the main trends regarding cyber risk? How do you think it affects the topic of payment? "
Joshua answered that the main problem the industry is facing since COVID-19 started is tens of billions in lost revenue and claims and it is a problem that is growing 20 – 30% a year. He added: "Fraudsters aren't ignorant of the technology that's being used in today's standard incumbent rules-based system." Correspondingly, he highlighted the necessity for banks, acquirers, payment service providers and merchants to:
Automate Systems: Utilise machine learning to make very distinct determinations about how things are interrelated and what is modelled.
Utilise Intelligence:  Cybertonica's AnomalyticsTM platform models billions of behaviour sets to monitor the real deviations from the norm to provide risk management & prevent fraud before it happens.
Draw Customer Insights: 50 – 60% of banking related cyber-attacks is through fraudsters getting access to passwords or in the case where the systems are secure fraudsters are using tactics such as phishing, friendly fraud and social engineering  to get people to make operations that you do not want them to make.
By exemplifying the infamous 'sports fraud' committed by Lance Armstrong, Tony referred to the need for fraudsters to be one step ahead of the authorities in order to not get caught and asked: "To what extent does this apply here? Are we ahead of these fraudsters?"
To which Joshua responded with the analogy of 'how to outrun the bear' and said: "The reason that we are successful even though we are a small company compared to some others is that when people work with us and see what we do, they realise we are faster than the bear." In other words, he pointed out that one doesn't need to outrun the bear, and just needs to run faster than the slowest person.
By adopting strong fraud prevention and risk management technologies that secures systems, the likelihood of fraudsters to brake into systems decreases as they will target systems that do not have these security measures in place. In addition, Joshua emphasized that by reducing the need for users to submit personal details on a system that is easily hackable, fraud protection requires the need to anonymise users' data and make systems simple to implement so that the vast majority can have access to it.
In the area of developments regarding payments and credit instalments, Tony asked, "What are the developments regarding payments and credit instalments and what is required to make this work?"
Joshua stressed the benefits of utilising risk-based authentication platforms to provide access to fair credit scores, and aforementioned that Cybertonica can provide access to fair credit scores based on its risk-based authentication models to address legitimacy (i.e. fraud issues regarding illegitimate users in e-commerce and payment in instalments platforms) and affordability issues (i.e. gaming) in the industry.
Further, open banking regulations are to improve solutions regarding this issue said Joshua, and added: "The more that we have access to a persons' banking data with their consent to model it, as opposed to holding it, we can tell what kind of payer they're going to be and we can also offer an affordability score based on that."
In the gaming industry the same approach is used to automate affordability recommendations to the gaming platforms so that they are not pushing people outside of their financial comfort zone into a danger zone when these people get hooked on play. "This is a very big regulatory matter, but it is also a human matter" Joshua added.
Tony Craddock concluded the discussion by asking 3 Top Tips from our CEO & Co-Founder on fraud prevention:
Don't rely on the rules of yesterday to solve the situations of tomorrow.
Review and revise your policies consistently and in real-time if you can. Fraudsters have a comprehensive understanding of how policies work and they study as well as talk to people who devise these policies regularly.
Manage device identity on the client side.
At Cybertonica, we rigorously work to make a system that can be applied anywhere in the world with a low cost of entry. Contact info@cybertonica.com to schedule a meeting with our team to learn how we reduce fraud and manage risk using AI and Machine Learning.
About Cybertonica
Cybertonica is an award-winning platform for the management of risk, AML, compliance and fraud detection. Through continuous authentication, friction is eliminated for legitimate users and payment agents while automation delivers huge efficiencies in managing fraud prevention. Cybertonica means no compromises on inclusion, risk, privacy or security.
Cybertonica has won numerous distinctions and awards since its product came to market, including the "Best Use of Payments Data Award" at Payments Association Awards 2018 and the "Best Data Analytics and Science Award" at Merchant Payments Ecosystem Awards 2018. Visit cybertonica.com to join us and build the future of Trust in Transaction™.