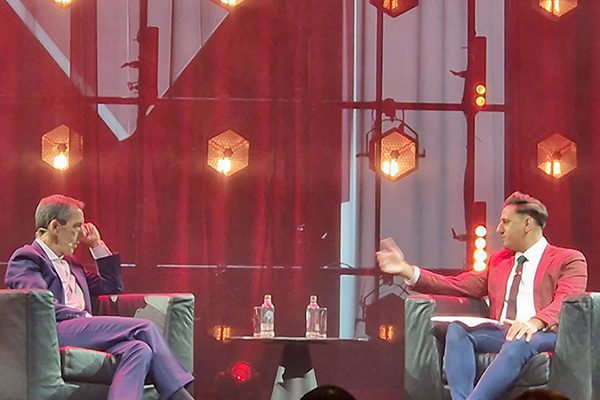 HSBC's UK CEO Ian Stuart talks about the continuing concerns around the SVB acquisition and how the bank will evolve under its ownership.
HSBC plans to take Silicon Valley Bank (SVB) global within the next five years to connect SMEs worldwide, but the UK bank's CEO Ian Stuart knows it must prove it's the right institution for the task and prove critics wrong.
Ian Stuart is trying to put the concerns of start-ups at ease who still fear that the acquisition of SVB by a risk-averse banking corporation like HSBC will mean less funding opportunities compared to the riskier investments that SVB would have undertaken in the past.
Speaking at Money 20/20 Europe, the CEO says the market shouldn't be concerned, but he is aware that the bank has a way to go to ease those worries.
"We're acutely aware of some of our PR. But we've been trading for over 150 years, taking risks all over the world and combined with a balance sheet, which is quite sizable, we take risks all the time," he says, stressing that HSBC will "protect what SVB had" and "time will be the barometer of that".
HSBC purchased the UK arm of Silicon Valley Bank (SVB) for £1 on 13 March in a swift weekend deal after the collapse of the US headquarters. Banks and business were struggling to work out the impact of the deal because it lacked transparency.
However, Stuart says the company had discussed what it would do if an opportunity like SVB became available. So, when everything kicked off at that Saturday morning the bank only had to consider whether it was the right bank to take this on.
"By the time we signed the document on the Monday morning at 6am, we were quite convinced that this was going to be good for all parties," he says confidently.
"Our challenge over the next few years is to prove to people that we are the right bank. I can assure you that SVB is a very good bank in the UK; we did our due diligence. We believe we've got better talented people [and] good processes."
HSBC intends to keep SVB as a standalone bank and sustain its structure, but also grow it with HSBC's portfolio of products.
"[This] means you can really go from series A to C funding all the way through to IPO and never go outside that bank," explains Stuart. "The plan is, once we've got it all integrated […] we will start to build that out. And then very quickly take it global.
"We are going to take this global. We have really good plans in place already. It's up to us now to prove that we can do that."
Connecting SMEs worldwide
The intention is to grow SVB from a UK bank to become a worldwide presence. Stuart believes the acquisition of SVB and HSBC's global presence means the global expansion plans can be accelerated by up to five years.
"We've got a really nice commercial bank in the US. So, we're going to try and link the US into the UK, [the] Middle East – [we have a] big presence in the Middle East [and its a] very active market – and then into Asia."
If HSBC can "get the horizontal working really well", Stuart says, the objective will be to link up SMEs across the world.
"[A] lot of banks are quite good at the very top; we are very good across the commercial sphere," Stuart explains, stressing that observers should not doubt the plan and the ambition of HSBC to make that work.
Impact of macro environment
Regardless of how HSBC plans to grow SVB, the global bank cannot ignore the economic situations that are stifling investments and innovation.
Stuart admits that the rest of 2023 is going to be quite difficult, but he remains optimistic that in late 2024 the market will start to come back.
"If you look back over history, this is not new; the market flies along and then it will take stock, get its breath back and you get a slight adjustment and then you go again. I'm not concerned by that [because] we're in a natural pause period, but inflation is a problem," he says.
"Central banks around the world are going to work really hard on inflation to try and get that under control. I think rates will come back down, but not as quickly as people think. But the market will come back.
"It has to come back because the investment required for sustainability over the next 10 years is enormous and that's a really exciting part of the business, and that's where innovation is going to play a really important role as well. So, it will come back [but] it might just take a little bit longer."
The AI gold rush
While inflation, investments and SVB's expansion goes through the necessary motions, Stuart believes the potential for further digital growth and artificial intelligence in banking will transform the way banks work forever.
"I'm a big fan of AI […] and sustainability is going to drive that even harder," he says. "If we can take a lot of manual work out of banking – and we still do thousands and thousands of hours of manual work every year – [that] frees up human capital to go and spend with customers to work on really exciting things rather than doing 400,000 annual reviews. We can do that through technology."
Stuart intends to use AI to free up customer relationship managers from annual review paperwork for its corporate customers and transfer that task to bots.
"Let machines do the ordinary and let humans do the extraordinary," he says.
Overall, Stuart believes the innovation economy is going to get faster and sustainability is going to be a big factor in this for the UK and globally. "If we just get those two bits right, we've got an amazing future ahead of us," he concludes.