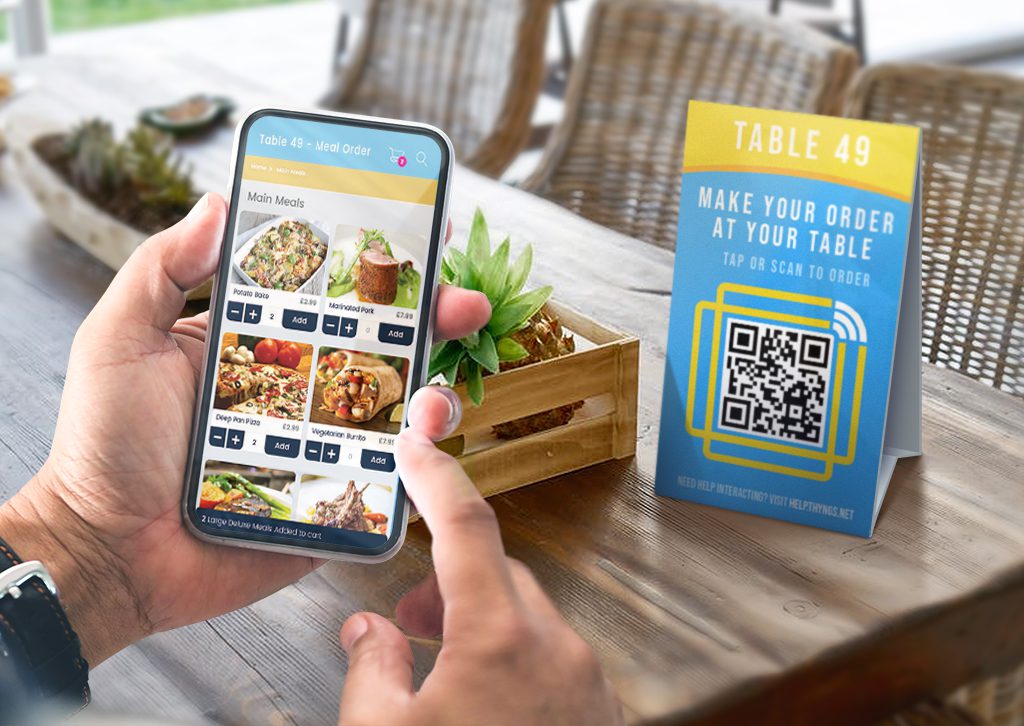 London, UK, 7th July 2020 – Judopay, a leading mobile-first payments provider, today announced that it has partnered with Thyngs, the physical-digital marketing specialist, to offer touch-free cashless payment solutions to businesses across the hospitality sector that are reopening from 4th July. At the same time, the partnership will offer charities another way of accepting cash-free donations, both during and after the pandemic.
Hospitality is one of the sectors that has been majorly affected by the COVID-19 outbreak. However, following the government's green light to reopen pubs and restaurants, there is mounting pressure for these businesses to deliver safer transaction experiences for their customers. Thyngs' technology turns any physical branded object into a point of sale using smart 'tap and go' technology such as QR codes and Near Field Communication (NFC). For hospitality businesses, this means that marketing assets such as signage, table menus and takeaway boxes, can become instant, touch-free points of sale, removing the need for a card terminal and reducing human interaction while still accepting in-person payments.
With no additional app download needed, Thyngs and Judopay's partnership allows customers to simply 'tap' with a smartphone just like contactless or 'scan' a QR code using a standard phone camera and pay for items while in a queue or while remaining seated at a table. This app-free, quick and easy set-up process requires no costly integration and means hospitality businesses can get up and running in a couple of days. Importantly, businesses gain new insights, helping them to better understand the customer in store.
The new partnership forms part of Judopay's UK-wide campaign, #KeepBritainMoving, which provides small and medium sized enterprises (SMEs) with a platform where they can access expert business advice, guidance or digital payments support, to help keep their businesses running during the outbreak.
Dr Neil Garner, Founder and CEO at Thyngs, said: "Our vision has always focussed on seamless marketing and payments. I believe technology and payments can be invaluable to businesses across the food and beverage sector, as well as charities, to secure payments quicker without the need for human interaction. We're proud to be playing our part in helping these vital sectors as we move out of lockdown."
Jeremy Nicholds, CEO at Judopay, said: "We're pleased to be powering Thyngs' payments, with the ability to offer its touch free technology to those businesses impacted by the lockdown. It will solve many of the issues that food and beverage based merchants are facing. By working together, we firmly believe we're moving towards a better and safer way to engage with customers through payments technology, and we're proud to be playing our part in defining this 'new normal'."
To learn more about the partnership, please visit: judopay.com
-ENDS-
About Judopay
Judopay is the leading mobile payments platform. Born out of the frustration with friction-filled checkouts we built a flexible solution designed to drive sales and improve the customer experience. Working closely with partners such as Mastercard, Discover and Visa, Judopay is continually building ways to enhance the overall payment experience for both the merchant and their customers. Available across multiple sectors, our solution is used by KFC, PepperHQ, Young's Pubs and Chip.
For more information please visit: judopay.com or find us on Twitter: @Judopay
About Thyngs
Thyngs revolutionary, app-free platform delivers unprecedented conversion rates for cashless donations, instant sales, customer loyalty and more. Thyngs actively works with over 300 charities such as Macmillan, RNLI, DKMS, and CLIC Sargent who can continue fundraising with new 'contactless' donation points, so donations can be collected 24/7. Most importantly, consumers can support the causes they care about safely and securely without having to handle cash or payment terminals.
To learn more, please visit: thyngs.net