The Payments Association Regulations 101 – Online Training Course, April 2023
April 25 @ 10:00 am

-

April 26 @ 3:30 pm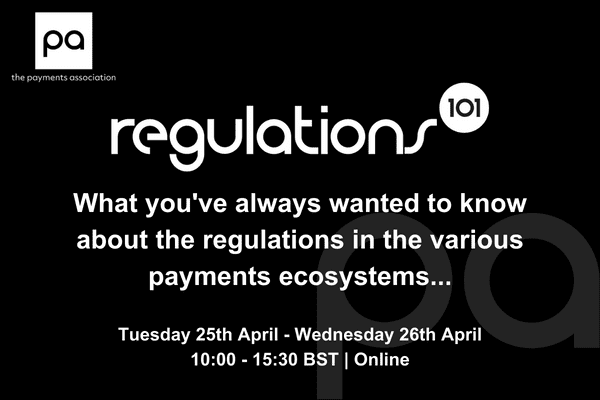 This Regulations 101 training course will cover payments regulations and frameworks (e.g. SEPA, PSD2, IFR, Open Banking, AML and other financial crime related regulations) as well as privacy and security regulations and standards (e.g. GDPR, incl. SCHREMS II, PCI DSS and others), and their potential overlaps.
It will also give an appreciation of the various types of licenses and permissions (and the relevant regulatory bodies) that need to be obtained by the various players in the ecosystems. Where possible, it will also give an overview of relevant regulations outside of Europe.
Payments 101 (or similar experience) is a prerequisite, as payments fundamentals and terminology knowledge is assumed. We highly recommend attending our Payments 101 course beforehand if you don't have enough relevant experience in the field of Regulation.
The course combines presenter-led sessions and thought-provoking videos. Drawing on real life examples, it weaves together the underpinning principles of legislation and other rules, with practical considerations.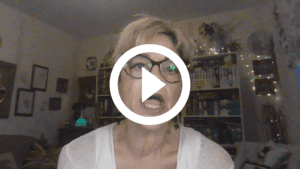 Course content for Part 1:
PAYMENTS ECOSYSTEMS RECAP (Cards and non-cards)
Ecosystem Recap & Strategic Considerations

Regulatory landscape overview – where regulations fit in
PAYMENTS REGULATIONS
SEPA: what is it, where does it all fit in?

PSD2, including IFR

Open Banking

Anti-Money Laundering

Authorised Push Payment (APP) Fraud Prevention

CBDC, Stablecoins, Crypto & Other Considerations
Course content for Part 2:
PAYMENTS LICENSES
AISPs, PISPs, Open Banking registration (UK)

Payment Institution Licenses (API, SPI)

e-Money Licenses (EMI, SEMI)

Practical Examples (e.g. access to RTGS, e.g. money remitters, crypto, FCA register, etc.)

Card Scheme Memberships
SECURITY & PRIVACY REGULATIONS
GDPR (incl. ­EU-US Privacy Shield – Schrems II)

Online Harms Bill

­PCI DSS

3D Secure

Practical & strategic considerations (e.g. overlaps with other regulations, permissions, etc.)
Who should attend?
This course is suitable for those who have already attended Payments 101 (or gained similar experience), as payments fundamentals/terminology knowledge is assumed.
FinTech organisations or technology companies needing to get a grasp on all aspects of payments regulations they are trying to incorporate into their business models
What will you gain?
An in-depth snapshot to the applicable regulations in the payments industry

Better understanding of how it all fits together and the ability to ask the right questions

Take-away reference material you will be able to use for a long time
Speaker: Neira Jones, FBCS, MsC
Neira advises organisations of all sizes on payments, fintech, regtech, cybercrime, information security, regulations (e.g. PSD2, GDPR, AML) and digital innovation. More than 20 years in financial services and technology made her believe in change through innovation & partnerships. She always strives to demystify the hype surrounding current issues and also enjoys her work as an expert witness. She likes engaging on social media and regularly addresses global audiences as a keynote speaker or chair person.
Testimonials:
An entertaining and engaging course.

Really informative, real life examples and news feeds which give you an overview of how companies are dealing with certain regulations.

It was a very good course with a very good speaker with a lot of knowledge about the subject. I would definitely recommend this.

Very informative and managed to neatly pull together the strands of the regulatory environment in a digestible way. I would recommend the course to compliance professionals or senior managers who need to understand the breadth of regulation that impacts the payments industry and their firm.
This course is CPD accredited. In order to receive full accreditation for the course, you must attend the full course. Please contact Orlanna Morris at orlanna.morris@thepaymentsassociation.org to receive your certificate.
Member discounts and passes
Login to your member account
You may be entitled to complimentary passes or discounts, and access to exclusive content as part of your corporate membership. Sign in using your work email address to continue:
Set up your member account
Logging into your member account means you can:
* Availability depends on membership level that has been applied to your Corporate account. Terms and Conditions apply.