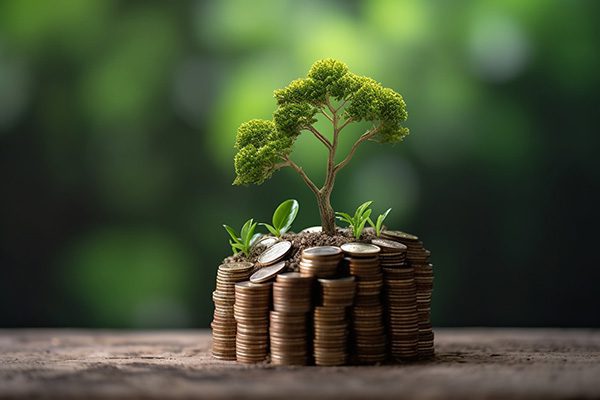 Tyler Pathe speaks to Crown Agents Bank on why the industry should integrate ESG into top-level decision-making and businesses that don't will find the price is getting higher.
What is this article about? Project Inclusion's Charlie Bronks discusses the most effective first steps businesses can take towards delivering on its ESG goals, the advantages of it as well as the details of CAB's sustainability journey.

Why is this important? Concerns around the direction of the financial industry's forces for change are coming increasingly front and centre, both within and outside of the sector. The price for inactivity is only getting higher, and now the industry must adopt and prioritise a multifaceted approach if they are to survive.

What's next? There's no time like the present to instigate change, and now the financial industry must decide the best course of action to champion this issue at every level.
The financial industry's approach to environmental, social and governance (ESG) initiatives is shifting as regulators worldwide pile on the pressure for change.
The UK's Financial Conduct Authority (FCA) continues to strike on the social element, among other areas, with the arrival of its Consumer Duty on 31 July, while the US Securities and Exchange Commission (SEC) is generating environmental progress with the advent of standardised climate disclosures for investors.
Support of ESG initiatives is gaining considerable momentum within corporations of the modern age. Above all, these changing attitudes are a response to the growing necessity to enact change for the better, going beyond the bounds of generic tick-box exercises and promotional endeavours.
With this, the requirement for actionable, measurable change is becoming an increasingly familiar feature on the agenda of financial regulators around the world.
And the price of inactivity is getting higher, but where should those wishing to instigate change within their own organisations look to start?
'The proof will be evident in the long-run'
Charlie Bronks, member of The Payment Association's Project ESG and head of ESG at Crown Agents Bank (CAB), has seen attitudes towards this change "enormously and necessarily" within the financial industry over the past decade.
"ESG has transformed from being a niche or a nice thing to do to a critical mainstream aspect of decision-making," she explains. "The proof will be evident in the long run, showcasing the disparity between organisations taking it seriously and those that don't."
CAB is 18-months into its ambition to become a B Corp – a certification of a business placing social and environmental change within the core of its operations, with CAB having reached the verification stage.
For Bronks, "reporting requirements and regulatory drivers have played a crucial role in driving companies to prioritise ESG considerations".
The bank's journey has been aided by the introduction of metrics and new regulation, while Bronks also attributes the significant progression of ESG and sustainability within the industry to the rising accessibility and volume of educational resources.
"It has paved the way for the integration of ESG into the business strategy," she adds. "Although the convergence of standardisation may be slower than desired, we should anticipate a growing emphasis on social considerations, including diversity and inclusion, human rights and supply chain transparency."
This change is also being influenced by changing investor demands, which have continued to align themselves with ESG values and positive societal and environmental impacts.
Starting steps
Bronks sees this shift as having a "cascading effect throughout business from how to attract and retain talent and to the integration of financial and risk management practices".
While establishing a baseline and identifying meaningful metrics and current gaps are integral to the start of an ESG journey, she also pinpoints stakeholder engagement as a key piece of the puzzle.
"Build objectives with a clear materiality assessment engaging your stakeholders, create policies and frameworks to ensure a focus on governance and reporting," she says. "Instead of focusing solely on the positive outcomes of your actions, think about the potential consequences and implications of not doing what you do."
Two minds are better than one, and the financial industry has increasingly adopted the spirit of collaboration, as is the nature of The Payments Association and Project ESG.
For companies navigating the early stages of their ESG journey, Bronks recommends building capability and resources through partnerships with NGOs and social impact projects.
"ESG is a great field in which to collaborate with like-minded individuals and organisations," Bronks explains. "In my experience, those genuinely interested in ESG, and sustainability share a common trait: a natural inclination towards enabling and collaborating with like-minded individuals.
"They probably won't stay at a company or organisation very long that does not live and breathe these credentials or that demonstrates resistance to the ESG shift."
Drivers of the new economy
The iron is hot for ESG, and the financial industry is keen to strike. For those with the best performing strategies, Bronks cites enhanced reputation, improved financial performance, effective risk management, access to capital and stakeholder engagement as key benefits.
She also recognises the edge ESG-minded companies hold over attracting and retaining talent, customers and stakeholders.
"Potential clients carefully assess your credentials while potential talent and customers make choices based on their values," she explains.
Although recognising how the benefits of ESG implementation can cascade throughout a business, Bronks also acknowledges this as a two-way street.
"Inactivity can cause a chain reaction of negative outcomes, including reputational damage, regulatory risks, increased operational costs, limited access to capital, missed business opportunities and the perpetuation of harmful behaviours that negatively impact both people and the planet," she emphasises.
Staying silent or doing too little in this area is a common mistake, which Bronks says is driven by the fear of not doing enough. "Kicking the can down the road is simply not a sustainable option, nor is falling into the realms of 'green hushing'," she adds.
The financial industry can neither afford nor risk being inactive on ESG initiatives. Those that can put their best foot forward in this respect will soon find themselves miles ahead of the crowd, evidenced through a strong workforce, business and customer base.