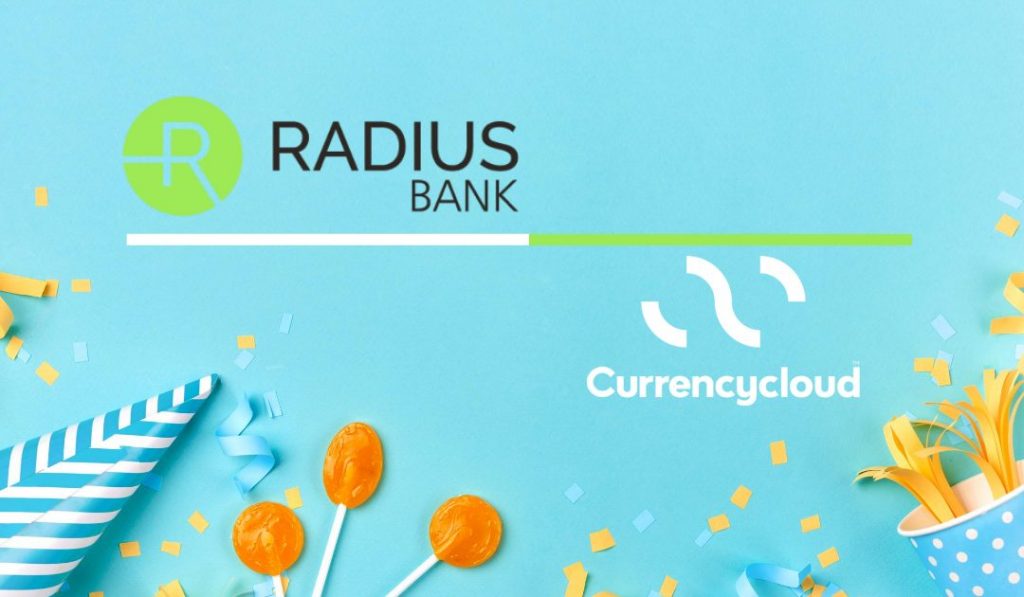 Customers can now make payments to more than 180 countries
Radius Bank, the best online US bank of 2020*, and Currencycloud, the leader in providing B2B embedded cross-border solutions, have partnered to offer Radius clients the ability to send money to more than 180 countries.
Following increased customer demand for international wire transfers for both their own clients and their Banking-as-a-Service partners, Radius sought to find a solution that could be quickly integrated. Using Currencycloud's APIs means Radius Bank can send outgoing payments to international destinations they were unable to reach before on behalf of their clients.
Phil Peters, EVP Chief Operating Officer at Radius Bank, commented: "As an ever-growing full-service digital bank, our clients needed a way to make payments all over the world without delay. Our integration with Currencycloud allows us to do just that."
Richard Arundel, General Manager North America & Co-founder of Currencycloud, commented: "We are really excited to be working with such a digitally focused bank as Radius Bank. The breadth of our technology and speed of integration made us the perfect fit for them when they were looking to expand their customer offering. The ability to build, adapt and expand their customer offering for cross-border payments for both consumers and businesses of all sizes, is now in-house and world class."
Radius Bank client can now take advantage of this service by contacting Radius Bank customer service team.
* Awarded Best Online Bank of 2020 by Bankrate
PR contacts:
For more information contact: matt.rowntree@currencycloud.com
About Currencycloud
Moving money around the world is hard. Setting up overseas bank accounts and dealing with distinct regulatory regimes takes up time, money, and resources. Currencycloud removes that pain, helping customers achieve their ambitions sooner than they dared dream. With a global, multi-currency account infrastructure, customers are able to collect, convert, pay and manage multiple currencies, anywhere in the world. Launched in 2012, Currencycloud has processed more than $65bn to over 180 countries, working with banks and Fintechs around the world, including Starling Bank, Revolut, Penta and Lunar. Based in London with offices in New York, Amsterdam and Cardiff, Currencycloud works with partners including Visa, Dwolla, and Mambu to deliver simple, clear financial infrastructure solutions for clients. They are regulated in the UK, US, and the EU.
About Radius Bank
With assets of approximately $1.6 billion, Radius Bank is a forward-thinking digital bank committed to providing a full complement of accounts and services to meet the banking needs of consumers and businesses nationwide. Radius provides the product depth of a national brand, the technology of a fintech, and the personalized attention typically reserved for a local bank to consumers, small and middle market businesses, unions, government entities and non-profit organizations. The Bank's award-winning digital banking platform allows consumer clients to bank from anywhere with a computer or mobile device and provides convenient features such as check deposit, bill pay, card management, and a personal financial management dashboard. Business clients enjoy a wide array of award-winning deposit products, advanced treasury management services, and loan and payment solutions.  In addition, Radius' suite of open APIs deliver a robust banking-as-a-service (Baas) platform for fintechs to quickly access core banking features and build best-in-class financial solutions. Radius specializes in partnering with forward-thinking fintechs to provide white-label deposit products, cards, digital onboarding, and account management.  Radius Bank is a member of the Federal Deposit Insurance Corporation and is an Equal Housing/Equal Opportunity Lender. For further information, visit the Bank's website at radiusbank.com, or follow the Bank on Twitter, LinkedIn, Facebook, and Instagram.