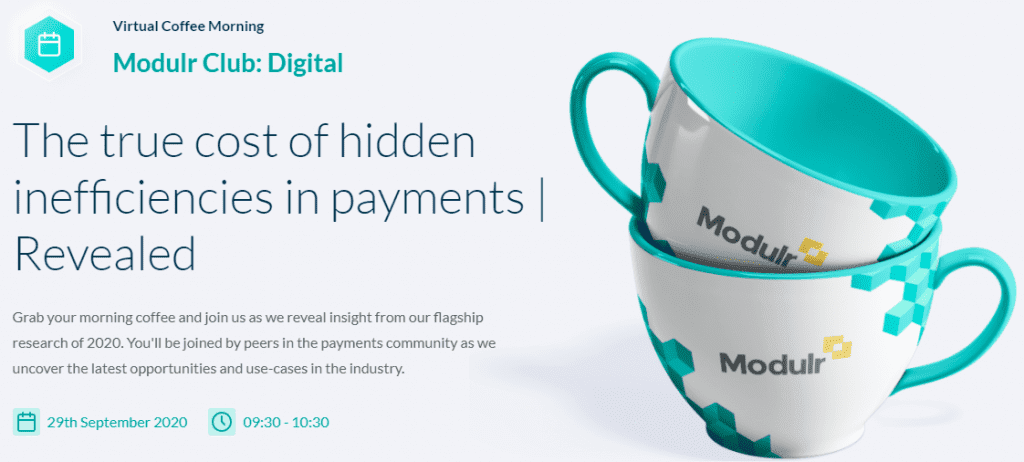 Insights from 200+ finance decision makers
Just a decade ago, payments were a financial mechanism controlled by banks and acquirers. But since then, everything has changed. Payments are now critical to business strategy – directly impacting internal operations, brand and the customer experience.
This is a brand new report from independent research firm, LoudHouse, and commissioned by Modulr, to help UK businesses better understand the hard and hidden costs of payment inefficiencies lurking in their payments and banking infrastructure.
Coupling a quantitative survey of 200 senior professionals across a variety of businesses and qualitative interviews with business leaders, the research offers the industry pulse on the cost, priority and strategy of payment processes today.
Grab your morning coffee and join us as we reveal insight from our flagship research of 2020. You'll be joined by peers in the payments community as we uncover the latest opportunities and use-cases in the industry.
Register here:
Join us on online at 9.30 on 15th September for a demo of our new Confirmation of Payee product followed by a live Q&A session with our payments experts. Register now. https://landing.modulrfinance.com/coffeemorning_confirmation_of_payee