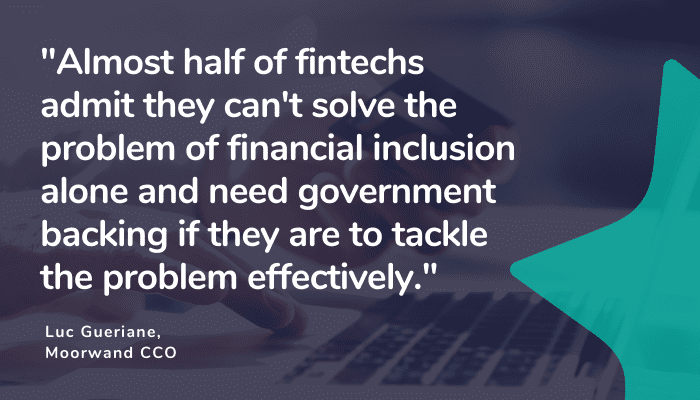 As people and businesses quickly move to digital payments and away from cash, there's a big question. If the move to cashlessness is hurting so many, who is responsible for making sure innovation doesn't come at the cost of inclusion?
Several stakeholders are involved. The Bank of England (BoE) regularly highlights the importance of financial inclusion. The BoE has made it a key point for discussion with Sarah John, the BoE's chief cashier, after a speech last year in which she said the future was "less cash, but not cashless."
The BoE has also referenced financial inclusion in initiatives for central bank-backed digital currencies (CBDCs) and cross-border payment services — though these are digital-focused programs and look to solve the issue with digital services, not new ATMs or cash-focused initiatives. An important distinction.
Card schemes are also playing a role here. There is growing recognition from these schemes that they must safeguard the most vulnerable and their access to cash. In January, Visa launched an access to cash program, which is all the more relevant today given the global pandemic.
Some schemes are also providing businesses with accessible card readers to reduce the burdens of accepting digital payments, but the cost of transaction fees is usually higher than the cost to manage cash. This remains a major barrier to adoption especially for micro and small merchants.
Fintechs are playing an active role in addressing the problem. A study by the The Payments Association found that over 60% of fintechswere working on some form of product or service to promote financial inclusion — either directly or indirectly, such as through an industry partnership.
Examples of this are seen in digital banks offering physical cards with ATM support, and compatibility with contactless ATMs which let consumers retrieve cash quickly with a single tap. Plus, there are banking lite products like prepaid cards giving users without a full-fledged bank account access to banklike services.
However, one conspicuous absence in the fight for financial inclusion and balanced approach to cashlessness is the government.
The chancellor pledged to protect access to cash in the spring 2020 budget. But that was before the impact of COVID became fully understood.
Since then, the government has been actively encouraging citizens to pay digitally whenever possible, both in public service material and by allowing the contactless limit to increase to £45 (US$60).
As a result, the government's position on cash is not clear, and if anything, it is currently promoting cashlessness with no clear plan as to how to address financial exclusion. And whether the promise from the spring budget still holds true remains to be seen.
While the industry can help, it needs to be mandated or incentivized to do so. For many players there is an economic benefit to cashlessness that will overrule the needs of those most impacted by a lack of access.
Countries like Sweden have successfully implemented cashless programs led by their respective governments. But the U.K. government's response has been too reactive. There is a promise to protect cash access, but the wider actions of the government during the pandemic say otherwise. By sporadically making pledges and bringing in new rules, the government has been responding rather than leading, leaving many confused.
Fintechs are creating new services that support the unbanked. But that very same Payments Association study which highlighted how fintech is driving financial inclusion also includes an important caveat. Almost half of fintechs admit they can't solve the problem of financial inclusion alone and need government backing if they are to tackle the problem effectively.
It must be the government that takes a lead. And the delicate balance between innovation and inclusion will only be achieved if the government and industry work hand in hand to achieve a long-term, strategic and shared goal.
Original article from Payments Source: https://www.paymentssource.com/opinion/banks-fintechs-and-the-government-all-must-act-to-protect-cash