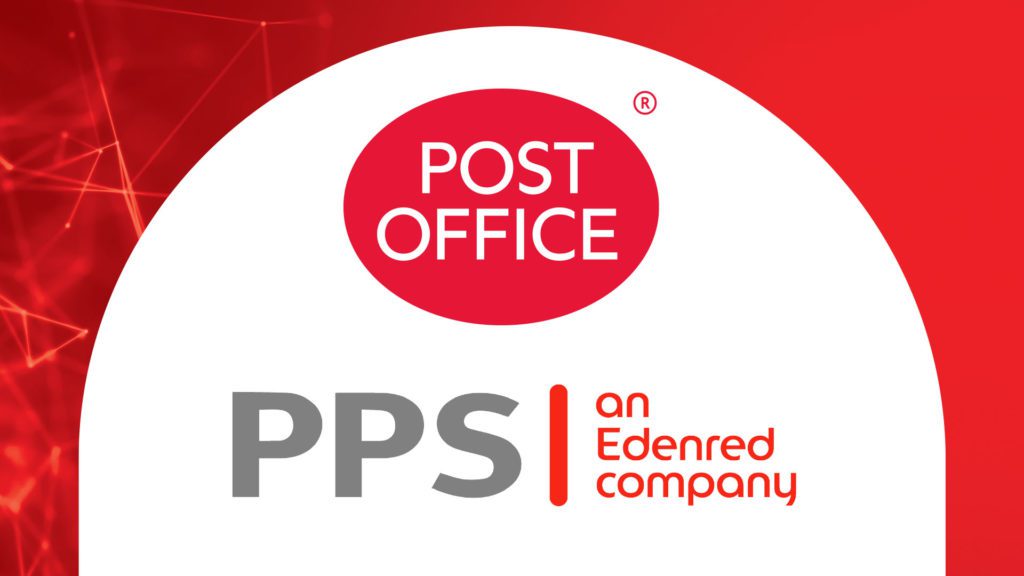 London, 30th May 2022: PPS, an Edenred company, and the UK and Europe's market leading payments provider, announces an exciting new step in its long-standing relationship with the UK Post Office.
Individuals and small businesses using PPS services can now deposit cash instantly to their accounts at 11,500 post offices across the United Kingdom.
PPS has now signed up to the Banking Framework offered by the Post Office that allows customers to deposit instantly using their existing Chip&PIN card.
Aoife Hurley, Strategic Solutions & Partnerships Director at PPS, commented: "This is an exciting time for our long and successful relationship with the Post Office. While Covid-19 has impacted banking, we are seeing customer demand for cash depositing services growing as businesses recover after the pandemic. Many of our cardholders run business accounts through us, therefore it is imperative for their cash flow that money moves as efficiently as possible. With this new service provided by PPS together with the Post Office, we can now match the benefits provided by cash depositories without the need for a physical location."
Martin Kearsley, Banking Director at the Post Office, added: "With a trusted network of 11,500 branches, and with 99.7% of people in the UK living within just three miles of a Post Office, we are uniquely placed to bring vital services to local communities right across the country. We're delighted to welcome PPS into our Banking Framework. Our Banking Framework agreement continues to benefit both Postmasters and millions of customers who have convenient access to everyday financial services over our counters."
***
‍About PPS
PPS, an Edenred subsidiary, is a one-stop-shop for prepaid and fintech programmes. It is a Mastercard Principal Member and an FCA regulated Electronic Money Institution, offering a range of services including processing, UK and SEPA banking solutions, BIN sponsorship, eWallet provision, compliance and fraud services, supply chain management, customer services and end-to-end program design and management.
PPS is the driver behind industry leading Fintech, PayTech, Regtech, incentives, benefits and fuel card programmes which operate across multiple media and form factors, including physical, virtual and NFC. PPS is the leading issuer of Apple, Google and Samsung Pay, with over 200 client programmes across over 30 countries globally.
Follow PPS on Twitter: https://twitter.com/pps_er
Follow Edenred on Twitter: www.twitter.com/Edenred
‍
About Post Office
• With over 11,500 branches, Post Office has the biggest retail network in the UK, with more branches than all the banks and building societies combined.
• Post Office is helping anyone who wants cash to get it whichever way is most convenient. Partnership with over 30 banks, building societies and credit unions means that 99% of UK bank customers can access their accounts at their Post Office.
• Cash withdrawals, deposits and balance enquiries can be made securely and conveniently over the counter at any Post Office; and the biggest investment by any organisation or company in the last decade is being made to safeguard 1,400 free-to-use ATMs across the UK.
• Post Office is simplifying its proposition for Postmasters with a focus on its cash and banking; mails and parcels; foreign exchange; and bill payments services.
• Research has found that visits to the Post Office help drive another 400 million visitors to other shops, restaurants and local businesses equating to an estimated £1.1 billion in additional revenue for High Street businesses.
• 99.7% of the population live within three miles of a Post Office; and 4,000 branches are open seven days a week.
‍
About Edenred
Edenred, the everyday companion for people at work, is a leading digital platform for services and payments which connects over 50 million users and 2 million partner merchants in 45 countries via approximately 900,000 corporate clients.
Edenred offers specific-purpose payment solutions for food (such as meal benefits), incentives (such as gift cards, employee engagement platforms), mobility (such as multi-energy, maintenance, toll, parking and commuter solutions) and corporate payments (such as virtual cards).
True to the Group's purpose, "Enrich connections. For good.", these solutions enhance users' well-being and purchasing power. They improve companies' attractiveness and efficiency, and vitalize the employment market and the local economy. They also foster access to healthier food, more environmentally friendly products and softer mobility.
Edenred's 10,000 employees are committed to making the world of work a connected ecosystem that is safer, more efficient and more responsible every day.
In 2021, thanks to its global technology assets, the Group managed close to €30 billion in business volume, primarily carried out via mobile applications, online platforms and cards.
Edenred is listed on the Euronext Paris stock exchange and included in the following indices: CAC Next 20, CAC Large 60, Euronext 100, FTSE4Good and MSCI Europe.
The logos and other trademarks mentioned and featured in this press release are registered trademarks of Edenred S.E., its subsidiaries or third parties. They may not be used for commercial purposes without prior written consent from their owners.