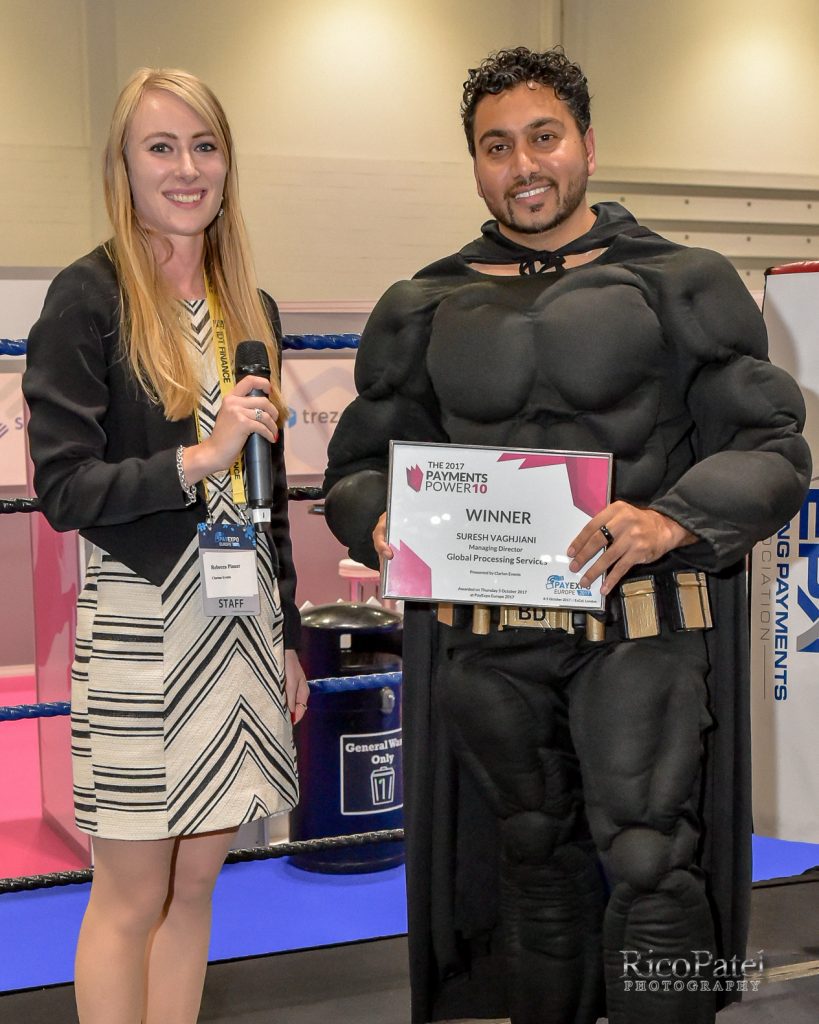 London, UK, 20 October 2017 – Eight of the The Payments Association's (Payments Association) members have been ranked among the payments industry's top innovators at PayExpo Europe, in the Payments Power 10 List 2017.
Published annually, the list recognises the top ten leaders and disrupters in payments technology, voted for by FinTech professionals from around the globe, recognising leaders who have made the most significant contribution to the field over the last 12 months.
As a thriving community of professionals from the world of financial and payments technology, the Payments Association represents a significant and growing share of this flourishing contributor to the UK economy. Its members are drawn from more than 100 companies at the forefront of modern payments innovation.
Topping the Payments Power 10 this year was Payments Association advisory board member Suresh Vaghjiani, Managing Director of Global Processing Services (GPS), thanks to his organisation for supporting some of the most exciting PayTech companies deploying first-of-its-kind products globally.
Myles Stephenson, CEO of Modulr and another Payments Association advisory board member, came a close second on the list, praised by voters for his company's business payments platform, which is helping to transform B2B payments, enabled by open banking initiatives and imminent PSD2 implementation in Europe.
Other Payments Association members honoured by the Power 10 included:
Julian Sawyer, COO of Starling Bank, in third
Shachar Bialick, CEO of Curve 1 Limited, in fourth place
Andrea Dunlop, CEO of Acquiring and Card Solutions at Paysafe, in fifth
Jonathon Wood, Chief Commercial Officer of Zapp at Vocalink, in eighth place
Robert Courtneidge, Global Head of Cards and Payments at Locke Lord, in ninth
David Parker, CEO and Founder of Polymath Consulting in tenth
Speaking about his ranking, Suresh Vaghjiani of GPS commented: "Over the years, the Payments Power 10 List has recognised some of the most innovative individuals and disruptive companies in the sector, and to be named alongside so many incredible pioneers is a real honour. GPS already has some revolutionary projects in the pipeline to drive further change and growth in the industry next year."
Tony Craddock, Director General of the Payments Association, added: "Our members include some of the most progressive and influential leaders in the world of payments, who have done a tremendous amount over the last year to drive the ongoing transformation in the way consumers and organisations pay for goods and services.
"It's fantastic that the achievements of so many of our members have been recognised by their sector peers in this prestigious ranking. At the Payments Association we can't wait to see what the collective power of the Payments Power 10 will accomplish in the next 12 months."
To find out more about the Payments Association, visit: https://emergingpayments.org/.
To see the full Payments Power 10 List, visit: www.payexpo.com.