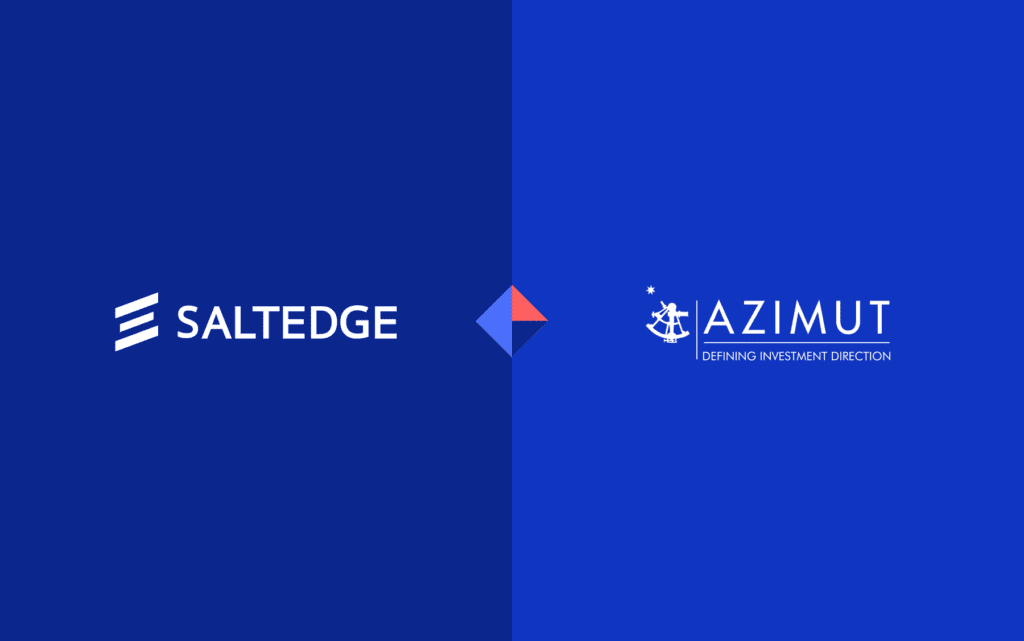 Azimut, the largest independent asset manager in Italy and one of biggest in Europe, through its subsidiary Azimut Investments, has teamed up with Salt Edge, a leader in providing open banking solutions, for powering its newly-launched investment mobile app – Beewise in Italy, to allow users to aggregate account information and initiate payments straight from their smartphones in a secure and frictionless manner.
The Beewise app is set to debunk the myth that investing is accessible to financial gurus only and will open up access to smart saving and investing for a better future to everybody willing to try it out. Beewise's founders decided to provide an easy-to-use app that, besides being a personal finances manager, would allow setting goals and reaching them by leveraging Azimut's long-standing experience in investing.
Since it is maximum security and convenience that the Beewise app was after, Azimut chose Salt Edge for ensuring account aggregation and payment initiation within Italian banks for the app's users. Salt Edge has the widest bank connectivity of up to 5,000 banks worldwide, which enables Beewise users to connect their bank accounts and directly invest and move the funds into Azimut.
Salt Edge has played an important part in our mission to create a user-friendly mobile app that would simplify what is believed to be a complicated subject – investments. We are offering all of Azimut's experience and knowledge in investing to Beewise users and it takes a partner that shares the same reliable approach to providing the best and safest customer journey possible. This is why we chose Salt Edge, due to its technical expertise and great reputation on the open banking market.
According to Matthias Van Den Eede, Beewise Founder and Digital Business Development Manager at Azimut, by leveraging Salt Edge's Account Information and Payment Initiation APIs blended with AI and ML algorithms, the app's users will get in-depth financial insights and will be able to invest in various thematic investment projects, developed by Azimut global team. "We're bringing young people closer to smart money management and investment and are happy to have Salt Edge by our side in this exciting trip", commented Van Den Eede.
When it comes to creating amazing, user-oriented, and sustainable projects, we're all into it. Azimut's app, Beewise, is definitely a step forward in investment services and takes personal finances management and financial education to a higher level. Moreover, this is possible with the help of open banking services implemented and provided under top-notch security and privacy measures taken by Salt Edge, ensuring that the app's users feel protected while enjoying Beewise's features.
About Salt Edge
Salt Edge – a financial API platform with Open Banking solutions. The company has two main vectors of activity: enabling third parties to get access to bank channels via a unified gateway, and developing the technology necessary for banks to become compliant with the open banking regulations globally. ISO 27001 certified, the company employs the highest international security measures to ensure stable and reliable connections between financial institutions and their customers. The company is integrated with up to 5,000 financial institutions in 50+ countries.
More information: www.saltedge.com
Phone number: +44-2039-363-505
Email: press@saltedge.com
About Azimut Holding SpA
Azimut is one of Europe's leading independent groups active (since 1989) in the asset management sector. The parent company Azimut Holding was listed on the Italian stock exchange on 7 July 2004 (AZM.MI) and is a member, among others, of the main Italian index FTSE MIB. The shareholder structure includes over 2,100 managers, employees and financial advisors bound by a shareholders' agreement that controls ca. 22% of the company. The remaining is free float. The Group comprises various companies active in the sale, management and distribution of financial and insurance products, with registered offices mainly in Italy, Luxembourg, Ireland, China (Hong Kong and Shanghai), Monaco, Switzerland, Taiwan, Brazil, Egypt, Singapore, Mexico, Australia, Chile, USA, UAE and Turkey. In Italy, Azimut Capital Management SGR sells and manages Italian mutual funds, Italian alternative investment funds, as well as being active in the discretionary management of individual investment portfolios. Furthermore, Azimut Capital Management SGR distributes Group and third-party products in Italy via a network of financial advisors while Azimut Libera Impresa focuses on the alternatives business. The main foreign companies are Azimut Investments SA (founded in Luxembourg in 1999), which manages the multi-strategy funds AZ Fund 1 and AZ Multi Asset, and the Irish Azimut Life DAC, which offers life insurance products.
More information: www.azimut-group.com
About Beewise
Beewise is an app that allows you to invest in thematic diversified portfolios, created and monitored by Azimut Investments experts while managing everything from your smartphone.
More information: www.beewiseapp.com