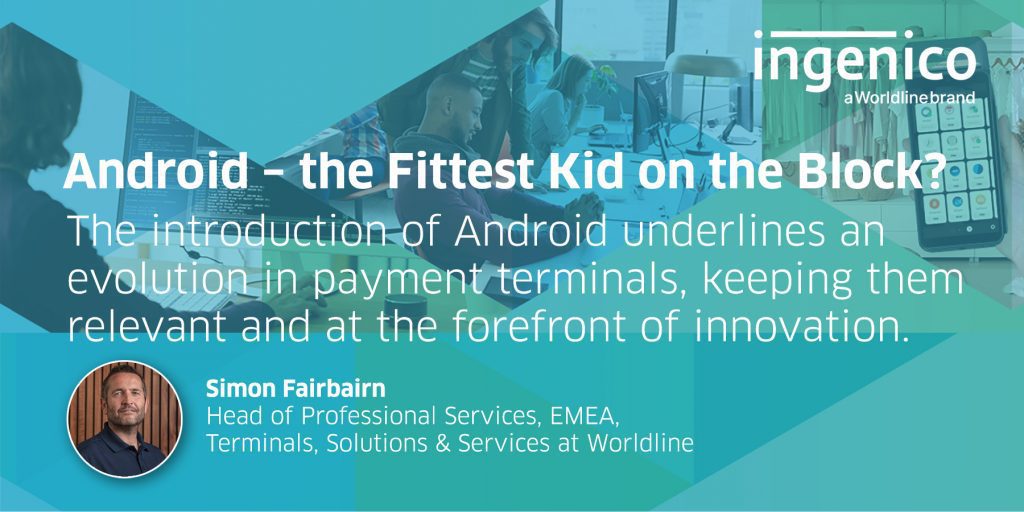 The past 18 months have marked a clear shift in the market's appetite for Android payment devices. Having been in the market for a few years now, the level of demand for Android and the drive to adopt was light. However, the tide has changed, the market has clearly spoken, and Android is on the rise.
Payment service providers have been responding to this need with new products and solutions. They've been creating propositions to build on this wave and further stimulate the excitement that has been building. But what still isn't clear is, why the swing?
Why has Android become the flavour of the day?
So far, I've heard a number of arguments – some well-considered, some clearly shot from the hip – as industry players seek to justify the investments they plan to make.
First up, is the case for how much easier it is to develop on Android and the sheer scale of the community of developers available.
While this may be true, without a clear purpose or a problem to solve, what will these hordes of developers be developing? Assuredly, some good innovation will arise, but the question is, how much will the market really invest speculatively based on the latent potential that comes from access to lots of developers? This appears to be an opportunity in search of a problem – never a great foundation for a business case.
The second common argument is that the market "gets" Android, and so the end user experience will be all the better because they are familiar with the platform. Navigating recognisable icons and a familiar user interface will enrich the experience and lessen the need for training and support.
Again, there is a case to be argued here, however this feels more like a collateral benefit rather than a real justification. User experience is important, but is the current experience which has been in the market for over a decade so bad that we all need to jump ship? Perhaps because we now tend to acknowledge that Android is a significant part of our ecosystem, the drive to Android payment devices is merely a nod to the future?
A healthy terminal is a happy terminal
However, it has also been argued that the swing towards Android has the potential to improve the total cost of ownership as an estate owner. Recognising this opportunity and the potential it holds, Ingenico (a Worldline brand) has been expanding its offer to increasingly focus on Terminals as a Service, a fully managed service model that puts reliability and quality at the heart of its proposition.
From what we know already, Android can be more reliable and less prone to issues in the field. Many tools already exist in its operating system, and more widely in the Android community, to help manage the health of a device. Take this capability and weave it into the advances Ingenico has made with its estate management technology, and the emphasis shifts seamlessly to greater remote maintenance. Opportunities to enable remote diagnostics, device-initiated health checks and self-healing routines all serve to minimise downtime, disruption and the costly process of return and repair.
Imagine a world in which payment terminals could be fixed by a technical expert who could remotely access your device to diagnose the issue. The terminal would start the day with a quick shakedown, check if anything was amiss and start its own keep fit routine whilst firing off an alert to flag that an intervention may be required. Better still, much of this could happen without the merchant even knowing it's taken place, resulting in proactive, pre-emptive maintenance.
So, with smarter payment terminals that could largely fix themselves, the costs for providing helpdesk support and repair centres would be less, and customers would be more satisfied in the long run, leading to a lower total cost of ownership. Better still, the whole end to end operation could be provided as a managed service from Ingenico, where the experience of the merchant is set-up to ensure that their ability to do business remains front and centre.
Ingenico's mainstay terminals are here to stay and will continue to robustly serve the core payment use case demand. The introduction of Android underlines an evolution in payment terminals, one where advanced diagnostics and new use cases are keeping them relevant and at the forefront of innovation. It is the enabler, strengthening and shaping the basic premise of payment acceptance with new applications for myriad use cases and opportunities to develop additional revenue streams, Android will take the user experience – for both merchants and end users – to an entirely different level.
Simon Fairbairn, Head of Professional Services EMEA, Terminals, Solutions & Services at Worldline