Project Regulator – Navigating the FCA's Consumer Duty: Online workshop
March 13 @ 11:00 am

-

12:00 pm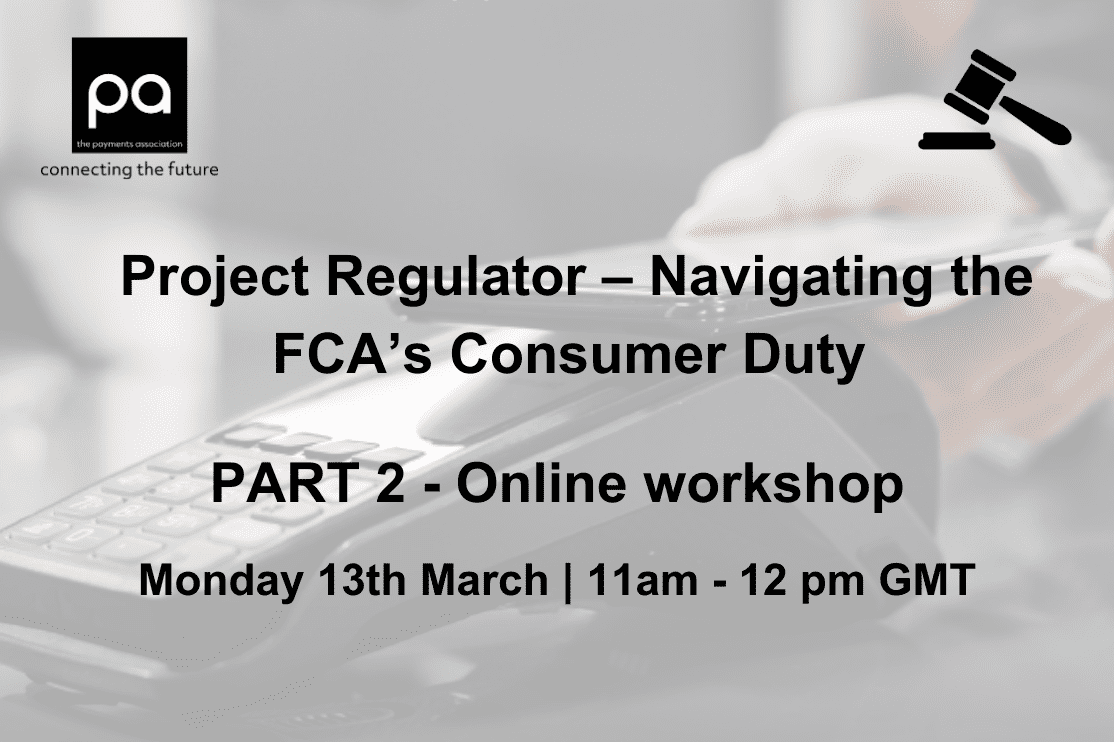 The FCA's Consumer Duty rules set higher and clearer standards of consumer protection across financial services and require firms to act to deliver good outcomes for customers.
The Project Regulator team has been working to better understand the FCA rules, in the context of the payments sector, to assist the wider Payments Association membership in understanding the implications and impact of proposals due to come into force later this year.
We are keen to provide a confidential forum for those involved in Consumer Duty implementation in member firms to discuss the practicalities and complexities with peers and member advisors, to share knowledge and potential solutions.
To cater for both those who'd prefer to engage in person and those who prefer remote engagement we have two options led by the following speakers:
Speakers
1. Alison Donnelly, Project Regulator Lead and Director – fscom
2. Max Savoie, Partner – Sidley Austin
3. Teresa Connors, Client Director – Payment Matters
Part one: In-person meet-up:
• Tuesday 7th March
• 5pm – 6pm GMT (Followed by PA@TheCity from 6 pm – 9 pm GMT)
• Balls Brothers Austin Friars, 10-11 Austin Friars, London, EC2N 2HG
• Limited numbers – first come first served (Closing 2nd March)
Part two: Virtual Workshop:
• Monday 13th March
• 11am – 12 pm GMT
• Online
• Limited numbers – first come first served (Closing 9th March)
Attendance for both parts is on a first come first serve basis. The proposed rules will impact teams across your organisation and we recommend these sessions for those who are looking at the consumer duty as part of their job scope, or who will be impacted at a service level. This could be those in a payments, sales, marketing, product, operations, legal or compliance and those that sit at a C-Suite level.
Tickets
This is a member-only event.
Login to your member account
You may be entitled to complimentary passes or discounts, and access to exclusive content as part of your corporate membership. Sign in using your work email address to continue:
Set up your member account
Logging into your member account means you can:
* Availability depends on membership level that has been applied to your Corporate account. Terms and Conditions apply.