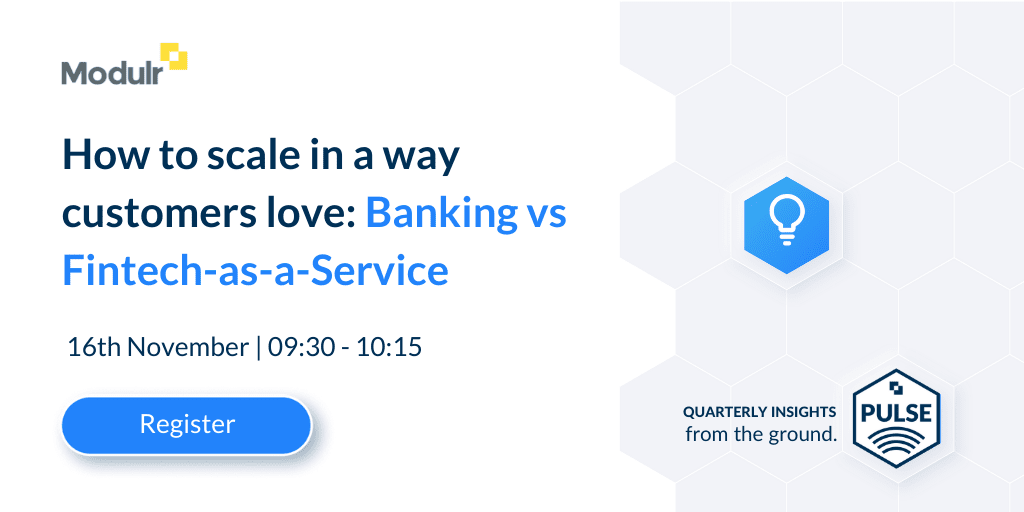 How to scale in a way customers love: Banking vs Fintech-as-a-Service
16th November, 9:30am – 10:15am, Virtual Event
Hear how companies have successfully moved away from traditional banking and moved to Fintech-as-a-Service to build products that customers love. This exclusive webinar will cover:
BaaS vs FaaS: What's the difference and what do you need to build financial products customers love?
What to expect at each stage of growth from start-up, to scale-up, to unicorn
An overview of the Modulr platform, and how it helps combat these problems and challenges
---
Disjointed banking services can make your processes inefficient, and hidden inefficiencies cause major problems  and huge costs at every stage of a companies growth.
Our live discussion explores how a joined up Fintech-as-a-Service partner can solve these issues. And we'll talk to HyperJar CEO and Founder, Mar Megens, about his experiences of working with Modulr and answer questions on the problems they faced and overcame.
What will this event cover?
The problems disjointed banking services cause for start-up, scale-up and mature level businesses
The payments infrastructure your business uses could be costing you more than you realise. Using multiple providers costs time, costs cash and, more importantly, costs customers.
Fireside chat with innovation specialist
Get insights from HyperJar CEO and founder, Mat Megens, on  how they solved/avoided business inefficiencies by using joined-up Fintech-as-a-Service.
Learn how joined-up Fintech-as-a-Service solves inefficiencies
Modulr offers a full API payments infrastructure that's flexible and configurable to your specific product. By having one platform, you eliminate the inefficiencies that multiple providers can bring.
Save your spot here: https://landing.modulrfinance.com/scaling-a-fintech-with-modulr-baas-0