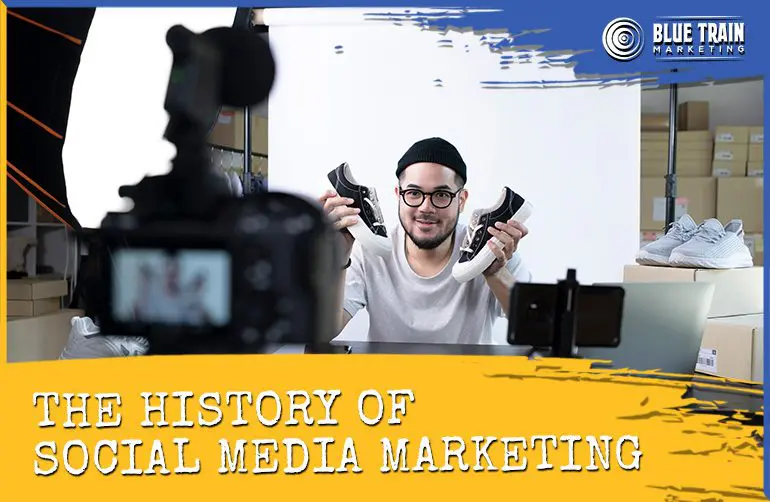 Wondering where social media marketing all began?
The concept of social media itself didn't start with Mark Zuckerberg and Facebook. It began way back in the early 70s, when technology began to rapidly evolve.
By the late 90s, platforms that we now recognise as social media began to appear. It was only a matter of time before social media marketing arrived.
But what did early social media marketing efforts look like? How successful were they? And how has it evolved over the years?
Let's dive into the history of social media marketing…
In this article, we will look at:
The Origin of Social Media
After the invention of computers in the 1940s, the idea of creating networks between these computers emerged. Early forms of the internet access, such as CompuServe, were founded in the late 1960s.
By the late 70s/early 80s, technology was becoming more sophisticated, and it was increasingly common to find computers in the home.
In 1997, the first official social media site was created by Andrew Weinreich, called Six Degrees. The platform allowed users to upload a profile and befriend other users, allowing for social networking.
At about the same time, several blogging sites, like Open Diary, began to gain popularity – creating the online phenomenon that we all know and love today.
The Early History of Social Media Marketing
The early history of social media marketing began shortly after social media reached a mass audience.
Facebook Paves the Way for Social Media Marketing
In 2004, a young Harvard student founded a website called Thefacebook. Later, it changed its name and became the behemoth we know today as Facebook.
It was Mark Zuckerberg's second attempt at creating a social media site…
The year before he had created Smashface – a site which uploaded student's photos (without their consent) for others to rank based on their attractiveness.
The site was taken down after a few days and Zuckerberg was forced to publicly apologise by Harvard University.
But Facebook was different.
It grew rapidly amongst university students and in the same year as its launch received a $500,000 investment from PayPal founder Peter Thiel.
In 2006 the social media site widened its network, allowing membership from outside of universities. By October of that year, it had 50 million users. A month later, Facebook Ads would launch.
At the time, Zuckerberg announced that Facebook Ads were:
"A completely new way of advertising online. For the last hundred years media has been pushed out to people, but now marketers are going to be part of the conversation. And they're going to do this by using the social graph in the same way our users do." – Mark Zuckerberg, 2006
Brands and business across the globe began to create brand pages to engage with their customers. Thus began the age of social media marketing.
The Emergence of Other Platforms
Facebook set the mould for social media marketing.
New platforms began to emerge around the same time, such as Twitter (founded in 2006) and Instagram (founded in 2010). Marketers also rushed to these platforms once they saw the impressive growth figures.
LinkedIn (founded in 2002), however, stands out due to its unique business-to-business proposition.
The professional social network's primary focuses are business networking and career progression. Now with 810 million users worldwide it remains a firm favourite for B2B marketers.
Where previously brands would purchase advertising space in newspapers and on the television to promote themselves, they now had the world of social media as their oyster.
Marketers embraced social media with a passion. Unlike those traditional offline channels, social media offered marketeers the ability to collect consumer data and performance metrics to their campaigns could be evaluated and targeted like never before.
Today, 60% of marketing professionals worldwide say that their customer data influences marketing decisions always or at least most of the time.
An Example of Early Social Media Marketing
One of the first high profile examples of social media marketing was the Coca-Cola 'Share a Coke' campaign.
The 2012 campaign featured a Facebook Advertisement.
The Ad invited Facebook users to create their own custom Coke can as well as share virtual cans of Coke with their friends.
The campaign was so successful that the Facebook website saw an 870% increase in traffic and the Coca-Cola Facebook page had a 39% increase in fans.
Around 76,000 virtual cans were shared online, and 378,000 custom coke cans were printed across Australia.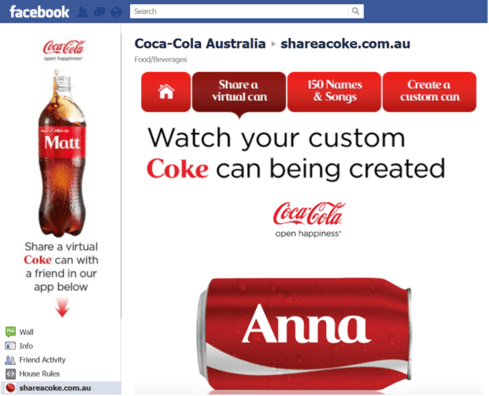 Who was the first social media influencer?
One of the first social media influencers to rise to fame was Jeffree Star.
He quickly became an internet celebrity, gaining attention on Myspace back in 2003.
He became well-known due to his controversial opinions and unique appearance.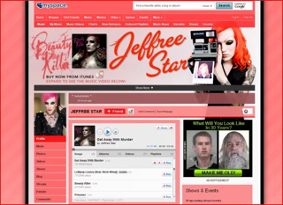 His popularity would soon rocket, and he would become one of the biggest names on social media.
Today he is still one of the biggest names in the social media and beauty industry since launching Jeffree Star Cosmetics. He now has over 16 million subscribers on YouTube.
The Rise of Influencers
2009 is when the age of influencers began.
Prior to social media, the public relied on experts on the TV, radio, and newspapers columnists to influence their buying choices.
The rise in more affordable technology, such as camcorders, video editing software and social media platforms democratised the ability to share opinions and become an influencer.
Following the increased popularity of YouTube, an influx of vloggers (video bloggers) took the world by a storm. The likes of Tanya Burr, Zoella, and PewDiePie started a phenomenon.
They soon became industry leaders.
For example, PewDiePie is now said to be one of the highest paid YouTubers, with a net worth of $40 million, and has accumulated over 111 million subscribers over the last 14 years.
Their increasing number of YouTube followers meant that influencers could grow their profile through other social media channels, website, and blogs.
This gave them additional opportunities to promote their content and partnerships with brands.
Instagram had a rapid growth in popularity, with over 1 million registered users in the first 2 months of launching. It soon became to go-to social media platform due to its engaging visual element and effortless social sharing feature.
The explosive growth of Instagram changed the game for influencers, enabling them to reach a broader audience and promote their other social media accounts.
Brands cleverly tapped into this as a marketing opportunity. They began to partner with influencers, paying them to produce sponsored posts and content.
Their influential status meant their customers had great faith in their product recommendations.
Influencer marketing is crucial to brands social media strategies today, with over 50% of marketers saying that influencer marketing helps them acquire better customers.
Although these social media stars have great influence, they can't always be trusted as their product recommendations may not be genuine.
A shocking example of this is when former The Only Way Is Essex star, Lauren Goodger, was exposed on a BBC documentary promoting a diet drink, called 'Skinny Coffee', that contained hydrogen cyanide.
She was caught saying, 'half the time influencers never try the products that they're promoting' and that she's 'never tried Skinny Coffee'.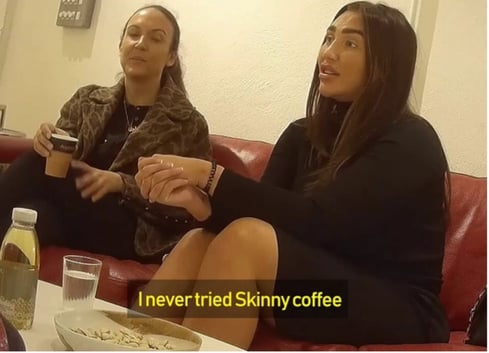 The rise of influencers happened in parallel to the general trend towards the growth in popularity of social reviews.
Consumers started to trust 'people like me' who had already purchased a particular product and they became a reliable source for product and service advocacy.
Today, 93% of customers reading online reviews before buying a product.
Influencer Marketing Today
Influencer marketing isn't slowing down. The influencer sector is projected to be worth £12.57 billion globally in 2022.
TikTok has become one of the most popular social media networks worldwide, with over 1 billion active monthly users.
Naturally, existing influencers began to migrate to the newly emerging platform. TikTok caused a surge in micro-influencers (those with less than 15,000 followers).
They are benchmarked to have higher engagement rates than other influencers, which gives smaller brands an opportunity to grow their presence.
Micro-influencers have provided an opportunity for micro-brands with niche product offerings to connect with potential customers and grow their business.
Social Meets eCommerce
The concept of social commerce first emerged through combining social media with brands and user-generated content.
It has become integral to the way eCommerce consumers discover, evaluate, and buy products and services.
eCommerce brands are partnering with the likes of Instagram and TikTok on social commerce platforms. B2C businesses are finding great success on TikTok as 47% of users have purchased something using 'TikTok Shop'.
Social commerce is already a hit, but it is projected to grow steadily in the future with 49% of brands planning to invest more in social commerce in 2022.
Where is Social Media Marketing Going Next?
Social media marketing has evolved rapidly over a short period of time, and it is not looking like it will be slowing down any time soon.
It would be impossible to predict exactly what direction it is going in next, but several trends are beginning to emerge:
1. The Metaverse
The metaverse is a virtual-reality space in which users can interact with a computer-generated environment and other users.
While still in its infancy, the metaverse holds the potential to transform how we digitally interact with one another. It's been said that in 10 years' time, we will still only be in the early stages of metaverse development.
The metaverse presents exciting new opportunities for the evolution of marketing, including social media marketing.
Companies are already boldly embracing the metaverse.
An example of this is the rebrand of Facebook's parent company to Meta which clearly reflects the size of the opportunity the company sees for metaverse adoption in years to come.
The payments industry is also making moves towards supporting commerce in the metaverse. Visa has launched a NFT (non-fungible token) programme for metaverse entrepreneurs.
2. More Sophisticated Influencer Campaigns
Influencer marketing has been around since the early 2000s, but it is an ever-changing landscape.
One influencer marketing trend that we will see on the rise is long-term partnerships and collaborations.
When a brand discovers an influencer who shares the same values, targets their audience, and loves their products or services, why wouldn't they want to continue to work with them?
Creating relationships with influencers and nurturing them into brand ambassadors can allow for a rapport to be built with both the influencer and their following. This in turn will help develop brand loyalty.
This will be one of many influencer marketing strategies we will see an uptick in.
3. New Platforms
New platforms will continue to emerge for social media marketeers to market on.
For the first time since the rise of Snapchat in 2011, a new social media platform has taken the world by a storm.
BeReal was launched in 2020 but saw a huge rise in popularity in early 2022.
It is a social media app which asks users to share a photo (from their front and back camera) from whatever they are doing during a randomly selected 2-minute window each day.
The platform stands out from the crowd due to its unique proposition. It urges people to 'be real' and present themselves as they are in the moment, with no filters or editing tools available.
As of April 2022, the social media app has 2.93 million daily active users. This figure is up 29200% since this time last year. This growth is expected to continue.
Currently, this app is strictly for personal use. It will be interesting to see if the network allows for development in the marketing sphere as it grows.
Conclusion
History has shown that social media and marketing evolves at a fast pace. It's an ever-changing landscape.
Early forms of the internet have been around since the 1940s, but it wasn't until 1997 that the first official social media site appeared.
Marketeers migrated to social media marketing around the time Facebook widened its network back in 2006.
Technology has changed how we communicate with one another. Social media has democratised who can be an influencer, allowed us to connect with those influencers, and see what our peers are saying. All these factors are guiding how consumers spend their money.
We have seen influencers explore social media platforms like TikTok and Instagram. The metaverse will enable them to continue to grow into a bold new online world.
It will also provide the ability for influencers to become ever more refined and niche in the topics they address. It will be exciting to see what the metaverse has in store for the world of social media.
As a marketing agency, we work with social media every day and are looking out for buyer trends where our clients can lead and differentiate their brands. If you're interested to know more, don't hesitate to get in touch.
Article by Blue Train Marketing