Events are an essential part of business for many professionals. They are a great way to ensure you stay up to date with the latest insights and trends, or networking to build on quality leads.
A whopping 84% of event attendees say that they have a more positive opinion about the company, brand, product, or service being promoted after an event.
While the format of events has had to adapt rapidly over the past couple of years, they have not gone away.
Events can help many aspects of your business, from building your marketing database and sales funnel to promoting or launching a product.
However, your event marketing strategy can only reach its full potential if you're attending the right event. Think about what you are looking to achieve and your budget before evaluating the event, who is likely to attend and its themes for the year.
Money20/20, Seamless, and Pay360 are among the biggest events in the fintech and payments industry, for example. These conferences bring together like-minded attendees from global leaders and banks to tech giants and start-ups.
What is Event Marketing?
Event marketing is about bringing your brand to life and creating a strategy to attract prospective customers to your stand.
Events can take place in multiple formats such as in-person events or online events such as webinars, or even a hybrid of both.
There are a variety of options available when deciding on your events strategy, such as exhibiting, sponsoring, or attending only.
You should evaluate all types of events and understand that each event will require different types of marketing strategies and tactics.
Benefits of Event Marketing
95% of marketers believe that physical events can have a major impact on achieving a company's primary business goals.
Event marketing plays an important role in achieving wider business goals such as…
Brand Exposure
Exhibiting or attending events is an opportunity for you to network with a wide range of people who may be interested in your company.
Many fintech event organisers offer exhibitors the opportunity to sponsor elements of the event.
Seeing a representative of your brand speak or your name on a giveaway allows attendees to discover and start to engage with your brand.
Lead Generation
Event marketing doesn't only include managing and co-ordinating activities during the event. Several inbound and possibly outbound activities can take place pre, during, and post the event to maximise your lead generation potential.
You are likely to be spending a large sum of money on a high-profile event, so give your prospects a heads-up that you're attending through social media posts and email marketing campaigns. Encourage prospects to make appointments in advance or drive footfall to your stand, if you have one.
After the event, plan some email outreach to people you met (or even those who said they'd meet but didn't show up).
As part of your strategy, you should decide how you will capture your leads. You may want to invest in a scanner on your stand to make the capture process quick and easy. This will also make it easier to automate the re-marketing process.
Manually writing down a visitor's details could make your processes look outdated, which is unlikely to reflect well on your brand.
In-Person Engagement with Clients & Customers
When you meet and interact with your customers on a personal level, you will build a rapport and earn their trust. But don't neglect your existing customers.
Just by grabbing a coffee and a chat with current customers can help customer retention, strengthen connections, and build loyalty.
Ensure that the right members of your team are attending the event and those that are attending are correctly briefed and aligned with your company's goals and objectives.
Whether at trade shows or conferences, plan what members of your team will be on your stand at what times and who will be walking the floor. Get your sales team to arrange meetings to keep your stand looking busy.
Thought Leadership & Credibility
Thought leadership is an opportunity to align your brand with an emerging or high-profile trend.
Brands that establish themselves as a thought leader can benefit in a number of ways. Being a thought leader can place your brand in an elevated position of trust amongst your competitors. Thought leaders may find that they become the 'go-to' source of commentary for the media and earn valuable 'free' coverage.
Thought leadership can be based on your brand's valuable observations on what is happening in a specific market or as a result of a new type of technology. It can be based on executive opinions and backed up by desk research.
Staging an event can be costly so organisers look to make money from speaking opportunities and advertising. Sponsoring an event often gives you the chance to share your company's views, opinions and predictions through speaking opportunities such as fireside chats and panels.
If you have a bigger budget, conducting original research is a good way to earn a speaking slot. At the very least, is a great way to start conversations with customers and possibly earn media coverage.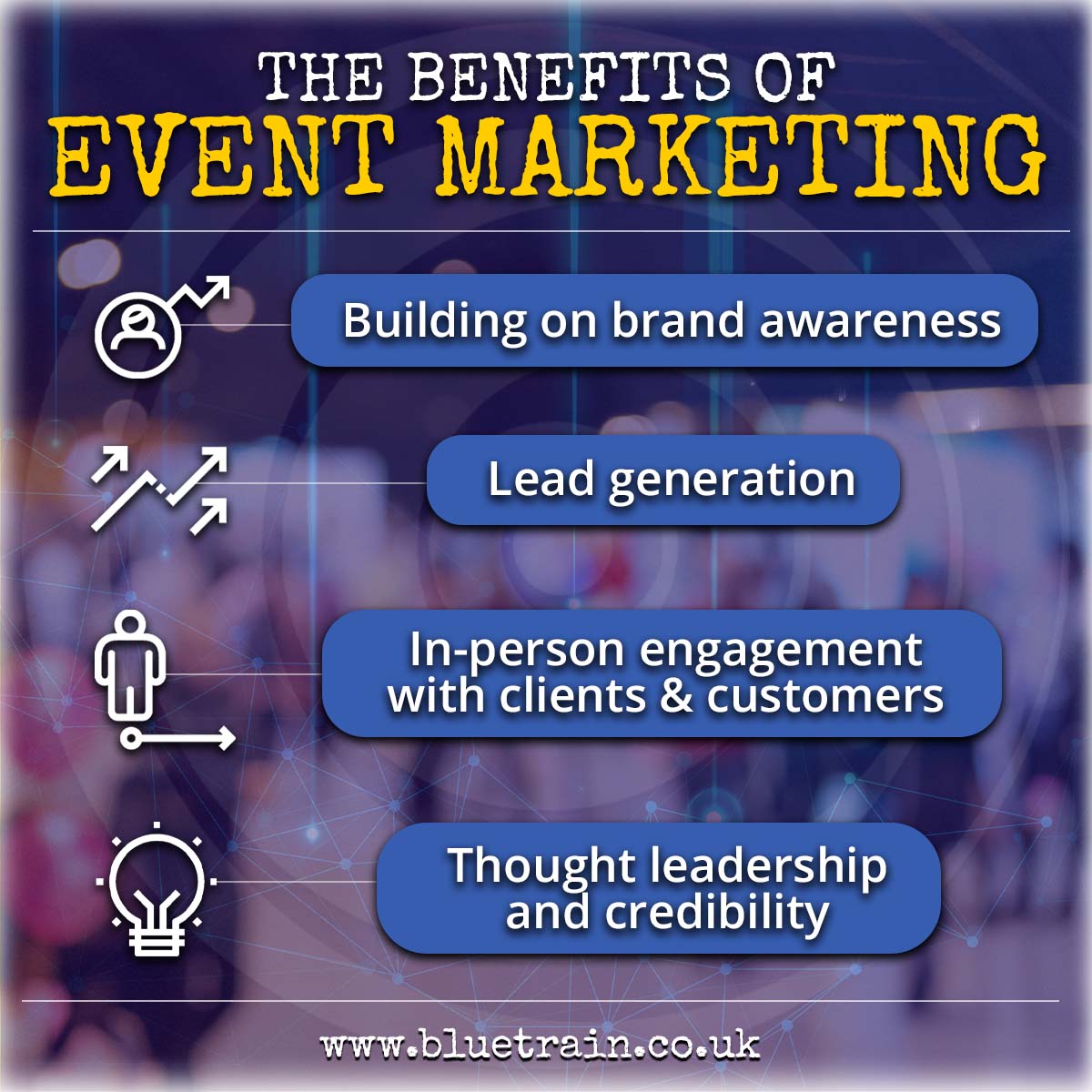 Outsourcing Event Marketing
If other priorities are pushing events marketing to the bottom of your priority list, why not use a third-party events marketing provider?
How can we help?
Blue Train Marketing specialises in the fintech and payments industry. That means we already know the events that take place across the sector globally and who is likely to attend them.
In many cases, we know the organisers and how to get the most value for money from your investment. So, if you think we could be of assistance, be sure to get in touch.
Conclusion
Event marketing, that's done well, can significantly improve the ROI of your events budget.
Its main benefits are clear.
It will generate valuable exposure and brand awareness to a wide audience. Consider sponsorship packages to maximise this.
Lead generation and sales can be greatly accelerated by getting your product or service in front of your target market in a concentrated period of time.
Event marketing is a great advantage as many of your prospects and key decision-makers are all at the same place at the same time. Make the most of the opportunity to improve engagement with existing and potential customers. You may be able to achieve an authentic connection at the event that might otherwise take months to build via traditional marketing and communication.
Don't forget that creating a great piece of thought leadership can help you get to the front of the queue for speaking opportunities and could earn your brand invaluable media coverage.
Article by Blue Train Marketing