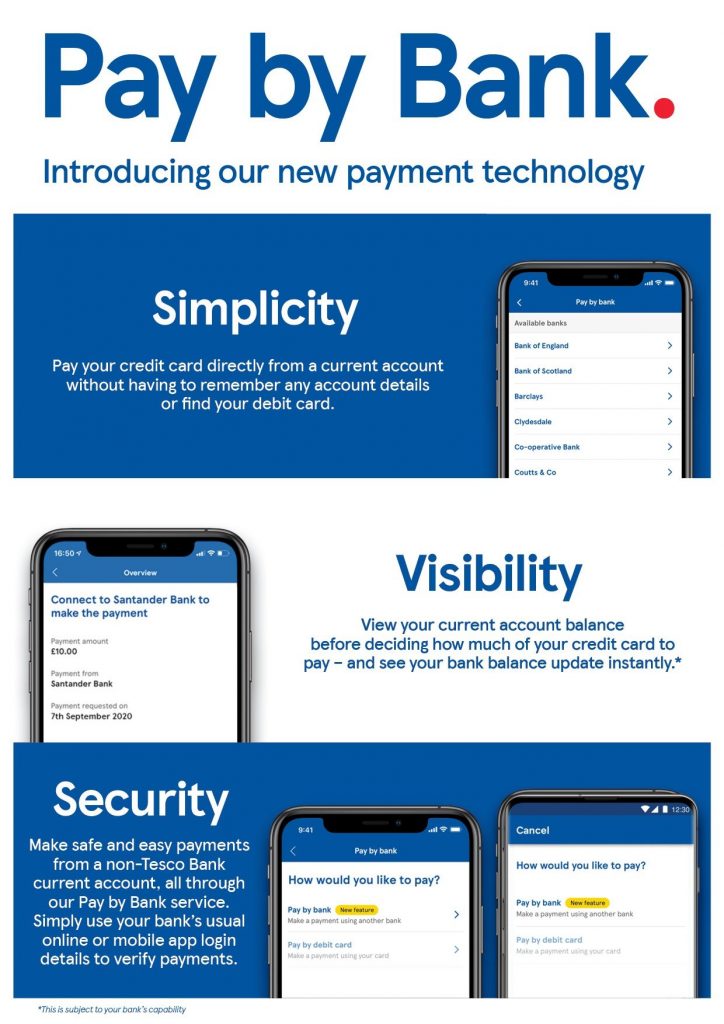 First UK bank to use open banking to enable credit card holders to pay their balance
Tesco Bank is to become the first UK bank to introduce new technology that allows its 2.6 million credit card customers to more easily manage and pay their balance.
The 'Pay by Bank' facility will be provided by Tesco Bank and enabled by Mastercard's Open Banking Connect™ service.  It allows Mobile and Online credit card customers to make payments directly from their current account via electronic payment services.
The new feature is made possible as a result of Open Banking legislation, and Tesco Bank is the first in the UK to introduce it for the payment of credit card balances.  The main benefits for customers are:
Simplicity – Pay by Bank delivers a straightforward way for customers to pay their credit card directly from a current account. Customers do not have to remember any account details or find their debit card to make a payment.
Visibility – The Pay by Bank method of payment allows customers to view their current account balance before deciding how much of their credit card to pay – and see their bank balance update instantly.*
Security – Customers can make safe and easy payments from non-Tesco Bank current accounts using their bank's usual online or mobile app login details to verify payment.
Testing and roll-out of the new functionality started in August 2020, with all Mobile and Online credit card customers expected to have access to this new payment option, enabled by Mastercard, in the coming weeks.
Tesco Bank is the fourth largest credit card provider in the UK, with a range of cards targeted towards the different borrowing needs of customers.  This includes Purchase Cards and Balance Transfer Cards, as well as a Foundation Card for those who are looking to re-build or improve their credit rating.
All Tesco Bank credit cards reward customers with Tesco Clubcard points when they spend on their card, with one point collected for every £4 spent in Tesco, and for every £8 spent elsewhere.
Sigga Sigurdardottir, Chief Customer Officer, Tesco Bank, said:
"Tesco Bank's purpose is to help Tesco shoppers manage their money a little better every day.  The introduction of Pay by Bank helps us do that for 2.6 million of our credit card customers, giving them a simple and secure way of paying their credit card, and greater control of their finances.
"We are particularly pleased to be the first UK bank to make this technology available for credit card customers. We expect this functionality to be widespread in the market in the coming years.
"This is a great example of the strength that our partnership with Mastercard brings to our credit card offering."
Kelly Devine, Division President for Mastercard UK and Ireland, said: "Bringing more simple, safe and convenient ways for people to pay is at the very heart of our Open Banking solutions. With this enhancement, Tesco Bank customers will have greater flexibility to make payments against card balances than ever, aiding budgeting and placing them in full control of their finances."
*This is subject to your bank's capability
About Tesco Bank
Tesco Bank's goal is to make banking and insurance easier and better value for people who shop at Tesco. We've been around since 1997 and today we help more than 5 million customers manage their money every day. Our 4,000 colleagues serve our customers seven days a week from our three main centres in Edinburgh, Glasgow and Newcastle, and we are also available through online and mobile banking 24/7. Tesco Bank participates in the Chartered Banker Professional Standards Board.
Tesco Bank Credit Cards
Credit facilities are available to UK residents, aged 18 or over, subject to status.
Low APR Credit Card – 9.9%APR representative (variable)
Foundation Credit Card – 27.5%APR representative(variable)
All other cards – 19.9%APR representative (variable)
Credit card customers collect 1 Clubcard point for every £4 spent in Tesco and 1 Clubcard point for every £8 spent outside Tesco in each purchase transaction. Exclusions apply. Must have available credit. Clubcard points collection rates are subject to change.
About Mastercard
Mastercard (NYSE: MA), www.mastercard.com, is a technology company in the global payments industry.  Our global payments processing network connects consumers, financial institutions, merchants, governments and businesses in more than 210 countries and territories.  Mastercard products and solutions make everyday commerce activities – such as shopping, traveling, running a business and managing finances – easier, more secure and more efficient for everyone. Follow us on Twitter @MastercardNews, join the discussion on the Beyond the Transaction Blog and subscribe for the latest news on the Engagement Bureau
Mastercard Open Banking Connect™ provides third parties with a single, universal connection to financial institutions' open banking functionality regardless of their API standard or implementation. It reduces the set-up time and complexity of registering with multiple financial institutions, enabling service providers to focus their resources on developing innovative and impactful value propositions. For a financial institution, it also provides reassurance thanks to the secure authentication features that establish and maintain connectivity with high levels of resilience.