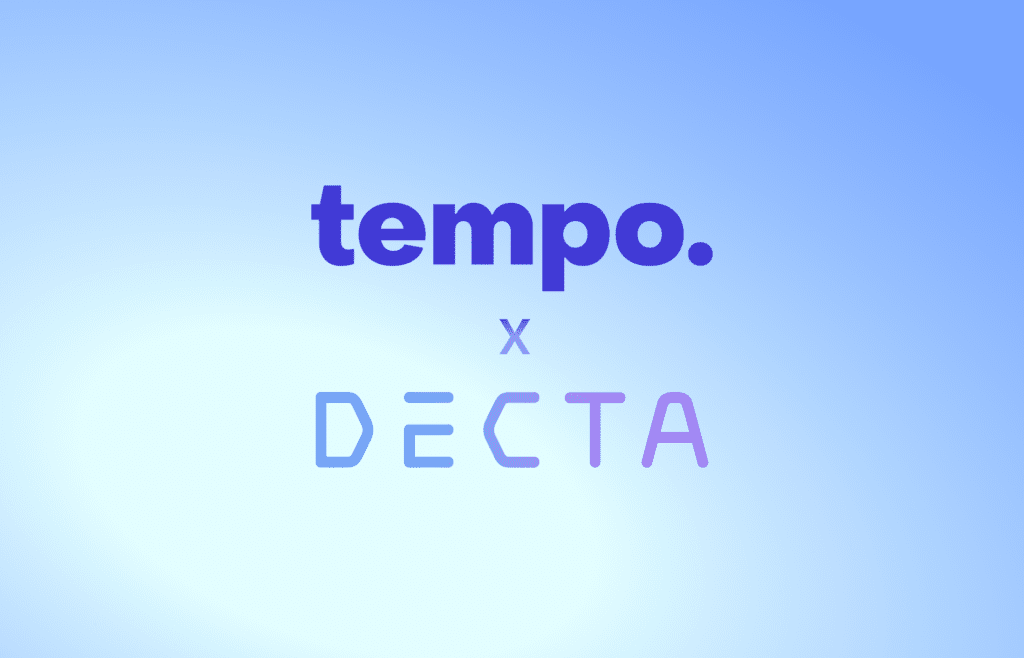 About
 An EU-based international payment firm has inked a deal with a global leader of payment technology innovations: the agreement will enable the European company – in the process of successfully completing its digital transformation, and targeting significant projects in the global payment market – to develop its technology base to the most advanced level.
PARIS (05.09.2023) – The international payment company, Tempo France, inked an agreement with one of the leading global payment processing experts and fintech solution designers, DECTA, to advance its technological systems to the most sophisticated level. DECTA will help to modernise the French firm's digital systems with a cloud-based solution.
The solution provided will be fully customised to Tempo's needs and tailor-made for its functional activity. The technical package will cover a circle of automated IT services ranging from digital on-boarding and customer management to transaction processing, accounting feeds and financial reporting, and will interface with external elements of other payment and financial institutions (such as banks, digital payment platforms and crypto exchanges).
Implementation of the DECTA solution will provide a customised and fully automated workflow for Tempo and enable the EU-based payment company to handle more clients and a greater transaction volume with faster execution rates, in an environment that is secure and auditable at the same time.
"DECTA will provide us with an end-to-end workflow that is customised for
Tempo and improves the service we provide to our end-clients. Simultaneously,
the process will require significantly fewer manual actions and interventions. This
in turn will help us reach higher transaction speed, better transparency and
efficiency and much lower costs," said CEO of Tempo, Alla Zhedik.
She added, "Tempo has participated in and successfully completed key projects
in various regions of the world. We see how technologies and principles of the
global payment market are changing. The sector is on the brink of significant
digital transformation, and so is Tempo. For the past year, our strategy and
business model have been going through tremendous revision and change. We
aim to be proactive, following global trends, while we tune our business model to
a future that needs new technological approaches. The future of the payment
market is a combination of classical finance and digital finance. DECTA's
pioneering solution will help us achieve our goals along the trajectory of
technological advancement."
"At DECTA, we are thrilled about our partnership with Tempo, a dynamic and
innovative instant money transfer company. This collaboration represents a
significant step forward in the ever-evolving international financial and fintech
market. As we embark on this journey together, we are excited to leverage our
Digital Banking Solution to enhance Tempos capabilities and provide seamless
and efficient payment solutions to customers worldwide. Our combined
expertise and shared ambition in the global payment landscape make this
partnership truly promising." said CTO of DECTA, Aivars Belis.
About Tempo
Tempo France is an international payment system. Recently, the company successfully completed pioneering projects bringing Stellar technologies to remittances in Europe and the Asia Pacific region. Tempo has been implementing more than 100 modern payment methods in 100 countries around the world. The firm partnered with the Cypriot international fin-tech company Armenotech to jointly step up their activities in the international payment market and stimulate more intensive integration of Stellar blockchain in the global sector.
About DECTA
DECTA is a global payment processing company, experts in FinTech and payment technologies. DECTA provides end-to-end payment infrastructure, from card acquirers and issuers processing to white-label payment gateway, and Digital Banking Platform, but unlike other players in the crowded payments marketplace, DECTA offers bespoke-as-standard solutions aimed at making payments accessible to everyone. Through the Digital Banking Platform, they equip businesses with a complete, future-ready platform to transform a traditional banks and fintechs into an online financial powerhouse. Being the certified payment processor of Mastercard, Visa and UnionPayInternational, DECTA offers services to banks, payment service providers, and corporate clients with more than 2000 customers across 27 countries.