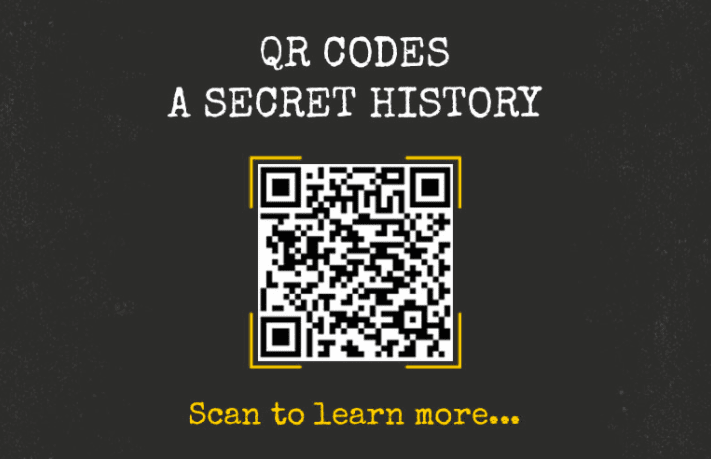 Author: Jeff Banks, Blue Train Marketing – https://bluetrain.co.uk/ 
Since they were invented in 1995, Quick Response (QR) codes have been through a series of incarnations and struggled to find a meaningful role.
They have also been the subject of much innovation as well as controversy – depending on where you live.
But the QR code is BACK with a new lease of life as part of fintech payments. Let's take a look at the rise, fall and rise again of the QR code…
Next Generation Barcode
So, what is a QR code? In essence, it is the clever cousin of the humble barcode.
The QR code was developed in Japan in the mid-90s by Denso engineer Masahiro Hara for inventory management. Hara says he had a eureka momentwhilst playing the strategy board game Go during his lunch break one day.
Hara's two-dimensional barcode design proved much more useful than traditional barcodes. It could convey a wealth of data that could be read ten times faster than barcodes.
Supermarkets soon recognised the opportunity to develop QR codes, make them more versatile and contain more data.
Over the next decade, QR codes flourished.
They were used for product and document tracking, time recording, item identification, marketing and for making payments.
Today in Japan, their use has spread even further. They help keep Tokyo's subway trains and doors in sync and are even sometimes placed on gravestones, where they can be scanned for information about the deceased.
It wasn't long before QR codes spread rapidly across other parts of Asia and Africa, and in 2011 retailers like Alipay began using them in China as a contactless payment method.
China is now an almost cash-free society with QR codes being ubiquitous – wedding gifts, pet identification and church donations are just a few of their uses. This is largely in part to their use being adopted by the country's largest social media platform, WeChat, in 2012.
Back then, the social media app was barely a year old but still had 100 million users. With the explosive growth of WeChat Pay in early 2014 (its customer base grew from 30 to 100 million within a month after appearing on China's famous New Year Gala show), QR codes proliferated.
WeChat now has over 1.17 billion monthly active usersand China's QR economy (driven largely by WeChat) reached 8.58 trillion RMB in 2019. This reportedly grew by over 25% in the first quarter of 2020 alone, and was credited by the company with helping China fight COVID.
All of the above happened with astounding speed in China. Putting this in perspective, Tencent WeChat's Business Group vice president, Greg Geng, remarked in late 2019 that "in China, payment methods using QR codes have replaced cash and cards in just five years."
So why did QR codes not make it to Europe in the 2010s?
The Security Problem
The main issues with QR codes were cybersecurity and inadequate data protection.
In 2014, fraudulent QR codes emerged, prompting the Chinese government to temporarily ban payments using QR codes.
In 2017, QR codes were used to infect smartphones with virusesthat led to a total of fraudulent payments worth $13 million.
In addition to these scandals, few consumers outside Asia knew what a QR code was or how they worked.
These two factors needed to be addressed before QR codes could be considered a trustworthy and viable payment method on a global scale.
WeChat and Alipay responded by strengthening their control over consumer data. The Global Payments Industry standards group published specifications designed to ensure interoperability for merchant-based and consumer-based QR code transactions.
As a result, these new security measures led to an increase in QR code use.
But there was one other hurdle to overcome before mass adoption could be achieved…
The tipping point for QR codes
At the time, most smartphones needed a third-party app to read QR codes. Towards the end of the 2010s, Apple introduced iOS12 with a new update that enabled QR code scanning via the camera app.
By the end of 2018, the QR code had been on a rollercoaster ride. But it finished up as safer and more trustworthy with mass market endorsement that comes with integration into Apple products.
The Revival of the QR code
Now, in 2021, QR codes are back on a global scale with a newly invigorated sense of purpose.
Covid-19 has been a huge influence in the shift towards contactless payments after physical currency were recognised as public enemy number one for the transmission for viruses.
The adoption of QR codes by social media platforms has also been pivotal in their rebirth as part of the e-commerce boom.
For example, Instagram has a "Shop" widget that offers QR codes that you can follow to a product page. In minutes, you could have ordered the same pair of trainers you've just seen being worn by Usain Bolt.
According to a 2020MobileIron survey , 83% of respondents across the U.S., U.K., Germany, Netherlands, France and Spain, had scanned a QR code at least once and 72% had scanned a QR code in November 2020.
The latest predictions by Beaconstacare that by 2022, 5.3 billion people would have redeemed a coupon via a QR code and 1 billion people will access QR codes on their smartphones.
Today, QR codes are a common feature of new financial services products that have emerging as part of the Open Banking revolution. Like prepaid cards, QR payments have had a surge in popularity as they tend to be lower cost than most Visa and Mastercard payments.
For example, ANNA Money offers small businesses and sole traders the ability to use QR codes to speed up the client billing process.
A decorator can generate a QR code at the end of a project that can be scanned by their client. They are then guided through the process of making an instant payment into the trader's bank account.
In a special charitable project at the end of 2020, produced a series of videos to promote a collaboration between Open Banking Excellence, Moneyhub and Streeva.
The videos demonstrated how QR codes can be easily integrated into a marketing campaign and showcase the simplicity of the user journey.
As powerful use cases continue to emerge, consumers and business users will become increasingly accustomed to using QR codes as an alternative to the friction and error-prone process of manual URL entry.
It will be interesting to see how far their adoption in payments will rejuvenate their popularity as part of consumer and B2B marketing campaigns in the future.
Author: Jeff Banks, Blue Train Marketing