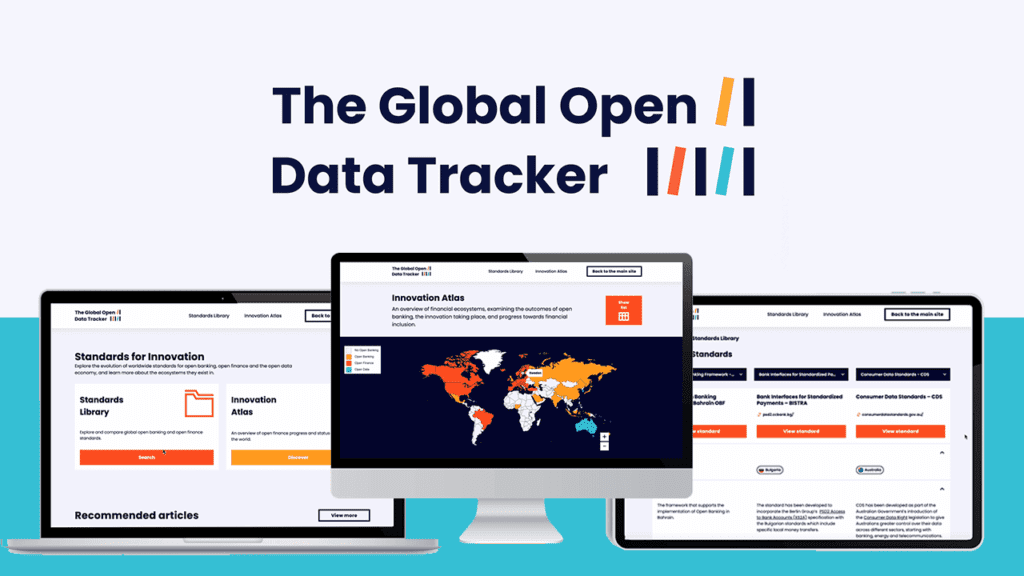 LONDON, 23 May – Ozone API and Smart Data Foundry have today announced a partnership and the launch of two new products – the Standards Library and Innovation Atlas – which are designed to support and accelerate financial innovation in Open Banking.
The Standards Library helps financial institutions and innovators understand the global landscape, making it quick and easy to assess the technical standards adopted by a geography or financial system.
With ever-increasing complexity in the global open finance standards landscape, this tool is a must to help banks, fintechs and regulators understand and compare the different standards around the world and accelerate innovation. Globally, there are now more than 20 different open finance standards.
Open finance initiatives are gaining momentum around the world and the Innovation Atlas provides an overview of what is happening where. The levels of financial inclusion, telecommunication challenges and banking and data privacy regulations are all documented and explored in an easy to navigate map within the Innovation Atlas.
Ongoing additions and updates will be added to the Standards Library and Innovation Atlas on a quarterly basis, ensuring it is constantly updated to reflect the changing global landscape.
Smart Data Foundry and Ozone API have a shared and aligned purpose to inspire financial innovation. The opportunity has never been greater to embrace Open Banking, Open Finance and ultimately Open Data to safely unlock the power of financial data on a global stage.
The combination of Ozone API's sandbox with Smart Data Foundry's aizle synthetic data engine creates the ideal innovation environment for regulators, financial institutions and Fintechs to test new ideas, build prototypes and rapidly bring new products to market. Synthetic data is information that is generated artificially which contains the important and meaningful features of real-world data. Critically, aizle does this without requiring any real-world input data to generate its synthetic data sets, removing privacy and other data risks, making it an ideal building block for innovation.
Commenting on the launch, Bryn Coulthard, Chief Product and Technology Officer at Smart Data Foundry said "We are delighted to partner with Ozone API to bring these two products to market, allowing for the acceleration of innovation in Open Banking, Open Finance and Open Data across the globe.  Our strength in synthetic data, coupled with Ozone API's sandbox creates the ideal environment for innovation."
Huw Davies, Co-founder & Chief Commercial Officer at Ozone API, added "Today's launch of the Standards Library and Innovation Atlas could not come at a better time as we see ever increasing complexity in the global standards landscape. We know, as we're at the sharp end of helping banks and regulators around the world to deliver standards based open APIs. We're delighted to partner with Smart Data Foundry to deliver these valuable tools to the market in order to help accelerate innovation."
It is quick and easy to access the products and services from Ozone API and Smart Data Foundry's websites:
https://ozoneapi.com/resources-global-open-data-tracker
https://smartdatafoundry.com/services/innovation#standards-for-innovation
Ends.
Notes to Editors
About Ozone API
Ozone API empowers banks and financial institutions to adapt and thrive in the new world of open finance, by providing the technology to unlock the power of open finance and change the world.

The UK-based fintech is the leading standards-based open API platform, supporting all global standards and providing the tools and expertise to help banks and financial institutions create real commercial value.
With a founding team that led the development of the UK open banking standards, Ozone API continues to shape open finance around the world helping regulators, banks and technology platforms to accelerate open finance. The Ozone API powers the open banking implementations of banks and financial institutions across the world, with a strong footprint in the UK, Europe, Latam and the Middle East and clients such as Tide and Monese.
Ozone API is an active contributing member of the following standard bodies and trade associations: OpenID, Financial Data Exchange, Financial Data and Technology Association, The Payments Association and Innovate Finance.

Find out more: https://ozoneapi.com/ 
About Smart Data Foundry
Smart Data Foundry is a data innovation organisation, serving the public, private and third sector.  Our purpose is to inspire financial innovation and improve people's lives by unlocking the power of financial data.  We aim to be the leading provider of data for research, insights, and innovation – supplying real data for research and insights, and synthetic data for innovation generated by aizle, our synthetic data engine.
Smart Data Foundry was one of the first major data-themed partnerships following the launch of the University of Edinburgh's Data-Driven Innovation (DDI) initiative, part of the City Region Deal. Under DDI, the University is creating a network of hubs to help public, private and third sector organisations improve products and services through research coupled with high-powered data analytics.
In September 2020 Smart Data Foundry received initial funding from the UK Government's Department for Business, Innovation & Industrial Strategy through the UK Research & Innovation Strength in Places Fund.
Media contact for Ozone API:
Katie Hayes
katie@ozoneapi.com
Head of Marketing
Ozone API
Media contact for Smart Data Foundry:
Richard Seabrook
richard.seabrook@smartdatafoundry.com
Head of Marketing and Communications
Smart Data Foundry