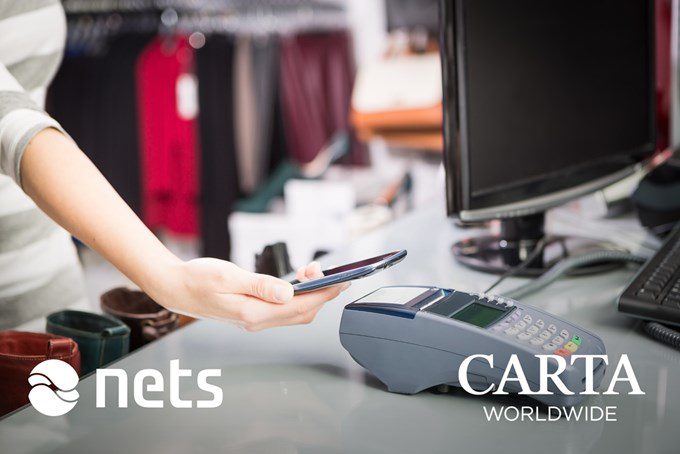 Nets Group and Carta Worldwide have announced a partnership that brings secure mobile payments solutions to banks across Northern Europe. The partnership enables Nets to provide token services potentially to all of the banks that are being serviced by Nets across the Nordics and Baltics.
As part of the partnership Carta — one of the world's leading providers of digital transaction technology — delivers its Token Processing Appliance (TPA) targeted to processors, networks and large issuers.
Nets now offers bank customers an open solution that dramatically simplifies the process of supporting or deploying mobile payment solutions. These bank customers will benefit from a configured and certified set of hardware and software modules within the TPA, including tokenisation and token credential management and provisioning, along with an easily integrated SDK for client mobile payment applications. It's a simple compliant solution for what is typically a complex, lengthy process.
The model allows Nets and Nets' customers to preserve their role as a key provider of secure transactions for their customers while supporting their drive for innovative solutions for the future of payments. The service is designed to be compatible across mobile payment solutions and supports both global and local payment schemes. In other words business-as-usual for the bank.
The TPA's multi-tenant model allows issuers operating through Nets as their processing partner to cost-effectively share a common infrastructure. All customer banks benefit from a flexible long term roadmap — a solution that can adapt with ever-shifting user needs in mobile payments.
"Nets is one of the leading payment platform providers in the Nordics – a  region renowned for innovation – especially within digital payments" noted Carta CEO Brian Semkiw. "We are extremely proud that Nets has chosen to partner with Carta to deliver world leading technology for tokenisation and NFC payments to their world-class clients."
"Nets is a hub for financial infrastructure in the Nordic and Baltic region providing services to more than 200 banks. The partnership with Carta allows us to deliver a broad range of innovative and secure solutions to our bank customers and enable their roll-out of new mobile services. This fits well with Nets ambition to set the benchmark for mobile payments in the Nordics by offering seamless consumer experience", says Hans Henrik Hoffmeyer, SVP in Mobile Services area in Nets.
Read original Press Release from Nets
At Nets, we specialise in powering digital payments. We connect banks, businesses and consumers via an international network facilitating digital payments. Spanning across the Nordic region, we provide a broad range of card services, account services, and payment solutions for merchants.