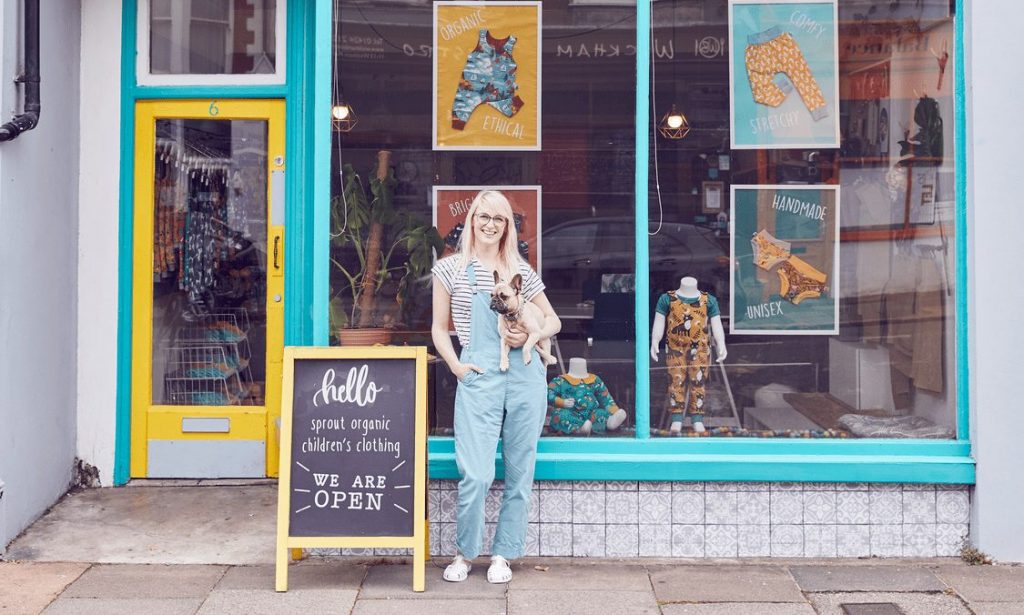 Three in four shoppers (76%) admit local high streets need support while four in five (80%) are shopping with local small businesses as much or more frequently since lockdown lifted, both in person and online
Despite this support, the next three months are crucial to the survival of two fifths (42%) of small businesses
Visa has partnered with grassroots initiative Totally Locally to sponsor Fiver Fest from 10th – 24th October and together they are calling on consumers to divert £5 of their weekly spend to support local businesses in store or online
1st October 2020: As lockdown measures evolve, new research from Visa reveals mixed sentiment towards the future of the high street with both consumers and small business owners tentative about their local town centres. Three in four shoppers (76%) believe their high streets need support to pull through, while two in five (42%) small businesses say that the next three months are crucial to their survival.
High street woes drives consumers to shop local
Eight in ten (82%) consumers are worried about the future of their high street, with an increase in empty shops and premises (50%) and the decline of the local economy (43%) topping the nation's concerns about their towns.
Nevertheless, UK consumers are determined to play their part in supporting their local businesses with 80% of Brits shopping as frequently or more frequently with small businesses since lockdown lifted and 61% admitting they could personally do more to support small businesses by shopping locally, either in person or online.
Small business remain hopeful even as confidence lags
Small businesses remain cautiously optimistic about the future, with over half (53%) confident they will bounce back over the next year.Nevertheless, this fell to 33%[1] since the introduction of the latest government guidelines. Over one in five (22%) small business owners are not confident about the future; this number has increased to 29%[2] since the introduction of the latest government guidelines.
Supercharging support for small businesses
To give local communities a boost at this critical time, Visa is partnering with Totally Locally, a grassroots initiative offering free Town Kits to small business owners and community groups looking to work together to protect the future of independent high streets.
Together they are encouraging small business owners to sign up to 'Fiver Fest', a two week celebration of small businesses and local communities. From 10th to 24th October, towns across the country will be coming together to host £5 special offers, thanking their communities for supporting the local high street. With over half of consumers (52%) saying they could spend £5 extra a week with small businesses, Totally Locally and Visa are calling on consumers to make a change to their spending habits and shop with their local small businesses however they can.
Dominic White, Head of Merchants and Acquirers, Visa UK says: "We know that 2020 has been exceptionally challenging for small businesses so we're doubling down on our commitment of support. Visa is proud to work with Totally Locally in its mission to bring communities together, and we encourage all small businesses to sign up to Fiver Fest ahead of 10th October. The next three months will be such an important period for small businesses, so we are urging the nation to back the spirit of Fiver Fest and shop local, either online or offline, to help communities recover."
Chris Sands, Founder of Totally Locally says: "We're pleased to see how Fiver Fest has grown over the past couple of years and we hope that through the partnership with Visa more consumers and businesses will be a part of it than ever before. It may not feel like a big contribution but that's why we say just diverting £5 a week to small businesses will make a huge difference. If we all make this small change in our spending habits, it will go a long way to reviving our communities."
Visa's partnership with Totally Locally is part of its ongoing Where You Shop Matters campaign, a long-term commitment that recognises the essential role that small and independent businesses play in our communities. Visa has been drawing on its network of industry, technology, and community partners to provide much needed assistance to the small businesses as they rebuild for recovery.
For the first time, Totally Locally is also creating a virtual shopping experience helping towns to get local businesses online – launching initially in Hebden Bridge, Leek and Crickhowell, with many more towns to follow.
For more information, please visit www.fiverfest.co.uk for a list of towns taking part or if you want your town to join in.
[1] Research commissioned by Visa and conducted by Opinium Research from 24th September 2020 – 29thSeptember 2020. 208 SME Owners in Business Sized 1 – 49
[2] Research commissioned by Visa and conducted by Opinium Research from 24th September 2020 – 29thSeptember 2020. 208 SME Owners in Business Sized 1 – 49
END
Notes to editor
September Research 2020
Research commissioned by Visa and conducted by Opinium Research from 15th September 2020 – 21st September 2020.
For consumer data points, the total sample size was 2000 adults. The figures have been weighted and are representative of all UK adults aged 18+.
For merchant data points, total sample size was 500 UK SME Business owners of companies with 0-49 employees.
About Visa
Visa is the world's leader in digital payments. Our mission is to connect the world through the most innovative, reliable and secure payment network – enabling individuals, businesses and economies to thrive. Our advanced global processing network, VisaNet, provides secure and reliable payments around the world, and is capable of handling more than 65,000 transaction messages a second. The company's relentless focus on innovation is a catalyst for the rapid growth of connected commerce on any device. As the world moves from analogue to digital, Visa is applying our brand, products, people, network and scale to reshape the future of commerce. For more information, visit our website (www.visa.co.uk), blog (https://www.visa.co.uk/visa-everywhere/blog.html), and@VisaUK.
About Totally Locally
Totally Locally was founded in Calderdale, West Yorkshire in 2010 by award winning brand and marketing expert Chris Sands.
There are now over 60 towns in the UK who have gone 'Totally Locally' and has reached as far as New Zealand, USA, and Australia. Chris decided to give away the campaign, after he was inundated with towns after the success of the campaign in Calderdale, where he lives. "I just wanted to see what would happen!" he said.
Totally Locally is a free kit for any town to use to promote their independent businesses using key marketing messages including 'The £5 Message', 'The Magic Tenner', 'Fiver Fest' and to encourage a new way of working together for independent businesses. Fiver Fest started as part of this but has now become its own event.
Totally Locally Towns have won High Street of The Year Award in Crickhowell in 2019, Hebden Bridge in 2018 and Belper in 2014. Other Totally Locally towns have won national and regional awards.
In 2015 Chris received an Honorary Doctorate from Staffordshire University for his work helping in the grassroots led regeneration of towns across the world.