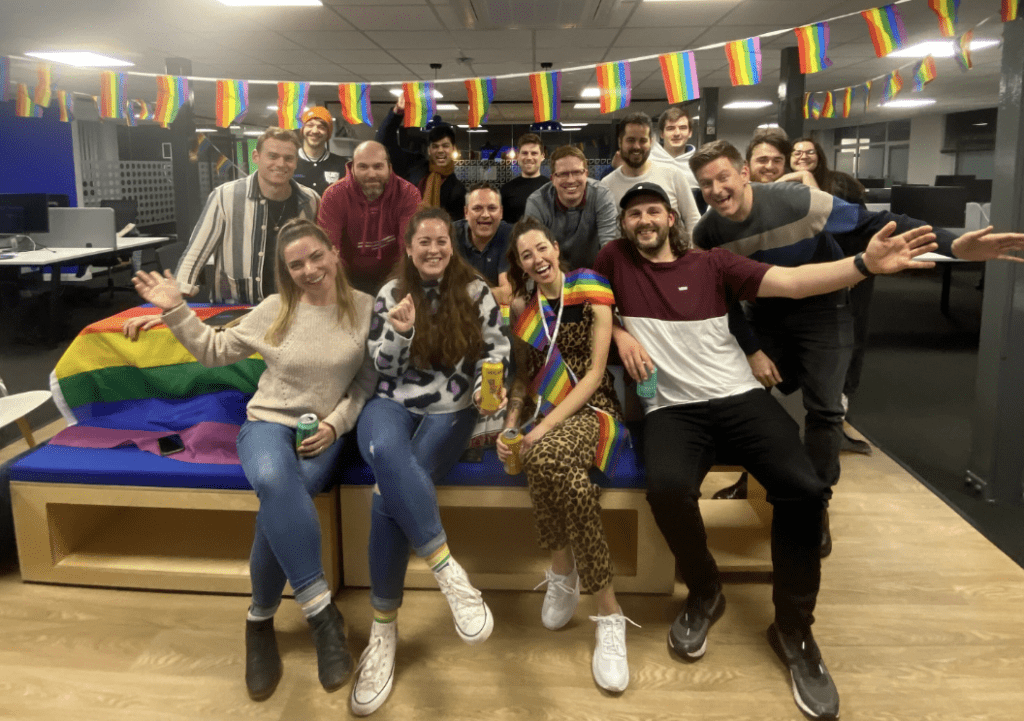 In the last seven years, Tillo has grown from a start-up with a handful of employees to a multi-national company employing nearly one hundred individuals across three continents.
This period of rapid growth makes now the perfect time to set up our LGBTQIA+ group, Loud and Queer, which we hope will pave the way for other communities to thrive by supporting the company in fostering a culture of shared knowledge and understanding.
The start of loud and queer: Our motivations and aspirations
It is well known that diversity of thought, experiences, and backgrounds provides companies with an edge in terms of innovation and creativity.
However, we must acknowledge that society operates within a patriarchal framework, meaning businesses like Tillo must do their part to ensure equitable representation for minorities granting them a voice with which to convey their unique needs and aspirations.
There needs to be representation of and for minorities so that we can provide the company with insights into our differing needs and wants from working life.
Due to the size of our company at the time of starting this group, it was the perfect time to set something up; start small, learn, and grow. By being one of the first minority groups to formalise representation, we hope to encourage and open the doors for other groups to form and grow too.
Having this group also allows us to educate and engage with our colleagues who have different lived experiences to learn and grow together. It can sometimes be surprising what you think others know but don't.
The formation of Tillo's LGBTQIA+ group, Loud and Queer, was a product of passion and grassroots enthusiasm.
This wasn't a mere corporate obligation, but a movement by employees for employees to bring these minority voices to the forefront and shine a light on inclusivity and acceptance across the business. Loud and Queer: it's not just for gays!
Turning words into action: Taking steps towards an inclusive future
When we presented our vision for Loud and Queer to Tillo's senior leadership team, they enthusiastically endorsed our initiative and vowed to support us, which they have, and for that, we are immensely grateful.
From the outset, we knew we wanted to incorporate the entire Tillo community in our pivotal decisions, ensuring the wider team was included in the selection process for our group name and logo, helping to foster a sense of collective ownership.
We also introduced an executive sponsor to our ranks – a straight white male. This deliberate decision to not approach the normal obvious choices for an ES of an LGBTQIA+ group automatically engages those who would not traditionally identify with us as a group for them, to stop and think: "Oh, maybe this is something I can get involved in."
This has also provided the company with the knowledge that this group is for everyone and underscores the fact that allies of all backgrounds are not only welcome, but also essential to our cause.
"Embracing diversity is not just the right thing to do, it is the Tillo way. With Loud and Queer, we've created a platform for our LGBTQIA+ team members to share, grow, and celebrate their unique identities, fostering a company culture that truly values all," says Lee Spencer, chief financial officer and Loud and Queer executive sponsor.
Already, we've hosted a number of events, but we also aim to foster dialogues, inviting the larger Tillo community to voice their expectations of us and to have a say in the affairs we run and offer.
One of many notable initiatives in the Loud and Queer pipeline is 'Tillo Queeries' – an interactive series that enables non-LGBTQIA+ individuals to seek answers in a non-judgmental environment.
Our journey through the landscape of inclusion
With no 'how to start an LGBTQIA+ group' manual to follow, we knew we would have to start Loud and Queer and learn as we went along. We didn't have a roadmap to follow, but this didn't stop us from working towards a collective vision and maintaining a visible and consistent presence.
Transformation doesn't happen overnight. We're still in the early stages of discovering what resonates best with our team, but with tenacity and patience, creating a nurturing work environment is attainable.
Top tips to peers keen to embark on a similar journey
Be realistic about what you can achieve and understand that you can't solve all the world's or your company's issues overnight.
You can make significant strides toward fostering a more inclusive and vibrant work environment with patience and perseverance.
Just do it! In every company, there are passionate people. It's about getting the right group of passionate people together to drive diversity, equity, inclusion, and belonging forward.
Globalising inclusivity: Tailoring our UK blueprint for the US and Australia
As Tillo continues to expand overseas, we try to ensure that our LGBTQIA+ ethos is translated across all geographies, however, this is much easier said than done.
Where we can, we encourage global participation in activities like our film viewings and quizzes, but we also recognise that one size doesn't fit all. To ensure Loud and Queer remains relevant on a global scale, we've elected to emphasise local autonomy, empowering our team members to plan and host events that fit their respective locations' unique needs and constraints.
Diversity isn't just a box to check – it's the Tillo ethos. Through Loud and Queer, we've carved out a space for our LGBTQIA+ colleagues to resonate, evolve, and exult in their distinct identities.
Together, we're very proud to be crafting a Tillo culture that cherishes everyone.