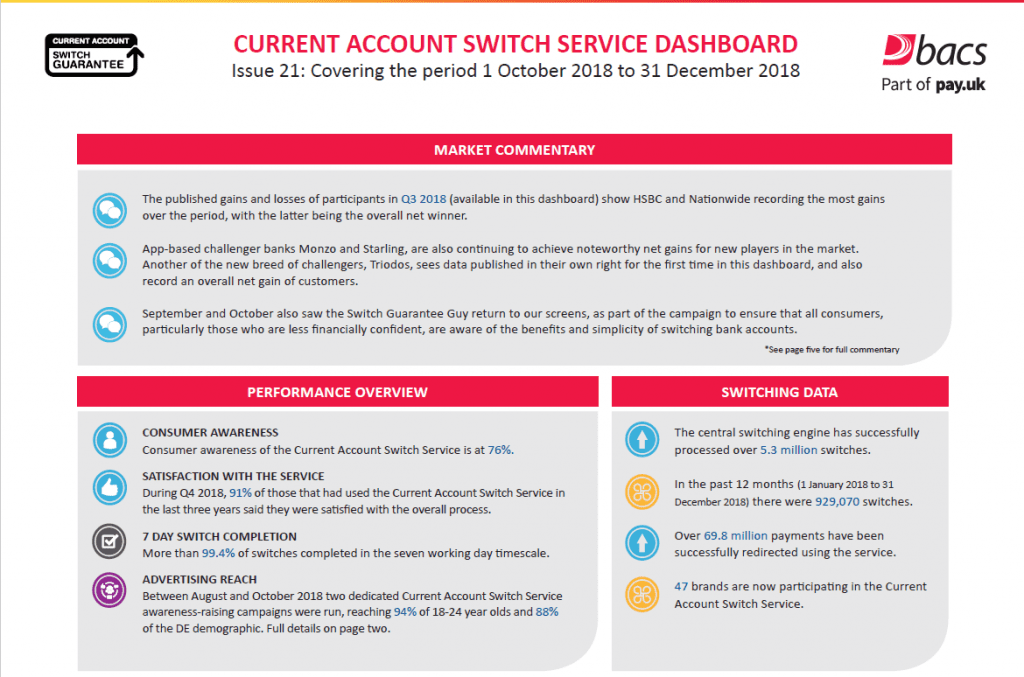 Over 5.3 million switches since launch of Current Account Switch Service
Switching levels between 1 October 2018 and 31 December 2018 up 22 per cent compared to Q3 2018
Participant movement data for Q3 2018 also published
The latest figures for the Current Account Switch Service are published today (30 January), showing that over 5.3 million (5,381,216) successful switches have taken place since the service launched in 2013.
In the last three months of 2018, 235,648 account switches were successfully completed – up 22 per cent when compared to the previous quarter (193,621 switches), while a total of 929,070 switches took place last year (1 January – 31 December 2018).
Over 69.8 million payments have now been redirected by the service, which reports a seven day switching success rate of 99.4 per cent, with 91 per cent of those surveyed during Q4 who have switched their current account in the last three years saying that they were satisfied with the process.
During the second half of last year, two new multi-media marketing and advertising campaigns were launched.  Encompassing TV, digital, out of home and social media, the awareness-raising activity targeted two groups traditionally considered to be among those which are harder to reach – 18-24 year olds and the financially vulnerable.
 Part of leading retail payments authority, Pay.UK, the Current Account Switch Service has grown to include 47 participating banks and building societies, representing over 99 per cent of the UK's current account market.
Full details are available in the latest edition of the Current Account Switch Service Dashboard (no.21), [downloadable here – www.bacs.co.uk/factsandfigures]; and includes the latest participant movement data for Q3 2018.