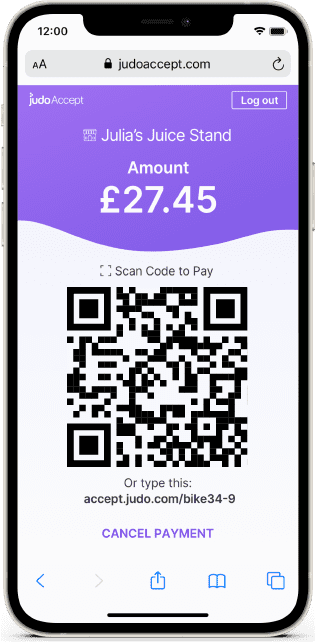 As we return to the high street, JudoAccept is the first technology to enable safe, socially distanced payments completely through mobile devices
London, UK, 9th December 2020 – Judopay, a leading mobile-centric payments provider, today announces the launch of JudoAccept, a new integrated payments offering that will help small to medium-sized enterprises (SMEs) cope with the fallout and ongoing impact of COVID-19.
With even industry giants struggling to recover, SMEs in all sectors have been hardest hit by this year's challenges. Part of this struggle has been the ability to provide consumers with the goods and services they want to buy in a socially distanced and secure manner. Meeting new 'covid-safe' expectations during the retail and checkout experience means that payments now have to be touchless in order for customers to keep their distance. JudoAccept does this by totally removing the need for interaction with any payment terminal through their touch-free in-person or remote payment technology.
Businesses can now accept both in-person and remote payments with just their existing smartphone or a tablet. At a safe distance, customers scan the merchant's QR code displayed on a tablet or smartphone with their own device to instantly open a checkout and pay. This eliminates the need to interact with unhygienic payment terminals and germ ridden cash.
With SMEs facing a downturn in revenue and unreliable cash flow, JudoAccept's set up removes the need for costly payment terminals, integration resources or development time. Through the Judopay Portal, businesses can also create and send payment links such as for items like takeaway food, taxi fares, invoices or utility bills.  JudoAccept works with a wide range of built-in alternative payment methods at checkout, including Apple Pay, Klarna, PayPal and more. Access to this broad range of services has become vital to SMEs that have turned to digital as a lifeline during the pandemic.
Judopay's CEO, Jeremy Nicholds, commented: "In the current environment, adaptability is key to business survival. The longer we live with restrictions in how we go about our lives, the greater the economic impact from the pandemic will be, impacting the 5.9 million SMEs that are the lifeblood of the UK economy. JudoAccept enables a unified, health-conscious and secure commerce experience, providing SMEs with accessible and affordable means to thrive through the pandemic and beyond."
Jumaane Hutchinson, Head of Products at Judopay, added: "Many SMEs don't have the expertise, teams or finances to invest in the latest technology. However, they all need to keep trading. JudoAccept is a touch-free payment method, eliminating the need for them to invest in hardware or download payment apps. This is a game changer to help businesses that may have over relied on cash with no technological complications. We are very pleased to have been in a position to respond to the changing environment with a new solution to support our customers' recovery."
To learn more about the Judopay, please visit: judopay.com
-ENDS-