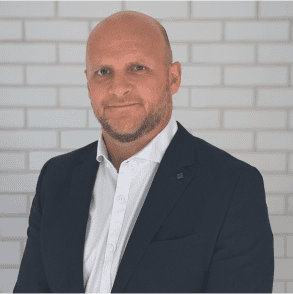 London, June 13, 2023 – Ozone API, the leading provider of open finance software, is pleased to announce the appointment of James Bushby as General Manager for the UK, Europe, and North America. With an exceptional background in the payments industry and a wealth of experience in driving strategic partnerships and sales, James will play a pivotal role in expanding Ozone API's presence and driving growth in these key regions.
Prior to joining Ozone API, James served as the Senior Vice President for developing the Real-Time Payments business at MasterCard. In this role, he spearheaded complex strategic partnerships and worked closely with Financial Institutions and Central Banks worldwide, contributing to the expansion of Real-Time Payments and Open Banking propositions. With over 20 years of sales leadership experience, James is driven by helping customers deliver innovative and value-based solutions.
Reflecting on his new role, James Bushby stated, "I am excited to be joining Ozone API because it is a pivotal time for Open Banking/Open Finance, with significant opportunities for TPPs, banks, and the wider payment ecosystem. I have a strong cultural alignment with the Ozone team, and their combination of deep expertise and enabling technology is unique in this industry."
As General Manager for the UK, Europe, and North America, James will be instrumental in driving Ozone API's growth strategy in these regions. His extensive knowledge of the payments industry and track record in fostering partnerships will enable Ozone API to further empower customers with innovative and value-driven solutions.
"We are thrilled to welcome James Bushby to the Ozone API team," said Huw Davies, Co-CEO at Ozone API. "His proven expertise and leadership in the payments industry make him the ideal candidate to lead our expansion efforts in the UK, Europe, and North America. We are confident that James will contribute significantly to our mission of accelerating Open Banking and Open Finance."
Ozone API continues to revolutionise the open finance landscape with its cutting-edge software, powering the open banking and open finance infrastructure for over 60 banks and financial institutions globally. By leveraging their deep expertise and enabling technology, Ozone API is enabling financial institutions to thrive and deliver new banking business models.
Ends.
—
About Ozone API:
Ozone API empowers banks and financial institutions to adapt and thrive in the new world of open data, by providing the technology to unlock the power of open finance and change the world.
The UK-based fintech is the leading standards-based open API platform, supporting all global standards and providing the tools and expertise to help banks and financial institutions create real commercial value.
With a founding team that led the development of the UK open banking standards, Ozone API continues to shape global open finance helping regulators, banks and technology platforms to accelerate open finance. 
Learn more: https://ozoneapi.com/
—
For media inquiries, please contact:
Katie Hayes
Head of Marketing, Ozone API
katie@ozoneapi.com