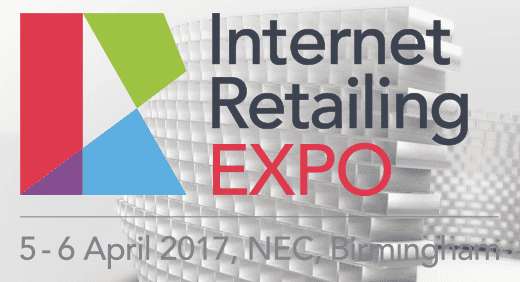 Over 15 product demos, 13 new product and partnership announcements, 9 new start-ups and 5 exclusive reports and research to be presented this year
London, 22nd March 2017 – The UK's biggest multichannel event, the InternetRetailing Expo (IRX), co-located with eDelivery Expo (EDX), Europe's only dedicated multichannel delivery event, returns to Birmingham on the 5th and 6th April this year. With it come the latest innovations and products as well as the next big players in multichannel retail.
In addition to top retailers Lululemon, Google, Facebook, Sainsbury's, LEGO, Harrods, John Lewis, M&S, Alibaba Group, Ocado, Schuh, Vodafone, Specsavers, Volkswagen, GAME and ASDA sharing their insight and expertise on stage, true action will also be seen in the exhibition floor of the NEC in Birmingham.
Visitors attending the show will not only get a first-hand look at the latest research, innovations and technology set to define the future of fulfilment and multichannel retail, but will also have the opportunity to interact and immerse themselves in it.
Virtual reality, robots, new software and developments will form part of the exclusive demos of cutting-edge technology to be unveiled by 300 leading solution providers at the show.
Some of these technologies will focus on business and competitiveness improvements, such as Brightpearl, live demonstrating their mobile point of sale system & automation platform designed for multichannel retailers, and Bunting, proving the importance of personalisation by carrying out live transformations of visitors' websites and personalising them in real-time.
For the payments industry, particularly, Worldpay will be presenting a proof-of concept demo of how payments could be used in the Internet of Things, with an IoT driverless carparking Lego demonstration. myPOS Europe Ltd will also be presenting different online payment tools, and demoing their latest myPOS devices and myPOS AppMarket.
Exhibitors at EDX will also showcase the latest technology in packaging, parcels, stock management, warehousing, logistics end-to-end, and many more areas to help retailers improve their operations performance at the show.
For instance, Eiratech Robotics will be demonstrating its full automation system for warehouse management live, including two of their award-winning robots. OrderWise will exhibit their Mobile Warehouse Management Devices and exciting new Android App functionality. Delegates will also have the opportunity of experiencing, through virtual reality, how they can operate the new LR 35 by Kardex Remstar, a vertical buffer module system that incorporates automated storage and retrieval in one solution.
Spotlight of this year's show will also be on the Innovation Hub, a dedicated space where the most ground-breaking entrepreneurs and emerging technologies will be presented.
There, TrueStart, Europe's only independent retail and consumer accelerator and investment fund, together with 9 start-ups: Posttag, ChoiceMaster, Blockverify, LogistCompare, Milkman, PixonEye, Hullabalook, Photospire and Streetdots, will be showcasing the new technological solutions and platforms that are disrupting the retailing space. Checkout-conversion improvement, home-delivery, data analytics, artificial intelligence and customer recommendations, search optimisation, bottom-line improvement, supply chain management, anti-counterfeit measures, marketplaces for warehousing, innovation in the last-mile and data-driven videos are some of the key elements these technologies address.
Other companies like Consignor, Payoneer, Khaos Control, Papier Metter, Netmatter, Kardex Remstar, Profulfilment, Yotpo, VL, Automated Packaging Systems and Volo Commerce will also be introducing new products and features for the UK market at this year's edition. From cloud marketplace and channel integration solutions, to new sustainable and protective packaging materials, benchmarking tools for user-generated content and comprehensive integration platforms for ERP software, accounting systems, ecommerce platforms, shipping services and more, many exciting innovations will be presented.
Latest insight and research on the industry, to help retailers better understand opportunities in multichannel retail and logistics, will also be unveiled. Industry experts and analysts like iAdvize, Magnolia and CompetitorMonitor will be sharing their exclusive reports on creating conversational customer journeys, personalisation of web experiences and best practice for E-commerce Managers.
Adding to IRX and EDX's comprehensive educational programme, the Expos will have 20 workshops for hands-on, practical, training. These will cover an array of topics including: building best-in-class supply chain by Profulfilment, ChannelAdvisor and DHL; increasing new business and secure repeat business by Webmarketing Booster; predictive marketing solutions by Smarter Ecommerce; and personalisation of digital experiences by Optimizely.
Attendees to the Expos won't want to miss the chance of winning a Remote-Controlled Drone (Quadcopter) at Profulfilment's stand or trying out Akamai Technologies' fully immersive virtual reality (VR) experience, as they follow a cyber-attack attempting to breach and destroy a corporate website.
Complementary to the abundant opportunities for attendees to interact with cutting-edge technology and participative learning opportunities, the Expos will also mix business and pleasure outside the exhibition floor. Worldpay, Yotpo, Nosto and Kount will be hold networking opportunities and fun activities across both days.
New to this year's show, IRX and EDX will also host an official party on the night of the 5th April at The Vox. This unique evening will bring together the who's who of multichannel retail and the most distinguished industry professionals at this year's show. Together they will celebrate the continued success of the most dynamic online retail sector and toast to the bright future ahead of the industry. Retailers interested in attending the party can apply for tickets here.
To learn more about the InternetRetailing and eDelivery Expo and to register for free, visit www.internetretailingexpo.com and www.edeliveryexpo.com
#ENDS#