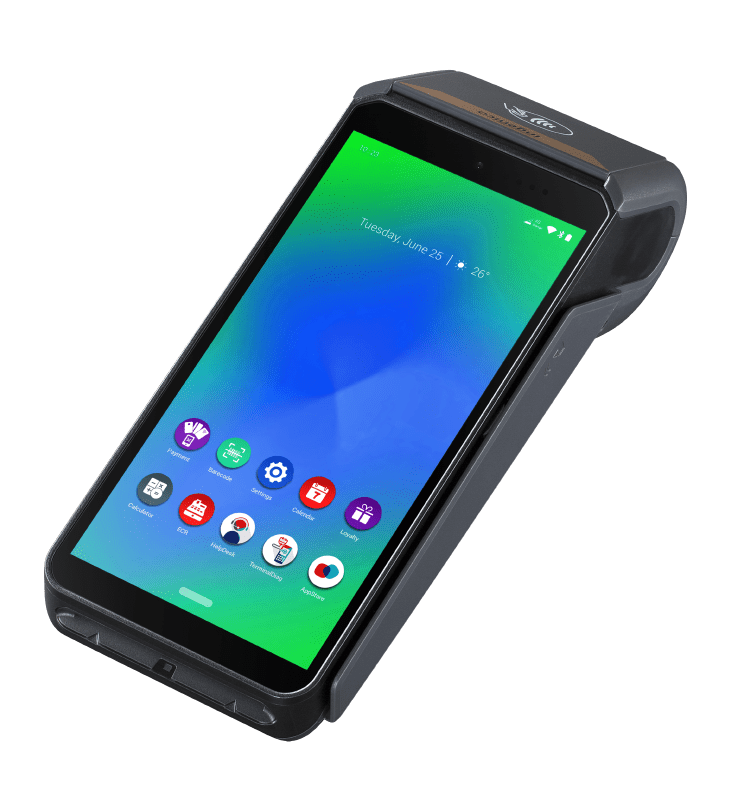 January 31st, 2022
Ingenico, a Worldline brand, has received certification by the Royal National Institute of Blind People (RNIB), the United Kingdom's leading sight loss charity, for the accessibility and usability of its AXIUM DX8000 payment terminal by blind and partially sighted people.
According to the RNIB, more than two million people in the UK are living with sight loss[1], and with an ageing population, this figure is expected to grow significantly in the coming years.
The use of touch screens for PIN entry is increasing in popularity with consumers, accelerating the rollout of Android payment terminals. However, with no tactile markers or a physical keypad to navigate, this presents a challenge to people with a visual impairment.
Ingenico has collaborated with the RNIB on the design of a new interface for its AXIUM DX8000 Android payment terminal. This included an expert assessment and observed user testing with blind and partially sighted users to identify usability and accessibility issues.
Utilising the large colour touch screen on the DX8000 and its 'text-to-speech capability', Ingenico harnessed the power of the technology to propose a solution that would provide clarity to the card holder:
The use of large, bold characters in a font recommended for character recognition provides good contrast and clarity, supporting people with impaired vision to use the PIN pad more easily.
An internationally recognised icon for the visually impaired people launches the full 'Accessibility Mode', prompting the terminal to provide an audible introduction, guiding the user around the keyboard.
The device reads out the amount to be paid, along with basic instructions supported by a series of beeps to assist with keypad navigation.
A double tap anywhere on the screen is used to select the desired key, and the whole process has an extended time-out feature, allowing the user to carefully complete their transaction in the time they need.
Martin Doherty, Head of Terminals, Solutions and Services for Northern Europe at Ingenico, a Worldline brand, commented:
"Ingenico has worked closely with the RNIB to implement a PCI approved solution for people with a visual impairment, that maintains the security of the PIN entry process, and provides trust at the moment of purchase. We are extremely grateful for the assistance provided by the RNIB and look forward to our continued collaboration with them as we extend this new interface throughout our AXIUM product range".
David Clarke, RNIB Director of Services, said:
"We are delighted to have supported Ingenico with their new AXIUM DX8000 Android payment terminal to ensure it is accessible for blind and partially sighted people. Ingenico has worked hard to implement a user interface that will work effectively for a range of visual impairment levels, incorporating all the recommendations from the RNIB's user testing. We look forward to our continued collaboration, ensuring financial inclusion for all".
___________________________________________________
About Worldline
Worldline [Euronext: WLN] is the European leader in the payments and transactional services industry and #4 player worldwide. With its global reach and its commitment to innovation, Worldline is the technology partner of choice for merchants, banks and third-party acquirers as well as public transport operators, government agencies and industrial companies in all sectors. Powered by over 20,000 employees in more than 50 countries, Worldline provides its clients with sustainable, trusted and secure solutions across the payment value chain, fostering their business growth wherever they are. Services offered by Worldline in the areas of Merchant Services; Terminals, Solutions & Services; Financial Services and Mobility & e-Transactional Services include domestic and cross-border commercial acquiring, both in-store and online, highly secure payment transaction processing, a broad portfolio of payment terminals as well as e-ticketing and digital services in the industrial environment. In 2020 Worldline generated a proforma revenue of 4.8 billion euros. worldline.com
ABOUT RNIB
We are the Royal National Institute of Blind People (RNIB). Every six minutes, someone in the UK begins to lose their sight. RNIB is taking a stand against exclusion, inequality and isolation to create a world without barriers where people with sight loss can lead full lives. A different world where society values blind and partially sighted people not for the disabilities they've overcome, but for the people they are.
RNIB. See differently. Call the RNIB Helpline on 0303 123 9999 or visit www.rnib.org.uk 
MEDIA CONTACTS
Hélène Carlander
Group Head of External Communication
Mobile +33 (0)7 72 25 96 04
helene.carlander@worldline.com
Article by Ingenico, a Worldline brand