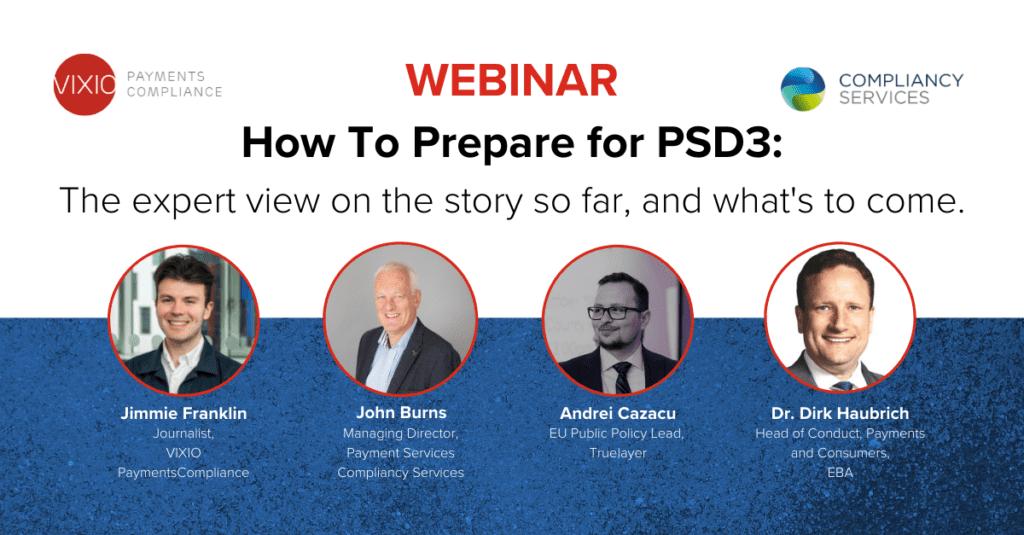 The Road Ahead: PSD2 becomes PSD3.
The expert view on the story so far, and what's to come.
The Second Payments Services Directive (PSD2) entered into force in 2018 and was expected to transform the status quo for payments in Europe. It dramatically shifted the landscape, but could not achieve all of its goals.
The EU's supervisory authorities are going back for another round and have been in consultation mode on PSD3, which is expected to deliver another wave of sweeping reforms.
Join Vixio Payments Compliance and Compliancy Services with payments experts from the European Banking Authority and TrueLayer. Get an honest review from those that helped craft the legislation from the start, and see what's ahead for PSD3.
Attendees will learn:
– A high-level timeline of PSD1/PSD2 and what this means for PSD3
– What payments firms can do to stay ahead of and influence PSD3
– The key details of the ongoing power balance debate at the heart of PSD3
Save Your Seat: https://discover.vixio.com/long-road-ahead-psd3/?utm_source=compliancy_services&utm_medium=external&utm_campaign=2022_pc_psd2/psd3_webinar