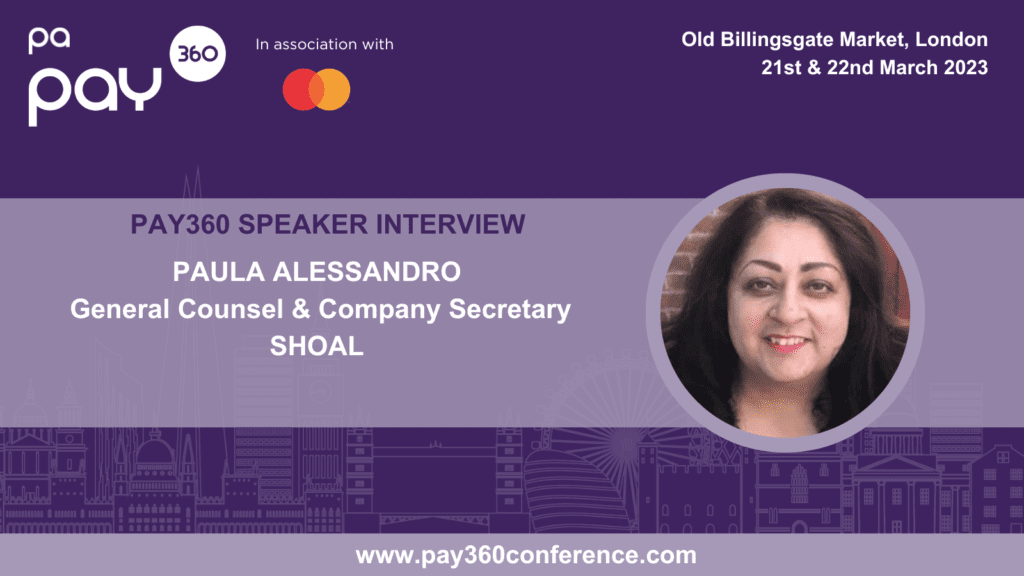 Banking-as-a-Service (BaaS) has the power to grow the customer base while meeting the ESG goals of a company and its community. Paula Alessandro from Shoal explains the opportunities. 
The Payments Association's Anthonia Kehinde asked Paula Alessandro, general counsel and company secretary at Shoal, a Standard Chartered venture, about the power of BaaS for retail consumers. 
BaaS allows third parties, not registered with the FCA, to provide banking products and services. It is a popular option for fintechs that specialise in only one or two aspects of the value chain. For customers, it's offering an alternative to the existing banking products and services that have left many disappointed. 
The initiative is "reconfiguring the banking value chain," according to Deloitte and "opening the door to disintermediation and enabling new sources of growth".  
"Through integrating non-banking businesses with regulated financial infrastructure, BaaS offerings are enabling new, specialised propositions and bringing them to market faster," adds Deloitte. 
Shoal is using BaaS as part of its structure to offer a sustainable and community-led digital platform through which customers will be able to access sustainable financial products initially powered by Standard Chartered Bank.   
As General Counsel and company secretary of Shoal, Paula Alessandro plays a key role in strategy, fundraising and operations. 
Anthonia Kehinde (AK): Paula, can you tell us how Shoal is empowering UK savers to fight climate change? 
Paula Alessandro (PA): Shoal is an ESG platform, which aims to make sustainable financial products and consumer goods readily accessible to retail customers, initially in the UK but with global expansion plans. We hope to launch in the first half of 2023 with our own sustainable savings product. 
We plan to evolve into a digital marketplace offering the products of key strategic partners. Our first product, the sustainable savings product, allows customers to support a global sustainable portfolio which includes loans and projects aligned to three key themes: renewable energy, clean water and community development. 
Shoal's unique proposition is to help support a portfolio of sustainable projects across the world.  By allowing retail consumers this transparency over their choices, it fundamentally changes the traditional banking model.  
By also enabling consumers to access sustainable financial products typically reserved for those with higher minimum deposits or investments, Shoal is democratising sustainability in a unique way and extending its reach into the consumer market.  
This is important, not just because people are more conscious about sustainability, as we see with Gen Zs, but also because it allows consumers to act collectively and harness the power of their money to finance sustainability in ways that the government is not able to reach.  
AK: How is BaaS helping you to achieve this?  
PA: As a digital marketplace, Shoal is an unregulated entity. To offer our sustainable savings product, we rely on the regulatory permissions umbrella of our BaaS provider, which offers a white-labelled customer bank product in our structure. This allows retail customers to make their initial deposit.  
The regulatory permissions umbrella of a BaaS provider is key in allowing us to incorporate banking services into our proposition and achieve speed to market. BaaS allows unregulated companies – fintechs in particular – to incorporate financial services elements into their business model, without the need to become a financial services provider that needs to apply for permissions under the Financial Services & Markets Act 2000.  
AK: Why has BaaS become so popular?  
PA: If you look at the banking picture more widely, several years ago the Financial Conduct Authority (FCA) conducted a retail distribution review, looking at how to level up the market in terms of competition. BaaS has the capacity to be an additional leveller.  
The expansion of tech companies introducing services such as Google Pay and Apple Pay into territory traditionally maintained by banks disrupts the traditional banking services model. To remain competitive banks are thinking, 'how can we partner with fintechs, rather than risk them overtaking us in our space'.  
It means existing banks can stay dynamic and at the forefront of the market and it gives fintechs the opportunity to create a range of new products, with their knowledge and customer databases. This can push service levels and choice up for consumers which is a good thing and in line with the objectives or relevant regulators.
AK: What technical challenges are you experiencing when integrating BaaS and what are you doing to mitigate this?  
PA: BaaS is a unique proposition compared to a typical services agreement, which raises many issues for the parties to navigate including: Who owns the customer relationship? Who is responsible for and can use customer data? Who has primary contact with the customer and what are appropriate boundaries in respect of cross-marketing products? 
In addition, [there is also the question of] how AML/KYC will work where a BaaS provider is undertaking this, but a fintech would need input and oversight. It is likely the parties to a BaaS arrangement would negotiate hard over such provisions.  
Another key challenge we think about is how we protect our customers. Retail consumers using fintechs, which incorporate financial services elements into their products, should have the same or similar protections to when they are transacting directly with a financial services provider.  
There are ways to address this, such as submitting to the voluntary jurisdiction of the Financial Ombudsman Service, so that from a customer's perspective, the experience is the same. The FCA will also be introducing a new Consumer Duty in July 2023.  
While this does not apply to unregulated entities such as fintechs, it is good practice to ensure that you are explaining products and services to customers clearly. Sometimes a fintech using a BaaS provider can be quite a complex proposition for the end customer.  
Design principles to help ensure that legal terms and conditions are clear to customers, for instance by using simple diagrams, according to the standards that the Consumer Duty is seeking to achieve.  
AK: What does the future hold for BaaS? 
PA: It seems that there may be more supply than demand in the BaaS market now as there are several entrants and their propositions are evolving.  
Fintech is also a booming and expanding area, and to the extent that people want to achieve more, we could see the trend reversing so there is more demand in future. We think doing workshops with our BaaS provider to see what else we can do to maximise synergies in future could contribute further to the wider technology revolution.  
This is of fundamental significance because, at Shoal, we believe in the power of technology for good and to fight climate change.   
About Paula Alessandro 
Paula Alessandro is a successful financial services lawyer who spent the formative years of her career at Allen & Overy and has previously worked at banks including Santander and Morgan Stanley.  
As General Counsel and company secretary of Shoal, she plays a key role in strategy, fundraising and operations. She has responsibility for corporate services including oversight of legal, company secretariat, risk and compliance.