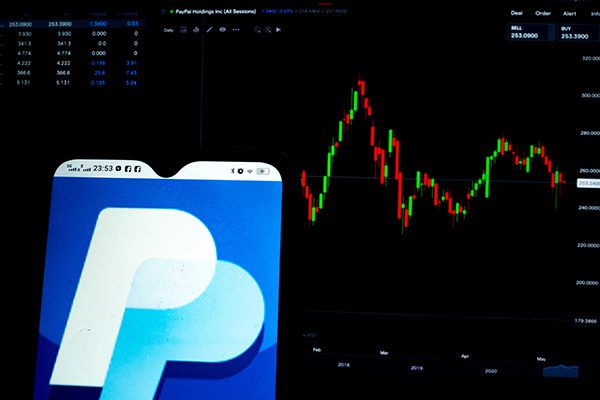 Global M&A in the payments sector is improving after the 2021 slump, according to Jonathan Tyce, director of research and investment at AlphaOneSolutions and ex-Bloomberg intelligence senior financial analyst. Apple, JPMorgan, PayPal and other big players are out looking for their next venture.
The rollercoaster that the global payments industry has been riding since early 2020 is now easing. Inflated expectations, bloated cost bases and unrealistic growth ambitions have been reined in. M&A is back on the agenda.
The stratospheric valuations of 2021 are now banished to history and the bulk of job cuts have eased. With a paltry nine deals in Q1 2023 and less than $330 million in deal volume, payments activity is primed to pick up in the second half of the year with merchant acquiring books, embedded finance and buy now, pay later being some of the areas to watch, as well as the digital currency space.
Stock market valuations of PayPal and Adyen
To provide some context, the chart below shows how the stock market valuations of payments industry leaders PayPal and Adyen exploded from April 2020 to March 2021. This happened as Covid lockdowns temporarily and prematurely drove expectations that the world would move online permanently. PayPal's share price had tripled by Q2 2021, with its market capitalisation peaking at nearly $350 billion.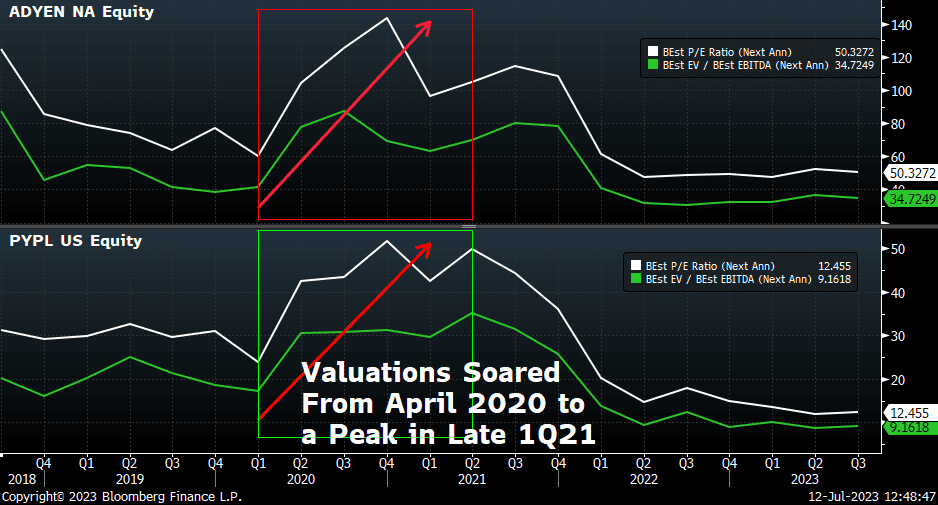 Price-to-earnings (P/E, white line) and EV-Ebitda (green line) multiples – two of Wall Street's favourite stock valuation metrics used to value payments companies – more than tripled in 2021. Adyen's P/E peaked at about 150x, while PayPal's relatively more modest 50x high still looks astonishing when compared with today's more sensible 15x.
With silly season behind us, grappling with the nuts and bolts of a world going digital is now a payment company's full-time job.
John Kim, PayPal's chief product officer, summed up the key challenges that the payments industry must address during the company's Strategic Priorities and Product Initiatives analyst meeting in June. He said the e-commerce industry is going through "tremendous pressure to evolve".
"The disappearance of cookies, the disruption of supply chains, the emergence of new consumer services, the fragmentation of channels, and the rise of AI, are things that are on merchants' minds.
"This is all in addition to their day job, which is to acquire traffic, drive people to the shopping process and ultimately lead to conversion, as well as servicing post-purchase. The next generation of winners will require strong partnerships," he added.

As the chart above demonstrates, ambition, expectations and valuations within the payments industry got ahead of themselves in the heady days immediately following the first Covid-19 global lockdown. Resetting this irrational exuberance will now allow for further consolidation, efficiency drives and strategic refocus. Yesteryear's singular focus on customer acquisition has moved on, with deepening customer engagement now the mantra.
Wall Street's 2023 and 2024 revenue predictions
Some key questions remain – what is the size of the available revenue pool for payments, how quickly will it grow and who will take share?
JPMorgan's $5.6 trillion in 2022 consumer and small business payments flow, and $14 billion in payments revenues – which was a 41% year-on-year growth – typifies why the banking system cares, and why M&A will also be high on their agenda in this critical space.
Using PayPal, Block, Global Payments and Adyen as a proxy for the growth in the payments industry paints a very stark picture of how expectations have retrenched along with share prices and valuations.
In the 18-months that followed the mid-2021 frenzied peak in payments companies' share prices and analyst forecast, $17 billion, or nearly 25% was cut from Wall Street's expectations for the aggregate global revenues of these four industry behemoths.
Worse still, 2024's fanciful forecast, which at an October 2020 peak in enthusiasm were expected to deliver nearly 20% growth year-over-year, has been slashed by $25 billion, leaving a far more pedestrian 12% growth in 2024, now the base case.
The good news is that the outlook has stabilised and expectations now look grounded. The bad news is what this has meant for jobs and costs so far.
According to website Layoffs.fyi, 2023's 216,000 job cuts (837 companies) across the global technology sector have already comfortably surpassed the more than 150,000 tech job layoffs in 2022 across more than 1,000 companies.
The payments industry has borne its share of the job cuts pain with PayPal a prime example of the pressure to cut investment and find efficiencies. As the outlook for 2023 and 2024 payments revenues plunged globally, consensus for PayPal's combined 2023-24 sales dived $21.5 billion peak-to-trough.
This has in turn led analysts following the company to cut their own 2024 operating expense budgets by $10 billion. PayPal's end-January announcement that it would be cutting 2,000 full-time employees, roughly 7% of its workforce, has been mirrored by many across the tech space.
The pressures will ultimately claim more tech roles but, for now, much of the rightsizing appears to have been achieved.
The next big deal
Identifying where the next deal will be is a thankless task, not least because of the huge and disparate array of vested interests. The ever-changing nature of payments is another limiting factor to identifying the targets.
This was neatly articulated by Takis Georgakopoulos, JP Morgan's global head of payments, at the bank's May 2023 investor day.
"Payment products are not static", he explained, noting that "on the Treasury services side, we see real-time payments around the world.
"On the alternative, on the merchant acquiring side, you just saw pays [sic], and we're going to go live before the end of the year, also with Pay by Bank, with our partner Mastercard for particular use cases."
Beyond cards, consumer, treasury and merchant acquiring, digital coins and the world of cryptocurrencies is another hotbed of opportunity.
Georgakoplous can see the possibilities, saying that "the JPM Coin we've mentioned before in 2022 was moving $1 billion a day across our payments and our markets franchise […] programmable money is the next frontier on how to use digital currencies".
Megadeals similar to Worldpay, Afterpay or TSS (see table above) are likely few and far between for now even though valuations have returned to reasonable levels.
Instead, embedded payment solution providers, smaller B2B infrastructure plays, and FX and remittance technology have much appeal.
Valuing the payments sector remains a moveable feast, however. Adyen's scarcity premium as Europe's largest pure-play payments company, with a debt-free balance sheet and impressive US footprint, suggests it will remain an outlier. Block will likely also continue to trade richly but, by-and-large, payments companies trading on mid-teens price-to-earnings ratios and EV-Ebitda multiples of 8-12x looks sensible again, and should support a return to M&A.
Nevertheless, as the regulators get to grips with BNPL, we would also expect some activity in this fast-growing industry.
For buyers, take your pick but from Apple to JPMorgan to PayPal, the big boys are out there looking and they can pay to play.