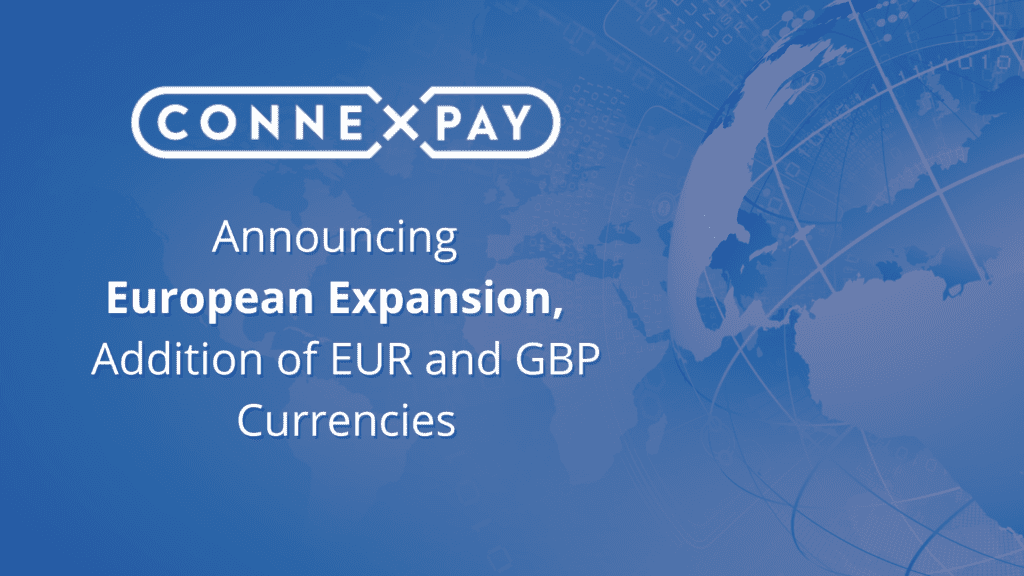 ConnexPay, the first and only payments technology company that offers a fully integrated payments acceptance and payment issuance solution inside a single platform, has expanded upon an already impressive global footprint with the launch of British Pounds (GBP) and Euros (EUR) currencies. The company has operated for years in the European market, but this release allows European companies the flexibility to receive and send payments in their native currencies.
Despite the complexity of the payments landscape, ConnexPay's core solution is extremely smart and user-friendly. The all-in-one platform allows merchants to have immediate access to incoming customer payments, which they can then use in real time to fund virtual cards to pay suppliers. With ConnexPay, businesses no longer have to wait for incoming payments to clear before accessing those funds, a process that could take anywhere from days to weeks, causing cashflow problems for a company's entire supply chain. In addition, ConnexPay's payments solution integrates fraud prevention and chargeback management plus a fully-featured reporting and analytics suite – all inside a single platform with one contract, one reconciliation, and one team.
The company already has a number of international customers who now add the ability to transact in GBP and EUR. Enabling them to issue in multiple currencies globally is vital to these businesses, and there are a host of additional global companies that will be implementing ConnexPay's solution and going live this month.
Bob Kaufman, Founder and CEO at ConnexPay, said: "After five years building our solution to great success in North America, we're excited to launch native currencies in Europe knowing that our solution is fit for purpose, global in scope and simply connects payments. We have worked closely with our key partners to ensure that what we are delivering is exactly what the market needs. ConnexPay is the only company in the world that provides an end-to-end payments solution all inside a single platform."
He added: "We have shown our international customers that having both card issuing and acceptance as a single solution can significantly increase efficiencies and lower the costs of both accepting incoming payments and making cross-border payments. I'm thrilled to already have some innovative customers on board with the ability to issue in more currencies, helping these companies scale, as we scale, and continuing to work with them to bring their services to customers across the globe."
ConnexPay currently processes billions in volume and recently received a $110 million growth equity investment led by FTV Capital, a sector-focused investor with more than two decades of experience in payments and financial services. The investment from FTV Capital has been a major factor in enabling ConnexPay to expand globally with a revolutionary product and the infrastructure to support rapid growth. In the last 12 months alone, ConnexPay has seen revenue increase by 500% and expects to double revenue this year.
To learn more visit: https://connexpay.com/
About ConnexPay
ConnexPay is the first and only company to bring together the two sides of the payment process — payments acceptance and virtual payments issuing — into a single platform with one contract and one reconciliation. The flexibility of this technology allows clients to adopt the full end-to-end acquiring and issuing solution or leverage ConnexPay's innovative intelligent routing issuing-only platform.
Although ConnexPay started its journey with a focus on the travel and tourism space, ConnexPay's solutions are applicable across a broad spectrum of corporate payment use cases. The platform is well suited for corporate disbursements like insurance and warranty claims, loyalty and rewards payouts as well as corporate procurements like media/advertising buys and ticketing.
The company's technology simplifies an antiquated workflow, eliminates the need for pre-funded accounts, reduces supplier risk and the cost of accepting card payments while safeguarding consumer spend. Learn more at www.connexpay.com and follow us on LinkedIn.
Media contact:
Ben Redman, SkyParlour
ben@skyparlour.com
+44 (0)330 043 1315