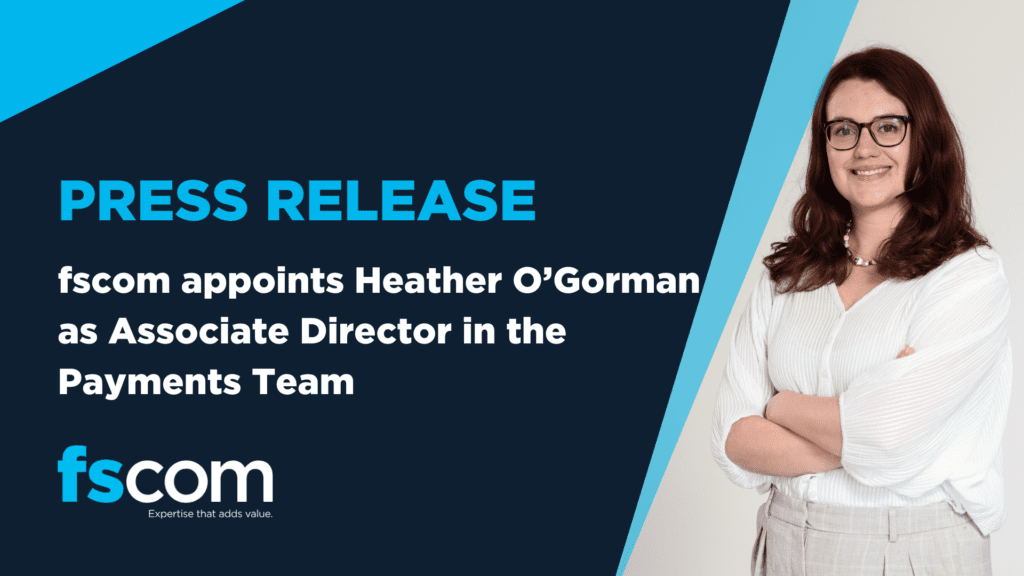 FSCom Limited (fscom), a leading specialist governance, risk, and compliance consultancy in the UK and Ireland, is pleased to announce the appointment of Heather O'Gorman as the new Associate Director in the Payments Team.
Heather brings extensive experience in interpreting the payment services and e-money regulatory obligations for the broad range of new payment models, with a particular focus on the electronic communications exclusion, payment initiation and account information services, further strengthening fscom's expertise in this area.
She brings expertise from the professional services sector, specifically in compliance consultancy, where she was the driving force in building a payments and financial crime practice focused on supporting payment and e-money institutions with their regulatory needs under the Financial Conduct Authority (FCA).
"With a strong background in supporting regulated firms in the payment and e-money sectors, Heather's extensive experience and subject matter expertise make her an exceptional addition to our team." said Alison Donnelly, Director of the Payments Team at fscom. "We are confident that her knowledge and leadership skills will contribute significantly to our continued success in delivering outstanding solutions and support to our clients. I am also delighted to announce that Heather has assumed the role of Director of the Association of Professional Compliance Consultants, further showcasing her unwavering dedication to the compliance advisory profession."
Throughout her career, Heather has successfully led various client projects, including safeguarding auditing, risk assessment implementation, supporting firms through regulatory enforcement action, and assisting with authorisation processes. Her expertise has enabled her to provide valuable advice and practical assistance to clients, even in the most complex cases.
Jamie Cooke, Managing Director of fscom said, "We are delighted to welcome Heather O'Gorman to fscom as our new Associate Director in the Payments Team. Her wealth of experience in compliance consultancy and her extensive knowledge of the payment and e-money sector make her an invaluable asset to our team. This appointment not only strengthens our ability to provide exceptional service to our clients but also aligns with our commitment to promoting gender balance and diversity within our consultancy team."
"Heather serves as a role model, showcasing the success of leading females in our industry. We are excited to continue our journey towards achieving better gender balance and are proud to have Heather on board."
NOTES
Enquiries: Elaine Tighe, Head of Marketing, fscom elaine.tighe@fscom.co
About fscom
fscom is an award-winning specialist consulting firm providing governance, risk and compliance (GRC) solutions to financial services institutions in the UK and Ireland.
With a team of industry experts and a deep understanding of regulatory requirements, fscom delivers practical solutions and tailored advice to help clients manage their compliance obligations effectively. As the foremost GRC practice in the UK and Ireland, fscom is committed to supporting clients in achieving their business goals while maintaining compliance with the highest standards.
Follow us on LinkedIn: https://www.linkedin.com/company/fscom-limited/
Visit our website: www.fscom.co