A well-known Chinese idiom states that 'a good wine's fragrance doesn't fear the alley's depth' (酒香不怕港子深) – in other words, great-quality goods will always be found by the discerning customer.
But this idiom doesn't always hold true, especially in fintech, where the alleys are more crowded than ever…
In recent years the industry has been flourishing. Its value as a market is expected to grow to approximately $324 billion USD by 2026.
This makes standing out difficult, no matter how good your product is.
Having an effective inbound marketing marketing strategy is essential if you want to thrive in this environment.
What is inbound marketing?
Inbound marketing is online marketing that brings potential customers to you – i.e., the customers are inbound for your brand.
It can take place across multiple mediums, including search engines, social media platforms, emails, podcasts, videos, webinars, and more.
Its omnichannel nature means that there are multiple strategies, processes, platforms and tools to consider. Like fintech companies themselves, these elements are rapidly evolving and competing, too.
What's the difference between inbound and outbound marketing?
Outbound marketing is when you send your marketing out to target potential customers. Whereas inbound marketing is when you create content that brings customers inbound to your brand.
In practical terms, this means outbound marketing requires broadly targeting as wide an audience as possible, via mediums such as ads, billboards, flyers, telemarketing, and more.
Its goal is quite straightforward: to drum up leads.
Inbound marketing involves creating tailored content that aims to attract customers with specific needs.
It relies on digital marketing mediums and strives to offer content that is valuable for its audience – often striving to educate the reader about a topic.
The reader may absorb what they need and you'll never engage directly with them. Others may go on to convert into leads.
To use an analogy:
Outbound marketing is like publishing a full-page promotional ad in multiple newspapers about your store.
Inbound marketing is like publishing separate articles about different issues that affect your target customers in several relevant magazines. These articles may mention your store but there's no hard sell.
What is fintech inbound marketing?
Fintech inbound marketing is inbound marketing tailored for fintech companies.
For the consumer, fintech is a relatively new field that has evolved rapidly in recent years. It has also accumulated many industry-specific terms and concepts, regulations, and its own corporate and marketing culture.
Therefore fintech marketing agencies should understand key industry concepts and jargon.
These would include PSD2, Open Banking, APIs, Two Factor Authentication and GDPR to name just a few.
They also need to keep up-to-date with industry knowledge. Fintech and payments are fast-evolving industries with new business models, technologies, trends and players appearing all the time.
Within fintech marketing there are two different types at the top level: business-to-consumer (B2C) and business-to-business (B2B) marketing. Most fintechs will be one or the other, rarely both.
5 types of inbound marketing ideal for fintech
The following are the main types of inbound marketing.
Typically, fintechs would use a mix of these in their inbound marketing strategy.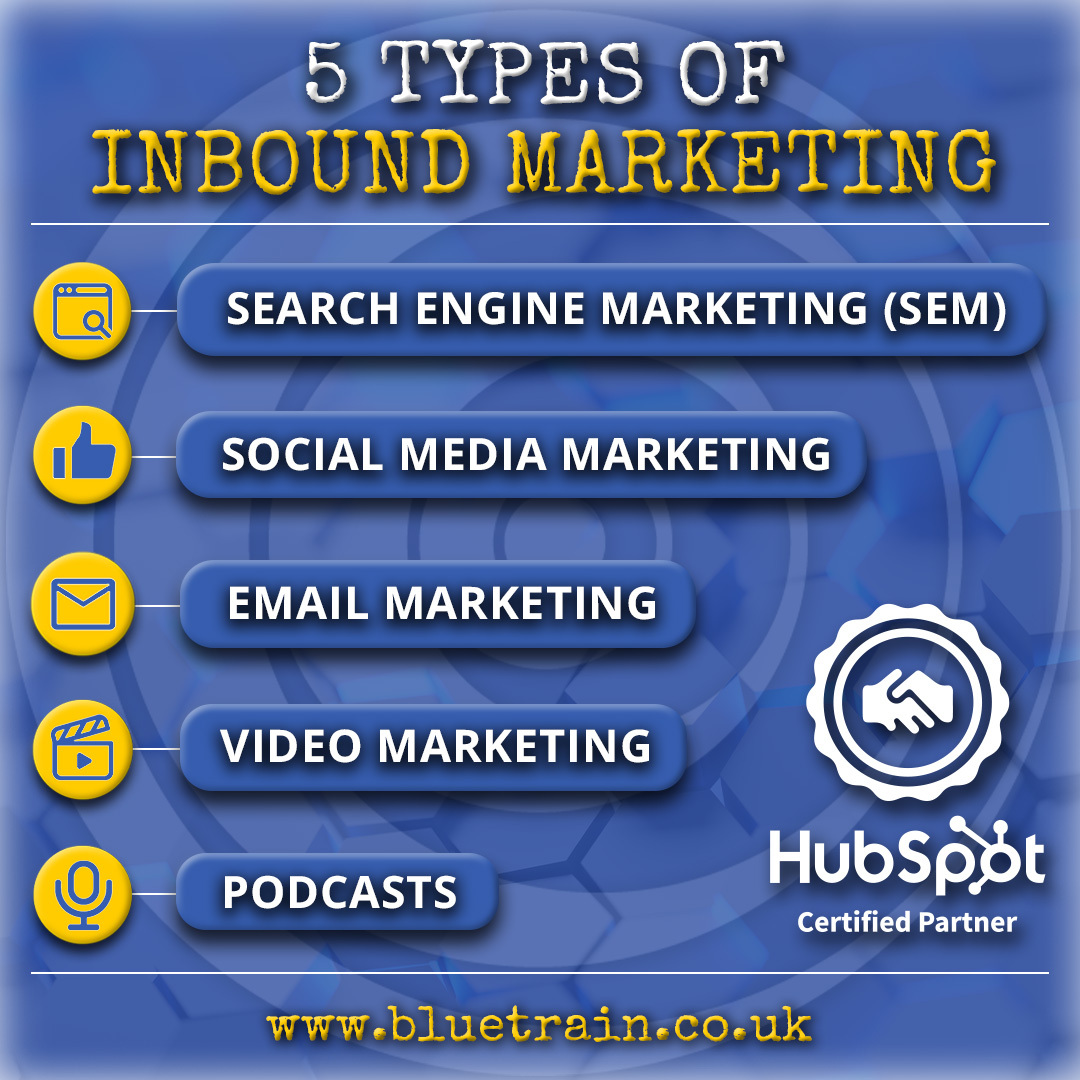 1. Search engine marketing (SEM)
Search engine marketing (SEM) involves using search engines (such as Google, Bing, Baidu, Naver, etc.) to market your business.
As a primarily digital industry, it's important for fintech companies to be effective in this space because it's where a lot of their customers (and competitors) can be found.
Before we look at the two main components of SEM, it's worth mentioning that the term is sometimes debated. Some claim it has changed since its inception and now refers more to PPC than SEO.
Either way, knowing the term is useful. At the very least, it partially explains the rationale behind the name of the one of the most famous SEO tools, Semrush.
PPC advertising
In PPC ('pay-per-click') advertising, advertisers place their ads on search engines or social media platforms, then pay each time one of these ads is clicked.
It drives traffic to websites. Quite often, this traffic is directed to purpose-built 'landing pages' specifically designed to convert them from visitors to customers.
They are like a web page but they are not actually part of your site structure. They are only visible to visitors who click on the ads as the messages are expressly targeted to that type of prospect.
Though this may sound like outbound marketing, PPC ads are actually inbound, because they are usually triggered by a specific keyword search.
The ads usually appear above the page fold of organic (non-paid-for) results or posts. Which results or users they appear before depends on a number or prerequisites defined by the advertiser beforehand.
With search engines, they are usually based on keywords (also known as search queries). How much it costs to bid on a given keyword will depend on that keyword's competition – i.e., how many others are bidding for it and how much they are prepared to pay for it.
A pre-determined maximum spend limit is set at the beginning of a campaign. Part of the art of PPC strategy is ensuring this is allocated in a way that generates maximum leads and increase on-page engagement.
When done well, PPC advertising can achieve a great return on investment (ROI).
We would typically recommend a PPC campaign if our client needs to achieve results quickly, retarget users who have previous engaged with a brand, or if the campaign relates to an upcoming event on a specific date.
However, when done incorrectly, PPC can be expensive and wasteful.
Search engine optimisation (SEO)
Search engine optimisation (SEO) is the optimisation of webpages so they rank higher in search engine results.
Like fintech and inbound digital marketing itself, it is a growing and fast-changing field with new niches and strategies appearing frequently.
The basics of SEO can roughly be divided up into three main areas:
Technical SEO: Fixing errors on a website and other measures to ensure search engines can easily crawl and understand the topics (and therefore rank its pages highly)
Keyword research & content creation: Researching the difficulty, volume, and search intent behind target keywords and analysing the type of webpages needed to rank for those.
Backlink outreach: Using multiple outreach strategies to obtain links to your web site from relevant and high-authority domains. Being referred to by a popular and trusted site can have a significant impact on your search engine performance.
Of course, this is a broad simplification of each category. However, in general, if you have these aspects of SEO all covered, your website will get more qualified traffic.
2. Social media marketing
According to recent research, the average internet user spends nearly two and a half hours on social media every day.
This makes social media marketing (sometimes referred to as SMM) a vital inbound marketing channel for most brands.
There are multiple platforms to choose from, including Facebook, Instagram, Twitter, LinkedIn and even TikTok. Knowing where to find your users and how to engage them there is a crucial first step.
Social media marketing is more than just about bringing users to your website and raising awareness of your products and services, though these are among its very useful benefits!
Ideally, good social media marketing will also consistently demonstrate your brand's personality and values, too. And it should be able to respond appropriately and creatively to new trends in order to increase its reach.
3. Email marketing
Let's start with an important distinction. Cold email outreach is not inbound marketing as it is unsolicited and probably unwanted.
Email marketing as part of an inbound strategy is sent to recipients that have opted in to your marketing communications. These would typically include newsletters, special offers, seasonal greetings, and more.
According to a McKinsey study, the average employee spends 28% of their working day reading and answering email. So perhaps there is nowhere quite as 'inbound' to market to as inboxes.
High-quality email marketing has many benefits. Some campaigns can effectively drive conversions in the short-term, whilst others can steadily and subtly educate and build customer loyalty over time.
Optimising and tailoring your email marketing involves combining great design, pithy headlines and messaging as well as strong content.
The tailoring of email marketing itself is part of the optimisation process. It refers more to the personalisation involvedin getting people to open the emails. One example of this is having emails be delivered from actual people and not just generic email addresses. 
Email marketing software can help plan and automate the process, enabling you to set up different streams for marketing personas and other types of customer category.
4. Video marketing
Creating videos for a primarily online audience requires sharp scripting, punchy editing and production skills.
Often it is the creative concept or theme at the heart of the video that is the most difficult to think of. A solid concept will drive the script and visuals and hopefully engage your core audience.
YouTube SEO
On top of all this, there is YouTube. The platform's growth in recent years has been phenomenal – it is now the second largest search engine, after Google.
YouTube SEO is a very different discipline to the SEO we have discussed above. YouTube's algorithm relies on very different metrics to Google's and a lot of planning goes into making a channel grow consistently.
5. Podcasts
The word podcast comes from a combination 'iPod' and 'broadcast'. The first one appeared in late 2004. (It was a dark comedy series about zombies).
Podcasts have come a come a long way since then. According to one report, 55% of Americans now listen to them, and the most popular get around 11 million listens on average per episode.
There are a number fintech podcasts available now. Many are basically fintech industry players talking to other members of the fintech community.
If you have a highly engaged or motivated customer base, there is plenty of scope for fintechs to talk directly to their B2B or B2C customers via podcasts. These are a great way for brands to demonstrate their knowledge in an in-depth, long-form manner.
While interest in fintech podcasts took major downturn over the past couple of years, we are seeing an uptick in interest as people are beginning to commute and travel more frequently.
The benefits of fintech inbound marketing
Fortunately, the benefits of inbound marketing are quite clear and measurable.
There are arguably even more benefits than those listed below. But for now, let's stick to the basics.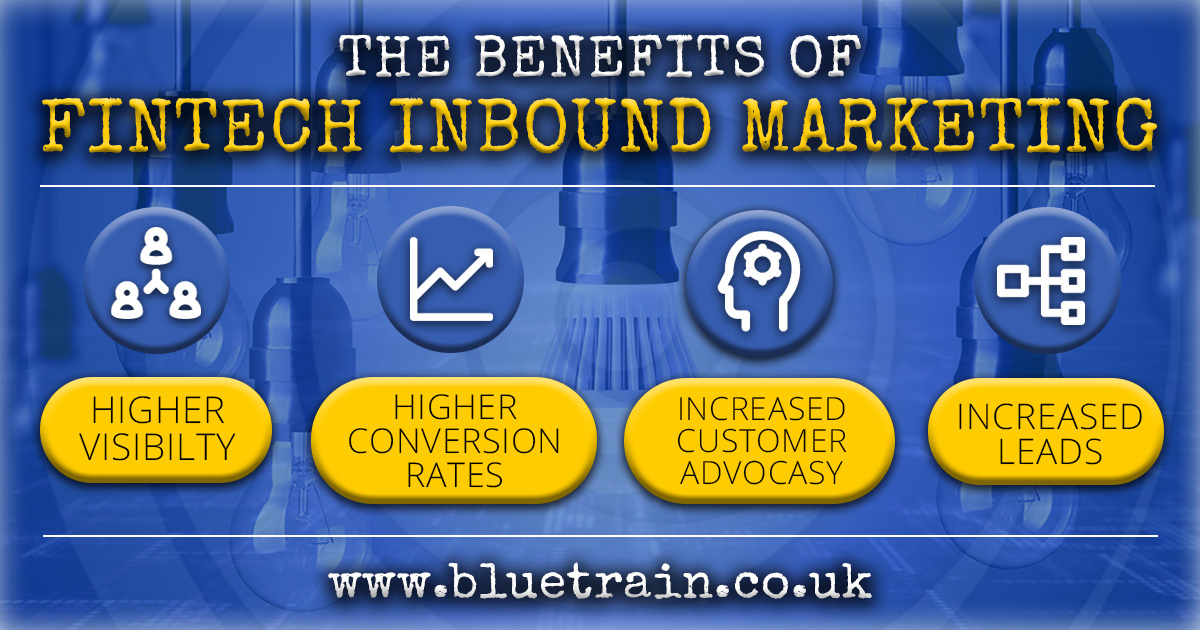 Higher visibility
Fintech market is dynamic and bustling, so being visible across the right platforms is a must for brands looking to be heard over the noise.
Audiences alternate between platforms and switch loyalty quicker than in the bad old days when traditional banking was all that was available.
While many fintechs like to think they are breaking new ground with something entirely unique, it is often not the reality.
The truth is that most fintechs are in competitive markets and being found by a prospective customer is half the battle.
Being at the top of search results, active in people's social media feeds, suggested on YouTube or Apple Podcasts, etc., is a surefire way to increase trust and awareness among your target audience.
Increased leads
The specifics of how each channel brings in leads varies, but ultimately each one brings in qualified leads. It does this by first offering something of value to the user.
In SEO, for example, a lead will first have searched a keyword. This might be a non-commercial enquiry around a specific problem indirectly related to your fintech product or service.
By providing content that helps them understand or even solve this problem, you have already achieved a level of trust.
Later on, when they encounter new problems, they will be much more predisposed to your brand.
Outbound marketing is usually limited in terms of viewership or time period. The ability for inbound content to go viral or consistently perform over time means its ability to bring in leads is more long-term.
Higher conversion rates
Outbound marketing is often general in order to appeal to the maximum number of users. It generally has one shot at making a conversion.
By contrast, inbound marketing enables fintech companies to nurture leads and target more specific audience segments with different content.
Keep in mind though that you will only keep leads warm with a constant stream of high-quality content that is relevant to their position in the buying process.
It can also afford to educate and entertain them along the way and isn't bound by needing to conclude with a hard-sell at the end of every interaction.
This ability to be flexible and focus on different content for different audiences ultimately equates to higher conversion rates.
Increased customer advocacy
Inbound marketing channels are unique in their ability to keep you in touch with your customers long after they have made their purchase.
The most direct examples of this is encouraging new customers to sign up to newsletters, follow your business on social media or subscribe to your YouTube channel.
But it works elsewhere, too. By using SEO effectively to become highly visible across search, you can ensure that your customer comes back to your website repeatedly.
By consistently producing high-quality inbound fintech marketing, you develop more than a one-time transactional relationship with your clients. You become an authority and influencer, too.
This in turn can leads them to sharing your content and even directly recommending your brand to others.
Inbound marketing strategy
The inbound methodology is the most well-known methodology for inbound marketing strategy. It is made up of three main components:
Attract: Drawing in your relevant audience and potential customers with good content
Engage: Demonstrating your knowledge by providing solutions and insights
Delight: Supporting your customers after their purchase
This process is often illustrated using a flywheel, which also adds an extra outer layer: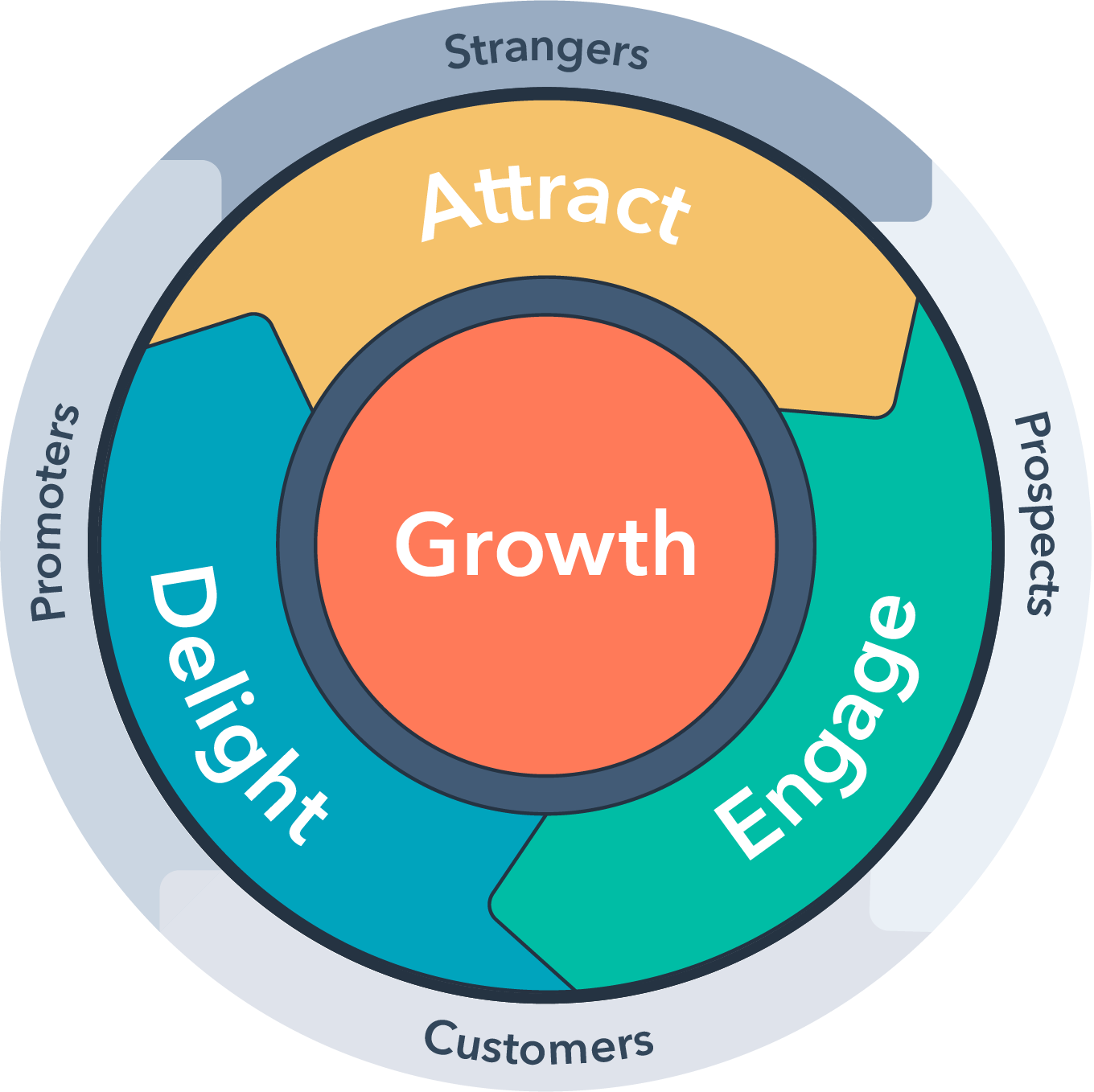 Once you have established these categories, you can build out different strategies from each one.
For example, your 'attracting' strategies might be based more around your SEO and YouTube SEO channels to bring in new potential customers.
Whereas your 'delighting' strategies might be based on your follow-up email marketing and sales support.
Although different inbound marketing channels require different strategies, they can still work together well.
Timing social media marketing efforts with PPC, for example, is a great way to boost lead generation.
Inbound marketing tools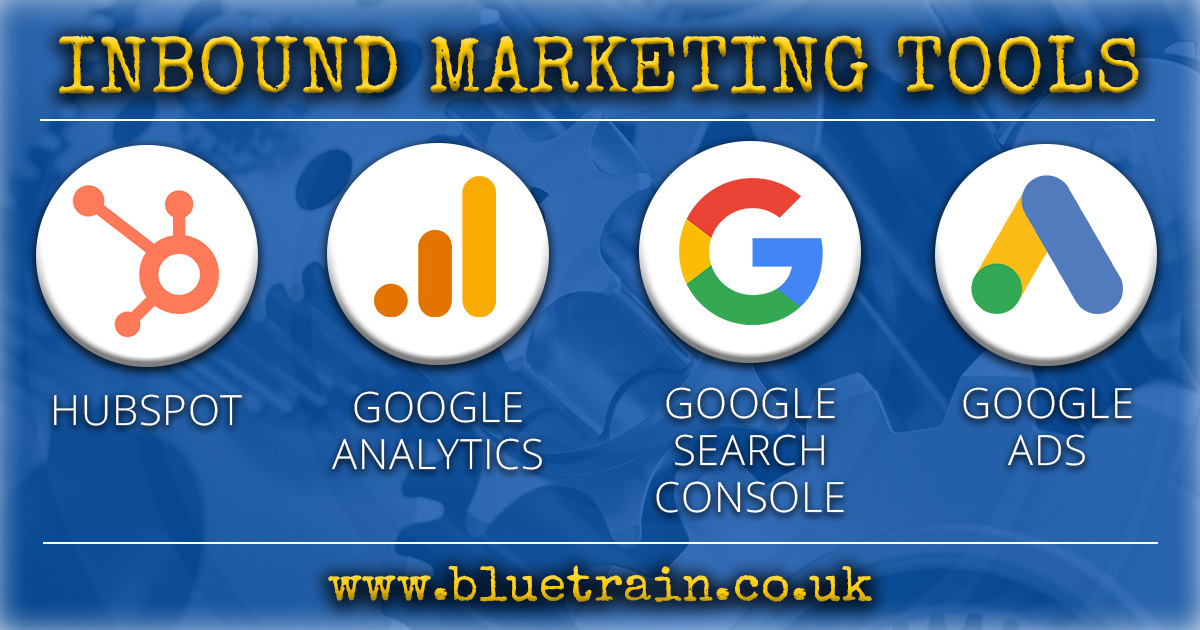 HubSpot
We have covered off many of the core considerations of planning your inbound marketing strategy but you must be able run those campaigns effectively and demonstrate their success.
We would always recommend using a marketing automation tools for these important tasks.
HubSpot is a popular CRM (customer relationship management) platform for integrating sales, marketing and customer service functions.
It simplifies your oversight of business activities by placing multiple functions under one roof, from hosting to content management, email marketing, and more.
This in turn further enables you to efficiently plan and monitor sales pipelines and lead nurturing.
HubSpot benefits companies looking to improve the communication and interaction between each workstream, which makes inbound marketing both simpler to create and more powerful in its capabilities.
Integrating activities on HubSpot makes supporting different channels easier.
For example, blog posts can be sometimes be promoted further with PPC, social media posts and mentions in email marketing – and all of this can be automated and tracked on one platform.
Google Analytics
Google Analytics is a powerful free tool which enables you to track and analyse your website traffic in next-to real time.
It provides a detailed breakdown of where your traffic is coming from, bounce rates, time spent on page, etc.
Whilst various SEO software provides estimates of traffic, Google Analytics gives much more accurate data.
Google Search Console
Google search console is almost a complimentary tool to Google analytics. It gives a view based on how search engines see your domain.
Besides tracking impressions, CTRs (click through rates) and listing what search terms visitors are finding you with, Google Search Console also lets you check more technical issues, like the status of your sitemap, indexing issues and broken links.
Google AdWords
Google AdWords is the platform from through which your PPC on Google is managed. Its functionality covers the research, set up and monitoring Google ads.
It works by enabling users to bid for keywords and pre-set budgets for them.
However, it's not as simple as finding the right keyword, setting your budget and watching the results. You also need to qualify for certain kinds of ads by demonstrating to Google the quality of your previous ads.
When used effectively, Google AdWords is a powerful platform that can deliver an ROI of up to 100%.
Conclusion
In our digital marketing strategy, inbound marketing is a must-have for fintechs. Without it, your competitors will get in front of your target audience before you can.
As with marketing more generally, inbound marketing for fintech requires a deep and up-to-date knowledge of the fintech industry, its terminology and culture.
In addition, you need a Content Strategy that sets out the content you will produce and its specific purpose.
Inbound marketing is different from outbound marketing.
The latter focuses on more general ads that actively target a broad audience. The former uses more subtle offers of information or content to build trust and long-term relationships which ultimately generate more leads.
There are multiple channels needed for a comprehensive inbound marketing strategy. These are likely to include SEO, PPC, email, social media, and video. Each comes with its own challenges and required expertise.
As with fintech marketing more generally, inbound marketing efforts are best harnessed when they are guided by a coherent strategy across platforms.
In order to fully maximise the performance of each channel, use them in parallel with one another and have a cohesive overarching marketing strategy. CRMs like HubSpot are particularly good for doing this.
There are, of course, other less immediately obvious but ultimately just as valuable benefits, too. Not least the fact that this kind of digital marketing strategy offers an opportunity to develop your brand in a rich and multi-dimensional way.
Article by Blue Train Marketing