Branding lies at the heart of fintech marketing. It creates both a first impression for your customers and builds a lasting link with them.
Previously, many fintechs simply defined their brand identity in relation – and opposition – to traditional banks. Now, as competition has grown, they increasingly need to differentiate themselves in new ways.
Each fintech brand comes about via its own unique inspiration and process. However, looking at other successful fintech brands is a great way to learn from the best.
Here, we've given examples of four of our personal favourite fintech brands.
But first, let's look at some basic background information.
What is branding?
The term 'branding' originates from livestock groups being distinguished from one another with imprints created by hot branding irons.
In modern marketing, a 'brand' (which is often used interchangeably with 'brand identity') is a concept that encompasses a set of unique features used to represent a business and distinguish it from its competitors.
Most fintechs would start with the tangible, practical elements (e.g., logos, fonts, colour-schemes). Some will get no further than that. Effectively, they have branding, but not a brand.
A logo becomes a brand when it reflects meaning and specific emotional associations. More marketing-orientated fintechs will go beyond simple branding to develop more advanced aspects of their brand e.g., creative storytelling and a distinctive tone of voice.
'Branding' refers to the activities around creating and updating these, as well as adapting and applying them across different mediums, such as social media campaigns and content marketing strategies.
When done successfully, the separate brand components will individually have merit but also work together cohesively.
Other useful brand-related terms include:
Brand image. The consensus of how those outside your business view its brand.
Brand awareness. A general term describing the level of recognition and understanding of your brand among your customers who may be B2B buyers or consumers.
Brand equity. The financial value (equity) your brand has earned from its brand image and awareness, as opposed to the value of its products or services themselves. This is a factor in valuing a business, if it is sold.
Brand communication. Activities whereby your brand communicates or interacts directly with customers or potential customers. It can range from recognising your logo to engaging with your latest content.
Brand management. The management of activities and strategies relating to how you create and build your brand identity, brand communication and brand awareness.
What makes good fintech branding?
There are many different kinds of fintech brand. Obviously, what is 'good' is ultimately subjective.
However, philosopher of art Denis Dutton's words can also be applied to the art of branding:
"There are many differences among the arts, but there are also universal, cross-cultural aesthetic pleasures and values."
In fintech, general aesthetic standards also need to be met within the context of the industry, which has its own identity and values. These can perhaps be summarised as: innovation and trust.
To some degree, these two values dominate because of the industry's relationship with traditional financial institutions. Fintech companies often still need to persuade consumers that switching from a trusted bank account to an app is both worthwhile and safe.
So fintech brands can't neglect these values, but equally they can't risk being seen as unoriginal by too heavily relying on them, either.
As the industry and its audience has matured, fintechs have developed brand identities that go beyond focusing on this initial barrier. They are now finding new ways to differentiate themselves, not just from banking, but from other fintechs, too.
3 benefits of good fintech branding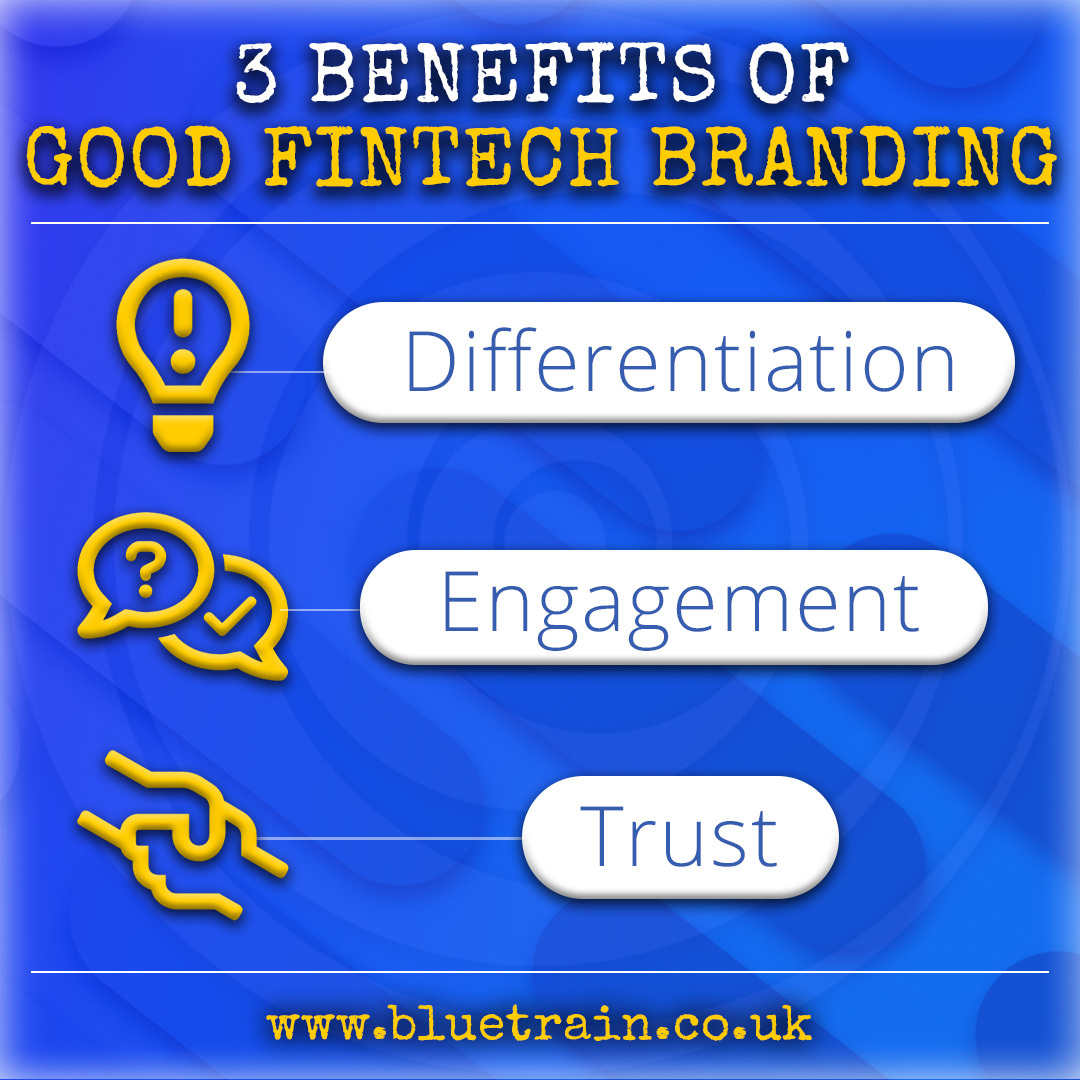 Below is our list of the three main general benefits of good fintech branding.
1. Differentiation
Like all technology, financial technology is making advances and proliferating rapidly. Between 2019 and 2021, the number of fintech startups worldwide grew from just over 10,000 to just over 25,000.
Social media and digital marketing have made audiences more accessible to fintech marketeers. This makes competition fierce so standing out and gaining a significant share of voice (SOV) is harder than ever.
As we've argued before, having a unique product alone is rarely enough to rely on. The key to growth, for both fintech startups and established fintechs, is to differentiate their brand in a crowded marketplace.
2. Engagement
Attracting new customers is one thing, but retaining them is another.
With traditional banking, customers usually stayed with one bank for life. Switching providers meant visiting two banks and signing a lot of papers.
Switching to a fintech provider is much simpler – usually it's just a matter of downloading a new app and providing details online.
That speed and simplicity can be a double-edged sword for fintechs, especially for those marketing to consumers who can download a competitor's app in a heartbeat if the fintech fails to keep its brand promise.
Keeping your customers engaged is the key to increasing their use of your services and their loyalty.
Providing a great service at a good price with excellent UX is a basic fintech mantra. That ought to be enough to keep customers happy but you cannot rely on it.
A good content marketing strategy can also play an important role in keeping customers engaged and crucially, building your fintech into a brand, not just a product.
3. Trust
Retaining users is an essential factor in building a trusted fintech brand. A good fintech marketing strategy should support customer retention as well as acquisition.
Repeated positive engagement with a brand builds trust.
This is often via your customer support channel but consistently producing good content marketing can also create positive associations, too.
Don't just talk about your product or constantly try to upsell. Help to educate and inform your customers on topics they care about.
The importance of reviews for your fintech's brand image
One area of online fintech marketing that shouldn't be neglected is gaining user reviews. Though this isn't directly related to branding per se, it still increasingly effects your brand image.
Many potential consumers check reviews during their decision-making process. It is important for both B2B and consumers-facing fintechs.
Some marketers shy away from registering with user review sites as what customers write in reviews is not under their control.
There are three important points to consider.
1. Review volume
Getting enough reviews can be a problem. Finding a way to discreetly prompt users to leave a review can be done in email marketing, in-app pop-ups, or social media posts.
For B2B fintechs, the number of user reviews will be lower so it's often best to simply ask in person.
Another way to encourage reviews is by offering a prize. You can make a social social media post about how, if they are one of the first 20 (for example) to write one, they will receive a voucher.
2. Review range
Getting reviews on multiple platforms is also helpful. Here are some examples of where to get them:
TrustPilot and similar sites are particularly relevant
Google reviews will often show up in the 'knowledge box' for your company's name in the SERPs (search engine results pages)
Reviews on social media are also helpful, especially if you target the platforms favoured by your target audience
Reviews on the App Store will help with your app store optimisation
Glassdoor reviews will also help you gain new talent
3. Review responses
It's important that users see you respond to feedback. This sends a message about your brand's trustworthiness.
All reviews should be responded to quickly – both the positive and the negative ones. For the former, replying with a thank you and any other positive comments shows gratitude.
For the latter, addressing the points made in a clear and tactful way is as important for others as it is for the person you are replying to.
No matter how unfair comments may be, deleting them or expressing anger rarely looks good. Customers will judge your brand on the way you respond (or not) to user reviews.
4 of the best fintech branding examples (according to us!)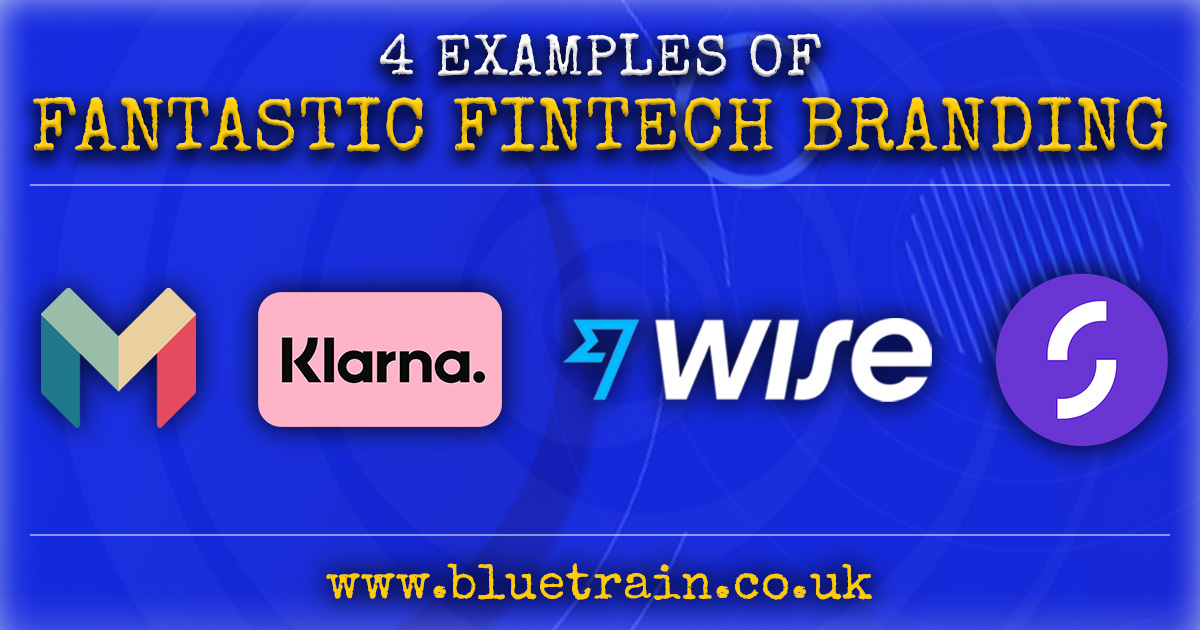 Below is our list of four great fintech brands.
It could have been much longer, but we think each example here will be adequate, for now…
1. Starling Bank: Pitch-perfect positioning
Starling Bank is a leading UK-based challenger bank, founded in 2014.
Their brand messaging emphasises how customer-centric their brand is: phrases like "instant", "joy to use" and "at your fingertips" are front and centre of their website.
Unlike many other challenger banks, it has the word 'bank' in its name. Their co-founder Julian Sawyer once told us that they considered not including it. However, in the end they felt that in the long-term, the customer trust in the term would still win out.
At the same time, Starling Bank also explicitly differentiate their offering from traditional banks, calling themselves a "new kind of bank", a "more human alternative to the banks of the past" and declaring (with their current slogan): "Forget everything you know about banking."
Like all good branding, these themes also permeate other areas, including their newsletters, videos, and social media. Your brand must permeate every action and decision in your business.
And they aren't just words from Starling's latest fintech marketing campaign. They echo their name itself, which comes from the Starling bird. This bird featured heavily in their very first TV ad, and this was built on again in their more recent 'set yourself free' series of videos.
Director of Brand & Marketing Rachel Pollard recently said in an interview: "we're actually showing people this sense of freedom and flight you get when you bank with Starling."
2. Monzo: Striking visual brand identity
Monzo is another leading UK-based challenger bank.
We're big fans of the visual aspect of their visual identity, and to this day our favourite thing about their branding remains their original card.
It is an eye-catching hot coral pink – no patterns or images required (beyond a subtle lowercase 'monzo' in the top right corner). Very different to established banks by design.
We are also fans of their simple, symmetrical logo, which uses four different pastel-coloured trapeziums to create a sharp uppercase 'M'. It has everything a good logo needs: instantly recognisable, elegant, simple yet subtly hints at a deeper meaning.
We love how this use of colour extends to their video marketing, which feature Wes Anderson-esque set designs that also make use of pastel colour palettes, symmetry, and an eye-catching kitch aesthetic for some of the backdrops.
3. Klarna: Playful & pink
Klarna is a Swedish fintech founded in 2005 that provides payments processing and financing services for retail.
We've previously spoken about their excellent utilisation of influencer marketing and no doubt we'll analyse other aspects of their brand again in the near future.
They really went with the trend of alternative colour palletes in fintech marketing:
"We are proud to be different, we are proud to be pink and stand out in a sea of boring blue, we know we speak and act differently than your typical financial institution…"
Now, we don't agree that blue is boring for obvious reasons… but we do appreciate their bold decision to differentiate themselves and the playful way in which they do it.
Some of their videos exhibit a playful personality, such as their popular 'Clothes love us all' advert (where pink appears in every frame) and their wonderfully fascinating 'smooth' series of videos.
4. Wise (formerly TransferWise): Shorter name, broader meaning
Wise is an international money transfer fintech based in London and founded in 2011.
On their 10 year anniversary, they changed their name from TransferWise to Wise. The former name came about "because our early customers were 'wise' to know their banks were charging hidden fees in exchange rate markups."
However, since then, the financial services they offer and brand itself have both matured. Their renaming reflects a more community-minded and less combative branding.
When they renamed, they directly credited their customers' feedback: "You've told us for years the problem is bigger than money transfers." And they explicitly linked their new name with how they have "evolved" as a company.
The new name enabled them to have more succinct and memorable product names (including Wise Business and the Wise Platform) and update and improve their logo.
Conclusion
A brand is a lot more than simply a logo. A lot of work goes into creating an actual fintech brand and it takes focus and determination to retaining its integrity.
Having a well-defined, coherent brand identity is the foundation and north star of a successful fintech marketing strategy. It differentiates brands, engages customers and builds trust with them.
In the early days of fintech marketing, a lot of the strategy was built around boldly differentiating companies from traditional financial services or simply talking about their financial technology.
Whether you are working with a specialist branding agency to get your branding right or doing it yourself, it's important to understand the current landscape and culture of fintech marketing more generally.
You should also consider how others view your brand. Gaining and responding to reviews is a great way to do this.
Nowadays, more is needed to stand out in the growing but crowded market.
There are many fintech services out there that save users money and are easy to use. Sometimes our clients will confess that their solution isn't hugely different to their competitors but we can help them differentiate through their band and finding USPs.
Sometimes, if customers are choosing between two similar products or service providers, it can be the brand that makes the difference.
Article by Blue Train Marketing