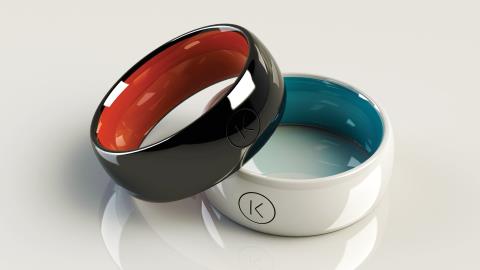 Free contactless payment ring giveaway for NHS staff
Payment providers, Moorwand and K Wearables, have today announced a giveaway of 300 K Rings for NHS staff as a show of appreciation for their hard work fighting the coronavirus pandemic.
After recently migrating to Moorwand for issuing, bin sponsorship and digital banking services, K Wearables, the contactless payment ring provider, and Moorwand would like say thank you to the fearless frontline NHS staff in the best way they know how.
Contactless payments have become increasingly important in the payment ecosystem, with consumers opting for touch-free shopping and limited interaction with cash because of COVID19. Having a K Ring means that the 300 essential workers can purchase goods and services safely and securely up to the value of £45 per transaction with a simple 'knocking gesture' over a card reader.
Luc Gueriane, Chief Commercial Officer at Moorwand, commented "We are in a time where community is at the forefront of everything we do. Although we may be apart, we as a nation have never felt more connected, so it is vital that communities and businesses come together to support health workers in any way they can. Partnering with K Wearables to provide an easy payment solution to 300 NHS workers was instantly an initiative we knew we wanted to be part of."
"K Wearables offered 100 free contactless payment rings to NHS frontline heroes, so the team could show its gratitude and we were overwhelmed with the immediately positive response. We were delighted when our new issuer, Moorwand, generously offered to help extend this to 300 rings for NHS workers. It's great
to be working with likeminded partners and we hope the recipients enjoy using K Ring as much as we all do." said, Philip Campbell, Founder of K Wearables.
The K Ring means there is no need to carry around a wallet or touch payment surfaces that other people have touched. It requires no charging, no pairing with a smartphone and is waterproof so it won't be harmed by soap or alcohol-based sanitisers, ideal for a busy NHS professional on the go.
About the giveaway
To find out more about how NHS workers can sign up for the K Ring, click here
The giveaway will last until the 300 rings have been allocated to valid NHS employee email addresses.
About Moorwand
Moorwand is a BIN sponsor, issuer and acquirer with an E-Money License that transforms compliance into an enabler of innovation. Trusted by incumbents and innovators alike, Moorwand offers digital banking, issuing and acquiring services, and access to card and bank payments schemes along with  unparalleled legal, regulatory and payments expertise. Unlike other providers, Moorwand rapidly orchestrates agile and dynamic programmes designed to reduce payment friction whilst ensuring compliance. Moorwand is licensed by the Financial Conduct Authority of the United Kingdom (license No. 900709) as a regulated Electronic Money Institution to issue electronic money and provide payment services throughout EEA. For more information about Moorwand, visit here:
https://www.moorwand.com/
About K Wearables
K Wearables is the inventor of K Ring, the world's first contactless payment ring. K Ring is welcomed at over 40 million locations around the world accepting Mastercard® contactless payments, including the TfL network and an increasing number of trains and buses around the UK. K Ring is waterproof, scratchresistant, never needs charging and doesn't need to be paired with a smartphone.
With K Ring, there's no need to handle cash or touch a PIN pad, so you can leave your cards and phone in your pocket. With the new contactless payment limit of £45, it's now even easier to safely buy all your essentials at once.
Find out more at https://mykring.com/