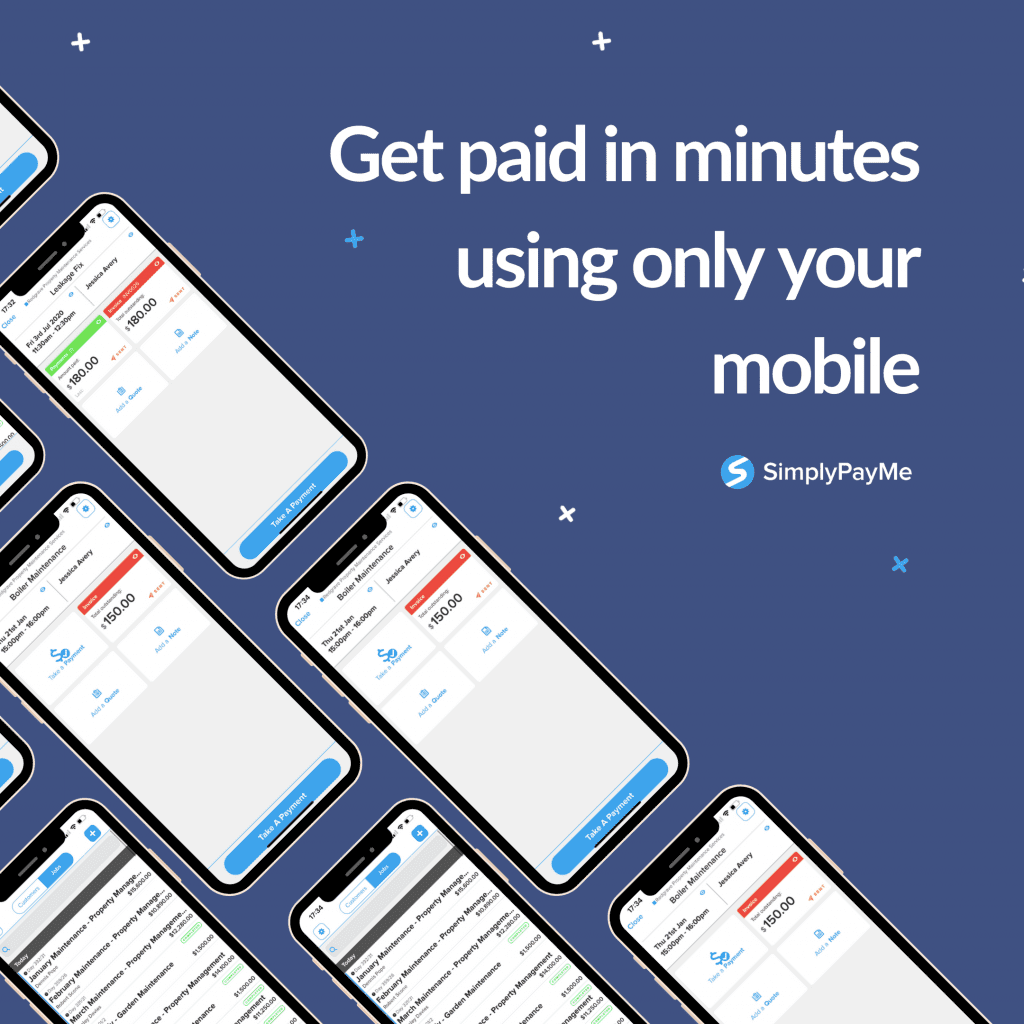 Getting paid is the cornerstone of any business. It doesn't matter if you're an educator, retailer, tradesperson or tech entrepreneur. The one uniting factor between you is that you need to get paid if you want your business to thrive, or even just to survive. But managing cash flow in business isn't always easy. Especially when there are so many disruptive factors at play. That's why SimplyPayMe has developed a payment solution that allows small businesses to invoice clients and process payments whenever, wherever and however they like. Without the need for any tools other than a smartphone.
The way that we all do business has changed in 2020. Covid-19 has necessitated a restructuring that can accommodate social distancing and allow us to do more remotely. Ways of taking payment have had to evolve too. SimplyPayMe is here to help you find an easier way to get paid, so you're free to focus on growing your business, implementing the new Government precautions and keeping yourself, your team and your customers safe.
How SimplyPayMe Can Help You to Get Paid
Socially distanced payment options:
Over the phone
You know how takeaways and catalogue companies have always been able to take payment over the phone with an EPOS system or card reader? Well, SimplyPayMe allows you to do the same without any of the fancy equipment. Using the dashboard on your computer or smartphone app, you can simply enter the customer's card details and process their payment while they're talking to you. Check out our VIDEO TUTORIAL to see how simple it really is.
Paylinks
With paylinks, all you need to do is send an online invoice to your customer via email. When they open it, they will be led to a secure webpage where they can enter their details and process payment. Nothing could be easier.
Other payment solutions
Face to face
If your job still necessitates regular customer contact and you like to take payment as you go, you can still make the most of SimplyPayMe's features.
Using your phone in lieu of a card reader, you can securely scan customers credit and debit cards. Payment will be processed instantly, as with any other card transaction.
While our Pay by Bank App allows you to accept direct bank to bank payments from customers with eligible banking applications. This carries a tiny 0.45% transaction fee.
And, of course, you can still take cash payments, if you prefer. Just use the SimplyPayMe app to record your transactions (and bank transfers), to make your bookkeeping a little easier.
eCommerce
This isn't available quite yet, but SimplyPayMe for eCommerce will be launching very soon, with a whole range of exciting features just for e-tailers.
SimplyPayMe has been around for more than a decade now (you may previously have known us as SmartTrade). Long before even a whisper of Covid-19 touched anyone's nightmares. Our aim originally was to help small businesses to achieve their potential by providing the essential services they need. And that is still our ambition. But added to that, there's the incentive to keep our users safe. In most opinions, Covid-19 is here to stay for a while. We're keeping our team as safe as possible by allowing remote working for as long as it takes – whether for the virus to burn itself out, or a vaccine to be discovered. And we want to try and help you do the same, by giving you the tools to take payments, manage scheduling and handle customer communication from a distance. So that there's no need to start again when we all come safely out the other side.