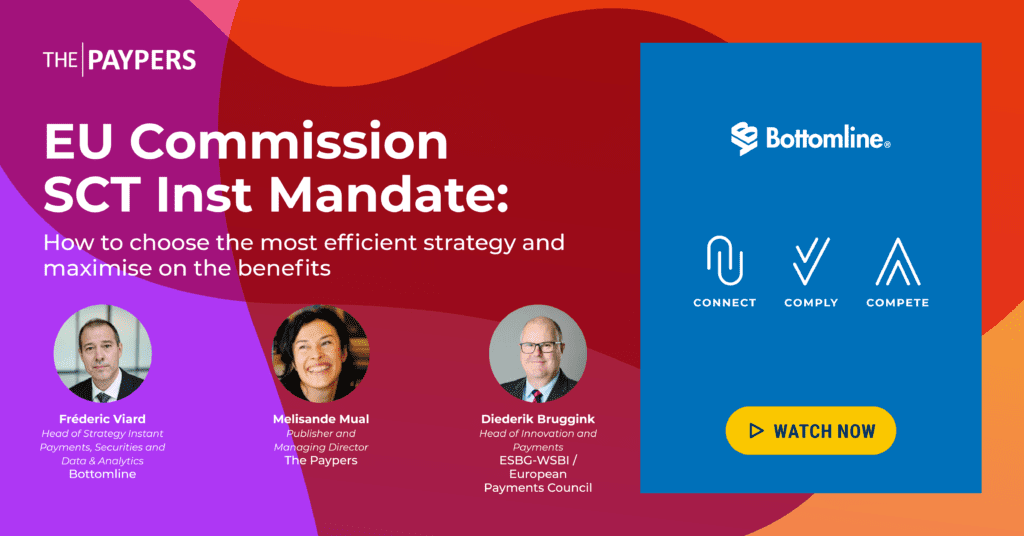 Watch Now – https://www.bottomline.com/uk/resources/eu-commission-sct-inst-mandate-choose-most-efficient-strategy-maximise-benefitshttps://www.bigmarker.com/the-paypers1/EU-Commission-Mandate-SCT-Inst-How-to-choose-the-most-efficient-strategy-and-maximise-on-the-benefits
The EU Commission's proposed mandate will make instant payments universally available in euros within six months after said proposal is approved. We have no set date for enforcement, as the mandate has not been approved yet. Still, when it is, the timeline will dictate that PSPs need to be equipped to receive Instant Payments six months after the legislation is passed and be able to send Instant Payments a year after ratification. Therefore, it is expected that PSPs will need to be 'live' by 2025 at the latest.
The problem is that currently one in three EU payment service providers don't offer euro instant payments, and 70 million payment accounts in the euro area don't allow their holders to send and receive euro instant payments.
This means that the strategic planning for these institutions should start now, not only because adding a new payment rail in itself involved at least a 9-month project, but also to ensure you achieve the following added requirements; that fees for these new instant payments stay in line with non-instant transfers and that you will have the functionality in place to match the international bank account number (IBAN) and the name of the beneficiary and verify clients against the EU sanctions list at least on a daily basis.