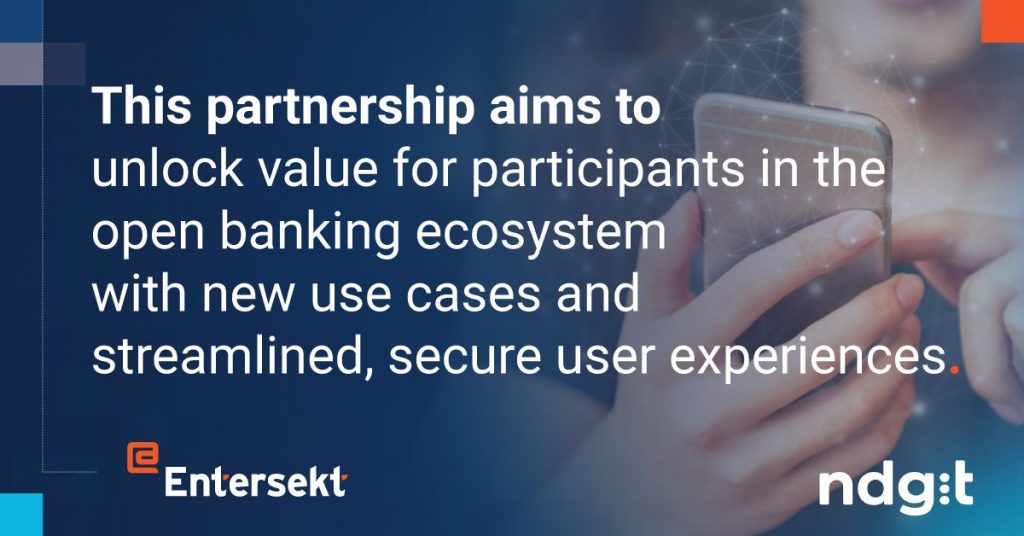 Strategic partnership aims to unlock value for institutional customers while protecting their clients' data and funds
Entersekt, a leader in device identity and omnichannel authentication, today announced a strategic partnership with ndgit, a Munich-headquartered open banking platform provider.
The agreement makes Entersekt's state-of-the-art strong customer authentication and smart messaging solutions available on the ndgit Marketplace, where financial services providers can access a carefully curated set of fintech products in a secure hosting environment.
The goal of the partnership is to help unlock value for all participants in the open banking ecosystem by fast-tracking development of new use cases and streamlining digital user experiences without compromising security.
Both companies offer quick and easy compliance with relevant aspects of Europe's revised Payment Services Directive (PSD2). Entersekt's strong customer authentication solution not only conforms to the strictest interpretations of the European Banking Authority's Regulatory Technical Standards on strong customer authentication and secure communication, as confirmed by independent German consultancy SRC GmbH; it is also proven in the field.
The highly intuitive user experience it makes possible has proved popular in Europe, where Entersekt's customers range from savings banks to private banking and wealth management firms to large multinationals.
Uwe Härtel, Central Europe country manager for Entersekt, said: "Entersekt partners with banks and other enterprises around the world to fast-track their digital enablement journeys, helping them respond to changing consumer preferences while meeting their compliance obligations with confidence. We are proud to join forces with ndgit, which has a very similar outlook. Together, we can drive innovation in open banking, securely."
Commenting on the partnership, Abel Japon, global FinTech partner manager ndgit, said: "We are happy to welcome Entersekt in our FinTech marketplace through which we proudly help our customers in the financial industry implement best of breed solutions for their various business needs. We are looking forward to a fruitful cooperation with Entersekt in providing our customers with their state of the art identity and authentication solutions through our platform and ecosystem."