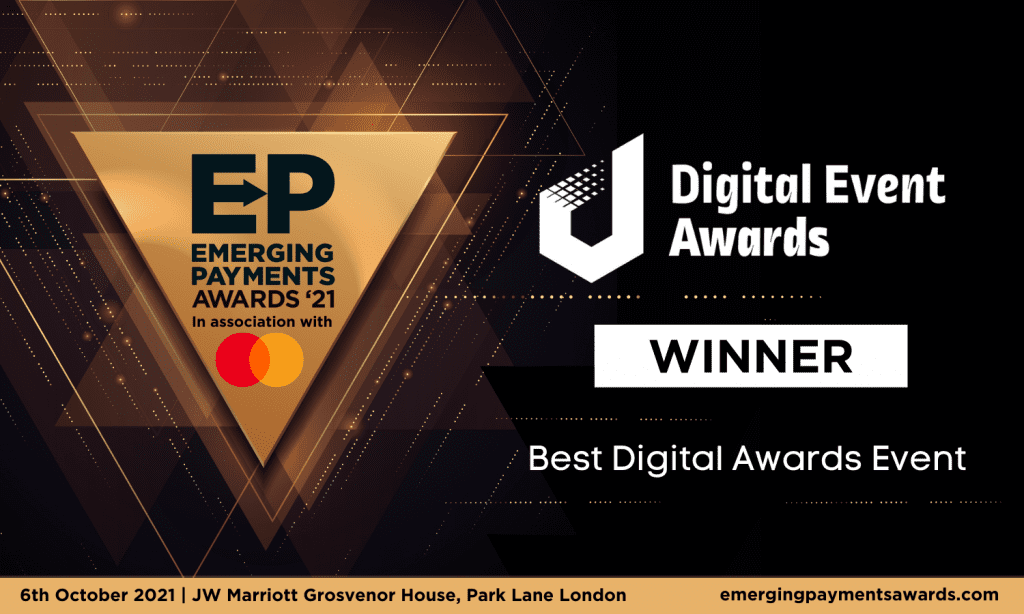 London, UK – 6th April 2021: Now in its 14th year, the Payments Association Awards (Payments Associationwards), in association with Mastercard, were announced winner of the Best Digital Awards Event at the Digital Event Awards ceremony on Thursday 18th March.
Having already won Best Awards by an Association at the Awards Awards in November 2020, it is further accolade to the association's dedication towards making payments work for everyone and celebrating excellence in emerging payments.
The Payments Associationwards are curated by an international panel of judges and are renowned for recognising companies that have made significant advances in how we pay today. With a broad spectrum of independent experts, who either specialise in a particular field, or who have experience and insight into various aspects of the industry, these are the most coveted awards you can win.
"In my 3 years as Chairman of the Payments Association Award Judges, I saw a huge degree of progress across all fronts. We evolved the award categories to reflect the changing world of payments, we saw more entries from new markets, and we had year on year increases in entries. And behind the scenes, the organising team and the judges made continual improvements in how the programme works. When you put all this together, I think we can say with confidence that the Payments Association Awards are now the most prestigious in the industry." John Chaplin, 2020 Chair of Judges.
Last year's ceremony was hosted virtually, which did not impact the prestige factor the Payments Associationwards is known for. As the pandemic put a halt on in-person events last year, the The Payments Association pulled out all the stops to ensure that the industry could celebrate the Payments Associationwards 2020 in style, from the virtual comfort of home.
This was not your standard awards ceremony – award-winning comedian and writer, Sara Pascoe was the host of the afternoon, bringing much laughter and joy throughout. Payments Association'S Director General, Tony Craddock also opened the ceremony, donning a tutu, ballerina tights and sparkling heels in response to a dare. His hysterical bravery managed to raise a large part of the £17000 worth of donations pledged to the awards charity of choice, MIND.
This could not have been possible without 73 Media and their partners Aztec Event Services and Silverstream TV and their hard work and support in making the Payments Associationwards 2020 an award worthy digital event.
For 2021, ensure to associate your brand with an award-winning awards ceremony and become an Payments Associationwards sponsor. There is a range of sponsorship packages available, all designed to provide you with the enhanced thought-leadership, branding visibility, and content marketing opportunities that you need to drive your business forward. To discuss the best package for you, contact keri.farrell@emergingpayments.org today or click here for more information.
It is not too late to submit an entry for this year – nominations are open until the 19th of April. If you want some advice for your awards submission, hear the judges' tips on how to ensure your entry meets the criteria needed to wow the judging panel. If you just want to see what the fuss is all about, book a table now for the 6th of October at the JW Marriott Grosvenor House, Park Lane, London. This will be a glittering celebration that we have all been waiting for – so don't miss out!
ENDS
About the Payments Association
The Payments Association, established in 2008, sets out to make payments work for everyone. To achieve this, it runs a comprehensive programme of activities for members with guidance from an independent Advisory Board of 17 payments CEOs.
These activities include a programme of digital and (when possible) face-to-face events including an online annual conference and broadcast awards dinner, numerous briefings and webinars, CEO Round Tables, and networking and training activities. The Payments Association also runs six stakeholder working groups. More than 100 volunteers collaborate on the important challenges facing our industry today, such as financial inclusion, recovering from Covid-19, financial crime, regulation, access to banking and promoting the UK globally. The Payments Association also produces research papers and reports to shed light on the big issues of the day and works closely with industry stakeholders such as the Bank of England, the FCA, HM Treasury, the Payment Systems Regulator, Pay.UK, UK Finance and Innovate Finance.
The Payments Association has over 130 members that employ over 300,000 staff and process more than £7tn annually. Its members come from across the payments value chain including payments schemes, banks and issuers, merchant acquirers, PSPs, retailers, TPPs and more. These companies have come together to join our community, collaborate, and speak with a unified voice.
The Payments Association collaborates with its licensees at Payments Association EU and Payments Association Asia to create an interconnected global network of people passionate about making payments work for all.
Media contact
Scott Girling-Heathcote
Account Director, SkyParlour
+44 (0)330 043 1315