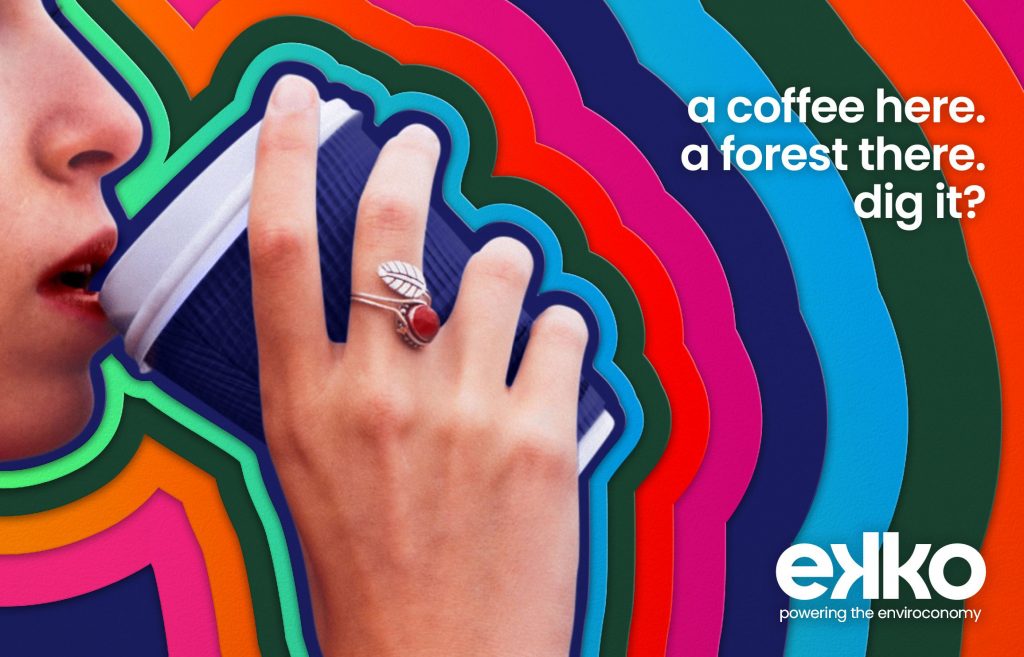 The new partnership represents Paynetics UK's first foray into BaaS in the UK
ekko, the transformative app that turns the tide on climate change, has chosen fintech and regulated e-money services provider Paynetics AD to power the end-to-end banking service of its new climate friendly business.
ekko combines fintech, marketplace, open banking and retail into one transformative app that makes it effortless to make a tangible difference to climate change, without the consumer needing to do anything differently. 
Customers can go about their daily lives as they usually would; shopping, buying a coffee or paying bills and their 'good vibes' will echo around the world. Using the ekko debit card, every five transactions a customer makes will pay for one plastic bottle to be collected before it enters our oceans and every 50 transactions will pay for a tree to be planted.
ekko customers can track their own personal forest, how many bottles they've collected and even monitor their own personalised carbon footprint in the ekko app. It also gives customers access to a curated list of sustainable partners, offering climate-friendly goods and services as part of the wider 'enviroconomy'.
Paynetics' latest partnership combines its own commitment to 'fintech for good' with its leading, all-in-one banking as a service (BaaS) proposition, enabling ekko to bring its innovative new app to market in record speed.
As the issuing bank, Paynetics will enable card issuing for Mastercard's one card scheme; transactional processing in collaboration with partner Global Processing Services (GPS) and coordination with Thames Technology for a special grade of recycled plastic card production.
The launch of ekko is a success story for industry collaboration, as the culmination of a joint effort between ekko, Paynetics, Mastercard, GPS and Thames Technology, to create a groundbreaking solution that makes it effortless for customers to make a real and tangible difference in tackling climate change.
The partnership with ekko, coinciding with the launch of Paynetics' UK business, is an important milestone for Paynetics' continued growth, demonstrating its ability to power and fulfil a powerful BaaS proposition for the market. 
ekko will be launching in June on a first come, first served basis with an already growing waitlist.
Amanda Harrison VP, Head of Business Development, at Paynetics said: "We're proud to be the issuing and banking partner of choice to power the ekko card programme. It's an honour to support the launch of ekko as a pioneer in tackling climate change, which is the very essence of 'fintech for good'. 
"Harnessing our innovative payments infrastructure, and the expertise of our global technology partners Mastercard, GPS and Thames Card, we're excited to help bring ekko to market with best-in-class programme management, payment processing and card issuing in the UK and advancing these services within Europe."
Oli Cook, Co-founder and CEO of ekko, said: "We're delighted to partner with Paynetics to power the fintech arm of ekko. It's great to work with a business which has shared values in moving at pace whilst demonstrating its own desire to make a difference.
"It's a testament to Paynetics and our partners in Mastercard, GPS and Thames Technology that we've been able to move so quickly to deliver what we think is a really exciting and positive change to the market."
Scott Abrahams, Senior Vice President, Business Development, Mastercard UK & Ireland, added: "We are excited to be working with ekko to bring their innovative product to market and in welcoming them as the latest member of our Priceless Planet Coalition. At Mastercard we are focused on building a future that is both more inclusive and more sustainable, and for that reason are thrilled to be working with likeminded partners like ekko who are passionate about climate change."
Neil Harris, Group Chief Commercial Officer of Global Processing Services (GPS), commented: "The purpose of fintech is to create positive impact. GPS is delighted and proud to play a role in powering ekko's innovative solution that improves lives, alongside our long-standing partners Paynetics and Mastercard. Enabling users to manage their financial well-being, as well as giving them the opportunity to have a positive impact on our environment is the next evolution of fintech."