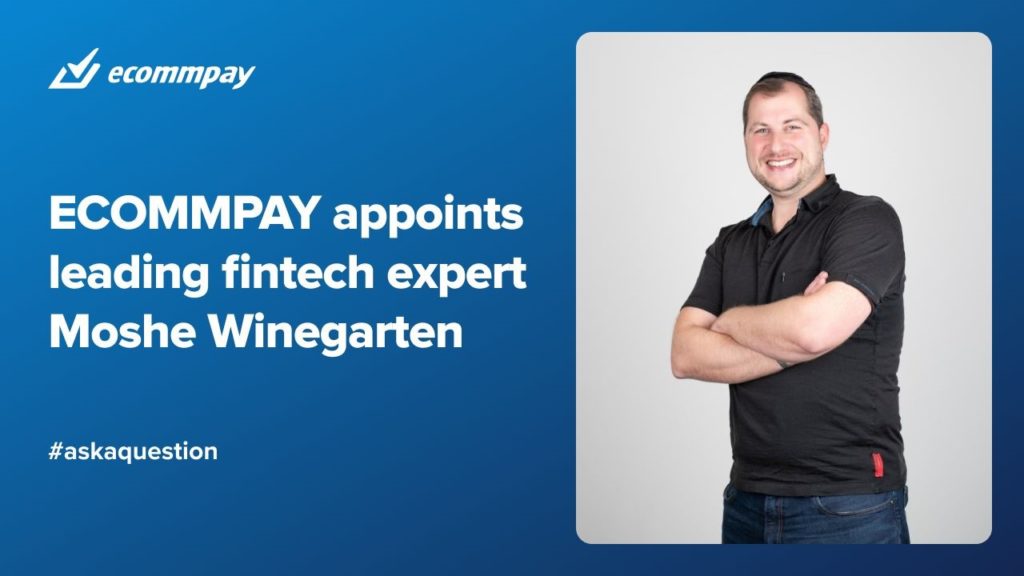 Ex-VISA EU Director and Checkout.com SVP Moshe Winegarten brings over 16 years of fintech experience to ECOMMPAY

As part of ECOMMPAY's ambitious growth plans for 2023, Moshe joins to

scale the company's robust and innovative products
London – 23 January 2023 – ECOMMPAY, a leading international payment service provider and direct bank card acquirer with its own fintech system, has hired Moshe Winegarten as its Chief Revenue Officer. The appointment comes as the fintech leader prepares to tackle the main challenges for merchants this year through continued innovation in payment technologies and solutions and integration with strategic, third-party vendors. 
Moshe's appointment comes at a critical time as the company invests in its workforce and builds upon its services. To alleviate the issues faced by e-commerce & retail, travel & hospitality, and fintech, ECOMMPAY is enhancing its Open Banking offering and exploring the latest payment options from BNPL to crypto. In addition, the company aims to improve its existing technologies for tackling fraud, increase conversion rates and streamline overall UX.
According to research from ECOMMPAY, payment flows are a major pain point for end-users, with almost half of consumers unsatisfied with their experience. In the retail space, 20% of consumers are unsatisfied with online checkout processes, and this figure rises to 40% in the hospitality and travel industries. 
As part of his remit, Moshe will be responsible for developing ECOMMPAY's expert go-to-market sales, revenue, partnerships and marketing teams and optimising the account management function. As the company doubles its efforts on growth this year, Moshe will oversee the trajectory of innovation by working with the development team to add new features to its various technologies. 
With over 16 years of experience in the fintech space, predominantly in product, strategy and consulting, Moshe has held a variety of significant positions throughout his career. In the early days of fintech, he played an instrumental role in developing the UK's first instant-issue prepaid MasterCard. During his tenure at Barclaycard, he was responsible for all their branded consumer cards in the UK and successfully developed their first new consumer proposition in five years. Having led payments innovation and strategy within Accenture's UK payment practice, Moshe joined Visa as EU Director of Commercialisation for Visa Direct, where he played a vital role in driving the growth of one of the company's flagship products. More recently, as Senior Vice President of Sales at Checkout.com, he scaled their sales team, secured some of their largest clients and helped them become one of the largest unicorns in Europe today.
Moshe Winegarten, Chief Revenue Officer of ECOMMPAY, commented: "Having known ECOMMPAY for a number of years before joining, I was always impressed by their agility and speed of innovation. ECOMMPAY is in a very special category of its own as a fully modular payment service provider able to offer orchestration, gateway, processing and acquiring services combined with their own in-house solution for billing, Open Banking and crypto acceptance and a whole raft of other functionality and alternative payment methods.
"In a tough economic climate, payment challenges for merchants can make or break a business. Many companies across the retail, fintech and travel industries are turning to specialist solution providers, especially in local markets. ECOMMPAY is in a great position to solve our partners' problems, increasing conversion rates and boosting their revenue, and I'm excited to develop the strategies and team that bring our expertise to the marketplace."