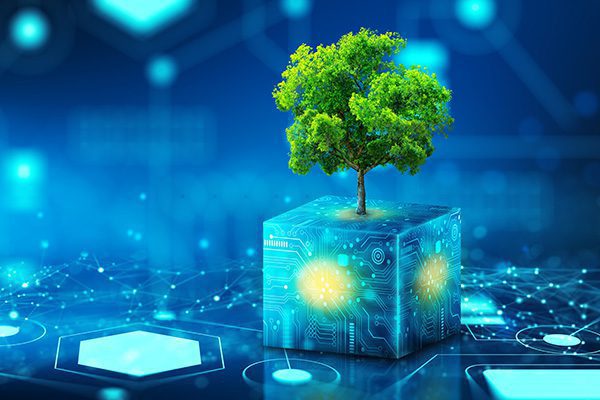 Sustainability has become a hot topic in recent years as people become more aware of the impact human consumption inflicts on the planet. As a result, sustainability is becoming an increasingly important issue in the payments industry, with many companies taking steps to reduce their environmental impact and promote social responsibility.
The UK was the first major developed economy to pass legislation to achieve net-zero emissions by 2050. According to Mark Carney, the UN Special Envoy on Climate Finance (and former governor of the Bank of England), a sustainable financial system is being created.
Although achieving full sustainability remains a considerable challenge, the payments industry already appears to be striving towards higher levels of sustainability.
From merchants to banks, credit card companies to fintech, many are realising the opportunity to drive change. Ben Knight, head of environmental sustainability at GoCardless, says: "Payment providers have a huge opportunity to play in helping a vast number of customers and consumers take action too."
Oli Cook, CEO and co-founder of digital payment provider ekko, echoed Knight's views, adding: "Leveraging payments with information allows us to empower consumers by giving them a choice, equipping them with sustainable options to drive positive climate outcomes. This offers an incredible opportunity for us to use our skills to make meaningful change."
Empowering consumers
When it comes to sustainable initiatives, those that put the consumer at the forefront to enable them to make conscious purchasing decisions are leading the way.
Klarna recently launched a resell feature that enables consumers to extend the life of their products by making it easy to resell unwanted products through its app and retail partners.
To encourage consumers to shop secondhand and use repair services to extend the life of their products, it has Circular Collections, and to help consumers find more sustainable fashion, it introduced Conscious Collections.
Carbon offsetting
Carbon offsetting enables consumers to compensate for the carbon emissions associated with their transactions. These apps enable people to track their own carbon footprint and make better sustainable financial decisions.
Algbra, the ethical and values focused fintech, enables customers to use built-in carbon tracking and offsetting tools. It enables them to take direct climate action to minimise (or reverse) the carbon footprint caused by their spending from the app. Users can offset their footprint by supporting global projects that contribute to the UN Sustainable Development Goals (SDGs).
Klarna became the first fintech to join The Climate Pledge and Race to Zero. It has a carbon emissions tracker that enables consumers to track their carbon footprint. Users get tips on the actions they can take to extend the life of their purchased products.
Jonathan Tyrell, head of general operations at allpay, believes that the payments industry can "leverage their position as intermediaries between consumers and merchants to drive sustainable purchasing habits and promote environmental awareness".
This can include supporting certain initiatives such as tree-planting programmes or partnering with organisations that promote sustainability.
Mastercard established the Priceless Planet Coalition with more than 100 of their financial, corporate, and merchant partners to support their pledge to plant 100 million trees by 2025.
And companies like Carma enable sellers to turn their "e-comms into tree-comms" by adding an easy-to-use app to their checkout to enable customers to plant trees with their purchases.
"Creating easy-to-integrate solutions has been key to Carma partnering with progressive organisations such as GoCardless, and we are striving to drive the power of climate value further into the payments industry," says Jim Holland, co-founder and CEO of Carma.
Payments providers can also participate in industry coalitions that promote green payments, such as the Green Payments Coalition or the European Payments Initiative (EPI).
Marten Möller, ESG lead at Algbra, says: "Only when green banking is the norm can it have the impact at scale that's needed to address environmental challenges and social issues, too."
Better business
Möller believes that while financial institutions need to prioritise their fiduciary duty to their customers, they also play an essential role in creating a more sustainable society.
"The good news is that these are by no means mutually exclusive; in fact, sustainability is also good for the bottom line," he says.
It is estimated that a US$1 investment in a green economy returns an average of $4 in benefits. Besides cost savings, other business benefits to becoming more sustainable include improved reputation and customer loyalty, as well as reduced regulatory and legal risks.
These benefits are driving companies in the payments industry to adopt more sustainable practices. But, according to Cook from ekko: "We aren't doing enough to drive the changes we need to see. We all have a responsibility to do more as individuals and business leaders in this thriving industry."
Holland adds: "Increasingly, companies are under pressure to tangibly demonstrate ways in which they are positively impacting the environment, unfortunately, this isn't always easy to achieve."
Klarna's head of sustainability, Salah Said, says: "Beyond nudging consumers towards better choices, we aim to be a leader in sustainability, inspiring our retail partners and other tech companies to follow suit. The opportunities are endless, with massive untapped potential."
Fintech is one of the industries pushing forward sustainability and "payments and fintech are one of the most impactful areas in supporting people and businesses to become more sustainable", Cooks explains.
"It evokes the question of how this technology could be used to have a positive impact on our climate and global sustainability."
Fintechs are creating digital solutions to tackle global environmental issues and industry leaders are keen to invest in green initiatives such as renewable energy. In 2022, these investments reached $495 billion globally, according to data from Statista.
Möller believes that promoting "more sustainable consumption will be a key objective for reaching our climate goals".
He says that the payments industry should focus on increasing and facilitating sustainable investments "into sectors like renewable energy and sustainable infrastructure and providing loans to environmentally conscious businesses".
Banks can also support the transition to a low-carbon economy by facilitating green financing and investing, such as issuing green bonds, providing green loans, or enabling carbon trading. Payments providers can also align their strategies and operations with the UN Sustainable Development Goals and the Paris Agreement on climate change.
Embracing new technologies
"Businesses should assess where they can have the most impact and start there. What's important is that companies really tackle sustainability with a default towards action," says Said.
While Cook adds: "Ultimately, all customers, shareholders, employees and stakeholders will be demanding more sustainable outcomes from every brand and company they associate with. It's not a question of whether we should drive change, it's a question of how quickly we can help."
New technology such as biometrics, blockchain, cloud computing, and artificial intelligence (AI), enable faster, cheaper, and more secure payments. But it also helps reduce the environmental impact of payments by optimising data storage, processing, and transmission.
"The payments industry already has more environmentally conscious technology; it's just a matter of making them more well known to businesses and consumers," says Knight.
An example is account-to-account (A2A) payments, which moves money directly from one bank account to another. A report by GoCardless – titled 'Payments, plastics, people and the planet' – found that the eight stages in a typical card transaction use four times more emissions than A2A payments.
"In the UK most, if not all of us, already use a tried and trusted form of this today: direct debit," explains Knight.
"A2A payments will only grow as the volume of open banking payments continues to rise. If more of us replaced our card transactions with A2A payments, we'd help reduce the energy used – and potentially the associated CO2 emissions."
The payments industry can promote digital payments, which have a lower environmental impact compared to traditional payment methods. Digital payments can reduce paper usage, transportation emissions and energy consumption associated with processing physical payments.
Möller believes that there are still many sustainability improvements that can be made to further reduce the environmental impact of cashless payments. He says the industry should encourage cardless payments, "such as by promoting Google and Apple Pay and to source more sustainable cards such as those made from recovered ocean plastics or those that are biodegradable".
Research by GoCardless and YouGov revealed that over half of consumers would be open to switching from their current preferred payment method to another one if it meant they could reduce their environmental impact. And one in six would be willing to give up paying with plastic cards.
No more plastic
Each year, three billion payment cards are produced worldwide, and these are often made from polyvinyl chloride acetate (PVC), a study by Mastercard showed. According to Forbes, the average lifespan of a card is three years.
"Physical cards have an environmental impact from the manufacture and at the end of their life. They are difficult to recycle, so they often end up in landfills," says Knight.
Some banks use biodegradable or recycled materials for their cards, such as wood, metal, or ocean plastic. And recently, Mastercard announced that from 2028, all new cards produced on its network would be made from more sustainable materials. But more needs to be done.
"Card manufacturing and data centres are particularly harmful. That is why it is important to source environmentally friendly cloud computing and to offset any residual impact that is unavoidable," Möller says.
Data centres are a major consumer of energy, and companies within the payments industry need to invest in energy-efficient places to reduce their carbon footprint.
Educating customers
The payments industry needs to educate customers on the environmental benefits of digital payments and encourage them to adopt sustainable practices. This includes promoting e-billing or paperless statements, and offering incentives for customers who choose digital payments over paper-based methods.
One thing is certain: sustainability is complex. It is clear that it cannot be solved by a handful of metrics and a box-ticking approach. Alone, innovations like carbon offsetting apps are powerful. But the real power lies when these are applied alongside other initiatives.
The payments industry has a significant role to play in creating a more sustainable future for finance. By promoting sustainable payment methods, encouraging responsible consumption and production, and adopting environmentally friendly practices, the industry can drive positive change towards a more sustainable and equitable future.