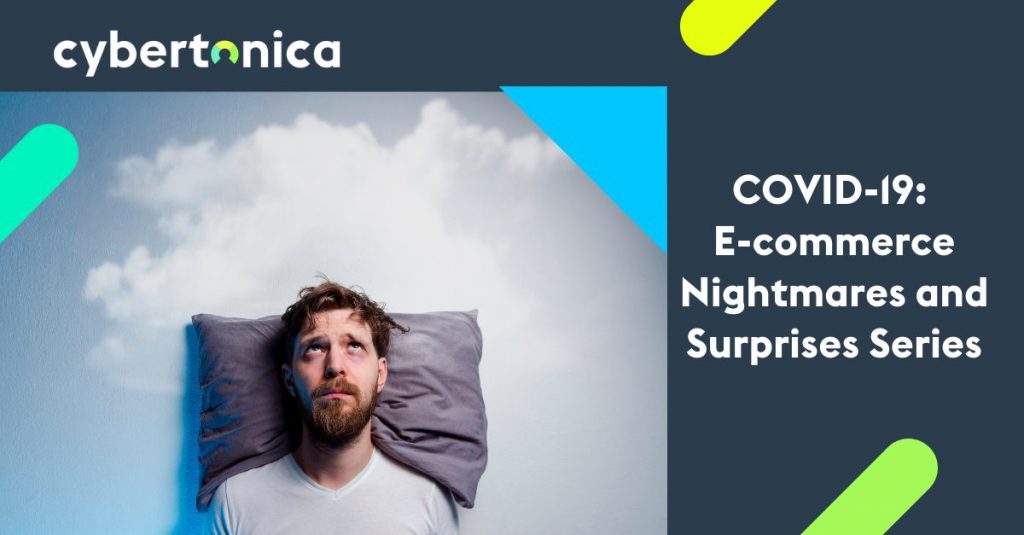 As #emerchants face high market volume and volatility, they will benefit from setting a North Star to focus on customer experience while effectively managing #fraud and #transaction risk.
At Cybertonica, we create solutions on our SaaS/PaaS platform to make trust and frictionless commerce safe and secure for businesses and consumers.
We know that outdated rules and operations can create almost Kafka-like situations. This happens through false positives and inappropriate rule-action that make consumers unhappy and businesses less profitable.
We decided to collect stories from colleagues, friends and people in our network, including our customers and their clients, telling us how their e-commerce experience is going in this period. What we found was that there are both nightmares and nice surprises, but the payment experience is still far from perfect.
Last week's story explored a #WFH employee's experience on purchasing a laptop from a global online platform. However, that became an #ecommercenightmare that should never have happened.
Story No 2: To wait or to ask for a refund? 
This week's e-commerce nightmare is about an employee WFH, who was moving house in the middle of the pandemic and ordered a bed that took over three months to deliver…
He waited for the #lockdown measures to be lowered a bit before placing an order around mid-May hoping to receive the bed in a month as stated on the site.
No payment confirmation was sent to him after he had made the purchase and so he started chasing the merchant as the money for the purchase was taken out of his account. Keep in mind that this is a VERY experienced online and payments data scientist, so he had the tools!
The merchant, overwhelmed by the sudden demand for better mattresses (what were people doing at home???) and the uncertainty around Covid regulations, was not able to provide clarity. But said the order will be delivered within a month's time.
After successive attempts to actually get some sleep, and almost two months of waiting, he reached out to the merchant one last time. This time he got a promise that the bed would arrive "before bedtime on Tuesday" in two weeks, the 1st of August.
Sunset on August 1st, NO BED….. Should he now wait, try and get a refund or file a #chargeback. Sleeping on his air mattress was getting old.
How else to get this merchant to deliver!? A bit of data science and research and voila! He found the email of the company's CEO. After emailing him directly, the company ensured that he could get some rest and the bed was delivered late August along with a 10% discount for the inconvenience. Sweet Dreams!
The Solution 
The uncertainty around not knowing the delivery date of products and increased friction on the customer side can cause a rise in chargebacks that could be potentially damaging for any merchant.
This kind of situation is automatically managed by the GoFrictionless platform at Cybertonica where the integration with standard CRM platforms automates the management of customer communications around delays based on order data. And GoFrictionless can even signal an alert for a refund due or a discount accorded as a matter of customer service protocol.
Our hero's worries would have been months shorter if his online store was using their payment data to drive their customer service!
Expert Advice
Our CCO, Alan Nagle, indulged us on how the above scenario could have been avoided:
"This case is typical of online platforms in the furniture market, as delays often take place. However the merchants don't take the time to communicate delivery time updates which cause chargebacks for the business, extra OPEX costs and a terrible customer experience."
He also added:
Known wait times are much less stressful than unknown, for  example, the Doctor will see you soon creates anxiety, compared to, "the Doctor will see you in thirty minutes".
Chargebacks can cost a business up to three times the amount in revenue of the product sold, especially if they have to cancel a factory order or return and refund product. By limiting exposure early in the customer journey huge savings are possible.
Payment confirmations and automation of refund policies within the risk tool framework keep customers at ease especially when making a purchase from a website for the first time, while reducing fraud risk and chargeback.
Automated delivery times and alerts about missed or rescheduled delivery which are updated periodically and sent to the customer, to reduce anxiety and provide clear understanding.
And then if all else fails, you can of course write to the CEO…..!
Takeaway
As #digital fraud evolves, so does the need to protect the entire customer journey using solutions that utilise #ArtificialIntelligence. Research by PWC shows that "there is a clear link between fraud prevention investments made upfront and reduced cost when a fraud strikes".
Prioritising the data science to link the user token that is making the purchase to other services and feedback from the system builds trust and improves customer experience.
Cybertonica systems help e-commerce merchants and the payment systems that service them avoid these disruptions. With a good client and reduce false positives, making the buyer come back for more, more often. Typically this adds up to 20% to the top line.
Get in touch with our expert fraud prevention and data science team now to find out more about how you can build your business around your customers, minimising risk and cost while increasing sales.
If you've missed our first e-commerce nightmare, you can find it here!