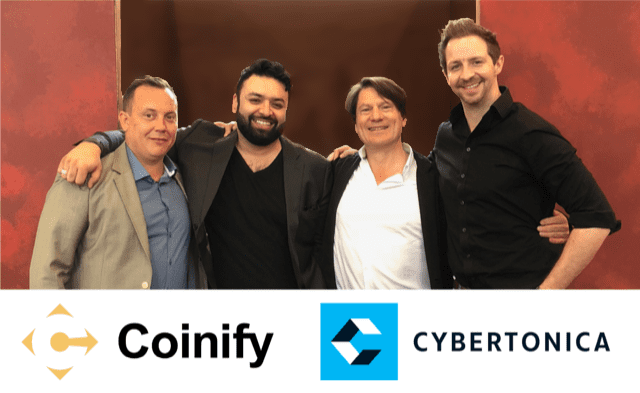 (London and Copenhagen, 08.06.2018) Coinify, an established global virtual currency platform, has signed a long-term agreement with Cybertonica, a fast-growth AI technology offering cross-channel real-time risk and fraud solutions, to implement a new industry standard for fraud management systems in the cryptocurrency world.
Coinify, the leading platform offering virtual currency trading and payment solutions, announced on June 6th at Money20/20 Europe their strategic partnership in anti-fraud and AML management with Cybertonica. Cybertonica's risk intelligence platform prevents fraud through Machine Learning and AI, and will be used by Coinify to improve customer experience through frictionless checkout for the great majority of customers.
Cybertonica covers all channels of payments and monitors transaction systems against intrusion with its unique end-to-end detection logic. This partnership will make cryptocurrency trading and payments safer and more secure for Coinify's users, while preventing chargebacks and regulatory risk.
"The team at Cybertonica are doing impressive work in turning the potential of Artificial Intelligence and Machine Learning into a practical, actionable reality," said Coinify's Chief Risk Officer, Sameer Ismail. "As virtual currencies come into focus with the 5th Anti-Money Laundering Directive, this partnership will help us achieve our goal of being regulatory pioneers in the blockchain payments space. Partnering with Cybertonica allows us further opportunity to be at the cutting edge of risk management."
Cybertonica CEO Joshua Bower-Saul said: "Cybertonica with our CTO Sergey and the team have delivered a GDPR and PSD2 compliant strong authentication product and technology that we are now bringing to the future of money and omni-channel payments. We have no doubt that cryptocurrency, just like other electronic and mobile transaction formats over the last 20 years, will build momentum in the monetary, financial services and payment systems. Coinify and Cybertonica intend to revolutionise the way Coinify assures these services that are vital to the growth of its virtual currency platform. Coinify will become the most secure and optimised environment for the cryptocurrency customer, for trading with full transparency for the regulator. We are proud to work with the whole Coinify team who have led the way in Europe for Bitcoin and Crypto, to deliver this in a way that is going to give their business significant growth and added confidence to expand into new territories."
The integration is already in progress and expected to be completed during the summer.