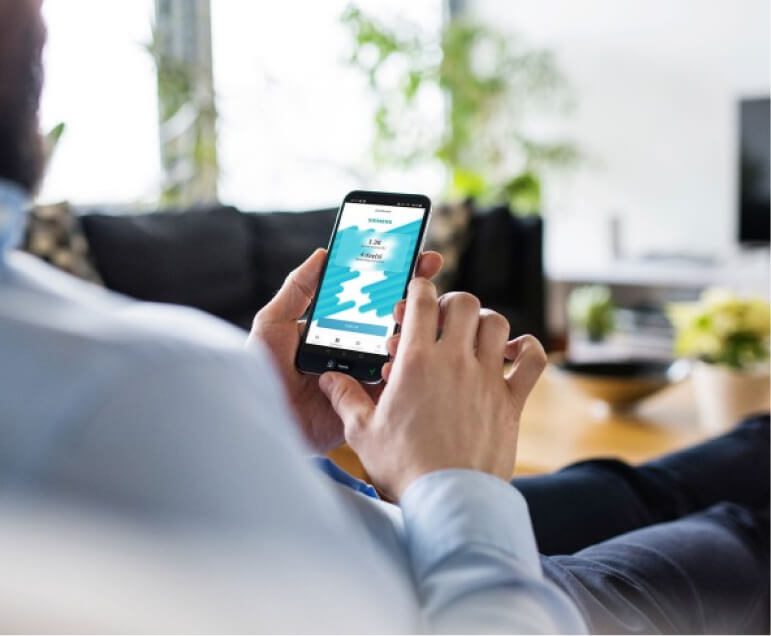 With bad debt risk spiralling for energy providers, and growing economic uncertainty for customers, both groups are seeking a new way to settle their energy bills. To address this challenge, Siemens has taken its pioneering Managed Credit solution, which has already made a big impact within the energy retail industry over the last few years, and combined it with payment technology from global IT and business consulting services firm CGI, and Open Banking innovator Ordo. The solution presents a compelling case for a fourth payment option. Building on existing smart metering technology, Managed Credit delivers prepayment energy without the cost, operating credit energy features without the risk.
Now, combined with Open Banking technology, Managed Credit has the potential to transform an energy supplier's operational cost and credit risk profile, driving cost to serve below direct debit levels without the associated risks.
In a new technical whitepaper from Siemens, their dedicated Smart Infrastructure team makes the case for more widespread use of Managed Credit among energy retailers, serving as a fourth payment option with lower operational costs than direct debit customers and all the risk-free benefits of prepayment.
It has been a tough year for energy suppliers, with the uncertain economic climate having driven up bad debt provision for many operators by as much as a reported 74%. These additional costs were reflected in recent rises in regulatory default tariff caps, where 12% of the recent Ofgem (energy regulator) Standard Credit cap rise from 1 April was due to bad debt servicing costs and payment uplifts. At the same time, fierce competition – illustrated by market prices of up to 18% below cap for direct debit, and 21% below for credit – means suppliers are fighting to retain and grow their customer base, through lower tariffs. This is likely to further intensify once next-day switching is introduced.
Traditionally, prepayment has been the only option for energy suppliers looking to manage bad debt. While the solution addresses the risk of bad debt, suppliers must shoulder significant transaction and commission fees for meter top ups as well as cover costs for increased customer service support due to self-disconnection and seasonal build-up of standing charge debt on gas meters. Prepayment is also often seen as a last resort and is typically less appealing for domestic and microbusiness customers alike.
The missing part for energy suppliers is how to access prepayment's risk reduction benefits, but dramatically lower the cost to serve, while vastly improving the user experience for their customers.
Research from Smart Energy GB found that if smart prepayment offers could be attractively packaged and provide a better user experience, 48% of GB households would be interested in them.
The alternative payment options are becoming even less appealing for suppliers. In the current climate, standard credit arrangements are high risk and possess a low benefit for suppliers with customer bills left unpaid. The long-favoured direct debit tariff is also changing. Ofgem is now planning to moderate direct debit monthly charges, reducing supplier access to low cost working capital, which will make that option – long favoured by suppliers – less attractive. Similarly, after a series of investigations, Ofgem may clamp down on higher microbusiness customer deposits, designed to cover growing credit risk, leaving suppliers searching for an alternative payment option.
Managed credit – total control for both customers and suppliers
For several years now, Siemens has empowered a major challenger brand with a breakthrough system that offers the risk-free benefits of prepayment without the high cost to serve, and the user-friendly features of credit arrangements. Managed Credit leverages existing smart metering infrastructure to deliver an innovative Central Wallet on a smartphone app or website. As an alternative to traditional smart prepayment options for customers who do not want additional hardware in their home, it digitalises the In-Home Display (IHD) or Prepayment Meter Interface Device (PPMID), whilst the Central Wallet functionality halves payment transaction costs and significantly reduces demands on customer services.
Head of Managed Credit at Siemens, Nick Jones said "Our Managed Credit technology has been used successfully over the last 7 years to help a prominent challenger brand to grow a significant new sub-brand.  Our research shows that Managed Credit has a lower cost to serve than traditional smart prepayment, but with our recent open banking partnership, we believe that Managed Credit can be a cheaper option than Direct Debit. Packaged correctly, Managed Credit can deliver the risk profile that energy suppliers need alongside a significantly lower cost profile."
In addition to existing links to traditional cash and online payment channels, Managed Credit can now be combined with payment technology from CGI and Open Banking provider Ordo. Open banking uses a consent-based approach to financial data allowing parties to make payments to each other without the traditional costs. Critically for an energy supplier managing huge values of payment transactions each year, this removes the standard 1% commission fee.  This is significant when one considers that prepayment energy customers alone carry out approximately £4 billion worth of transactions each year.
Jones continued, "we are really excited that Managed Credit now utilises technology from CGI and Ordo. Managed Credit is not only used in the UK, but all around the world on smart metering programmes.  We are confident that our low cost, low risk technology can create further breakthroughs for challenger energy brands and large legacy suppliers alike. In addition to domestic customers, we feel that microbusiness customers could benefit from this new technology, with user-friendly features like auto top ups and budgeting tools that avoid the risk of disconnection and address cash flow concerns, all still benefitting from low transaction costs for the supplier thanks to Ordo's Open Banking solution."
Craig Tillotson, CEO of Ordo, said: "Our research shows that businesses need alternatives to direct debit if they are going to serve all their customers at this difficult time. Ordo helps them give customers more control, without losing financial control themselves. Our Open Banking enabled services provide a lower cost, safer and more efficient alternative to card and paper bill processing. Now, with Siemens and CGI, even more partners and end customers can benefit from Ordo's solutions."
Phil Skinner, CGI UK Director Open Banking Payments commented: At CGI, many of our clients, especially those issuing large volumes of bills, are looking for better ways to serve their customers, so are considering Request to Pay platforms like Ordo. Ordo provides a cost effective, secure and customer-friendly way of taking payments, particularly when Direct Debit is not appropriate or when payment cards prove expensive and inconvenient for customers due to authentication requirements."
Siemens has produced a technical white paper entitled Managed Credit: The Fourth Payment Option. Using industry data from OFGEM and others it presents a robust case for the innovative use of two pioneering technologies that can deliver compelling prepayment energy without the costs, leveraging the user-friendly features of credit energy without associated risk.