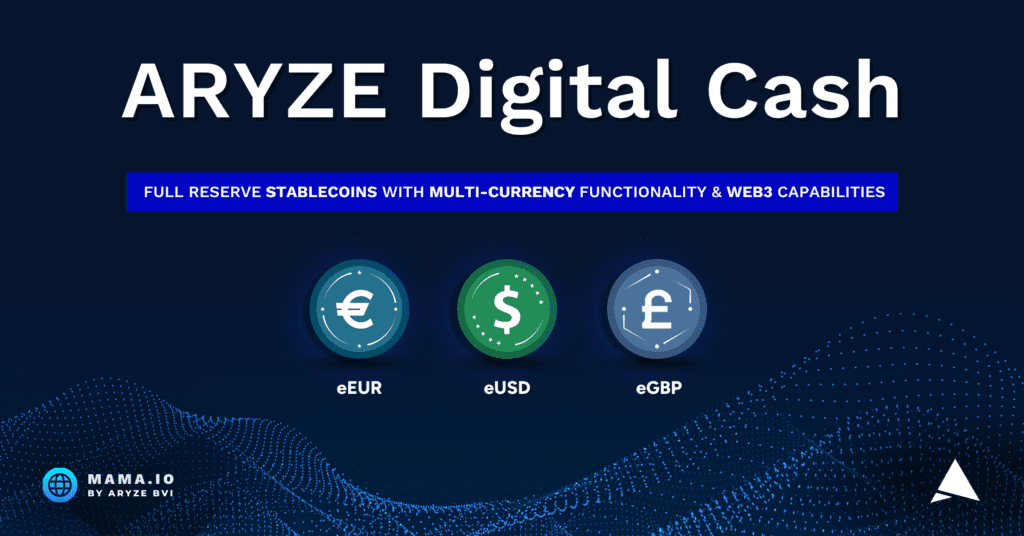 ARYZE, the leading Web3 financial technology company, announced the launch of reForge, a function built-in to the Digital Cash suite of stablecoins. reForge supports seamless multi-currency conversions, making it easier than ever to transfer and exchange between different variants of Digital Cash, such as eUSD, eEUR, and eGBP.
"Exchanging between traditional euro and dollar backed stablecoins can be a complex and costly process for businesses and consumers alike. With ARYZE's reForge tool, we've eliminated these pain points by enabling direct on-chain conversions between all variants of Digital Cash—specifically eUSD, eGBP, and eEUR. We've already demonstrated its effectiveness by instantly converting eEUR into eUSD and eGBP, for liquidity to our newly launched Web3 platform MAMA," states Jack Nikogosian, CEO and Co-founder of ARYZE ApS.
ARYZE reForge isn't just a better way for currency conversion; it's a blueprint for how digital forex should be—simple, transparent, and immediate. Building on this vision through a strategic partnership with Chainlink, reForge is further enhanced by the integration of Chainlink's Market Feeds integrate with reForge to provide real-time FX rates, ensuring transactions occur at accurate market value.
"Our focus has always been on making Digital Cash practical for both businesses and consumers," adds Jodi Usama Husain, CTO at ARYZE ApS. "With reForge, we are removing the complexities and fees that have frustrated stablecoin holders for years."
The issuing firm behind Digital Cash, ARYZE BVI, has also recently announced the launch of MAMA, its dedicated Web3 platform for Digital Cash trading. "MAMA acts as a venue for reForge's multi-currency capabilities," says Husain. "It's where Digital Cash, as well as other popular stablecoins, can be traded with ease."
MAMA is not just another Web3 platform; it is a specialized DEX for multi-currency stablecoins, designed to keep liquidity pools well-balanced and aligned with accurate FX values, providing an interoperable and familiar trading environment.
Looking ahead, ARYZE has plans to further diversify its liquidity offerings. Beyond MAMA, Digital Cash will soon be available on leading decentralized exchanges like Uniswap, PancakeSwap, and Curve, as well as several centralized exchanges around the world. Furthermore, the infrastructure behind reForge enables ARYZE to swiftly introduce additional supported currencies for Digital Cash, which will be added gradually.
"With reForge and MAMA, we are moving closer to our vision of democratized finance, offering a future where financial services are not bound by the traditional bottlenecks of currency exchange," concludes Nikogosian.
ARYZE continues to be at the forefront of merging decentralized and centralized finance, constantly innovating to meet the real-world needs of its growing user base.
__________
About ARYZE ApS
ARYZE ApS is a Copenhagen headquartered financial technology business dedicated to resolving the most significant challenges facing the global financial system. Since inception in 2017, ARYZE has operated at the intersection of traditional and decentralized finance, leveraging innovative methods and emerging blockchain based technologies to promote better financial connectivity. ARYZE's primary objective is to promote global financial inclusion by enabling the two billion unbanked individuals worldwide to access financial services. ARYZE accomplishes this goal together with its strategic partners by offering a suite of proprietary blockchain-based products and services, including Digital Cash stablecoins, cross-chain protocol reForge, and decentralized exchange MAMA.
ARYZE Digital Cash is a suite of stablecoins that provides a compelling, trustworthy, secure, and flexible alternative to traditional fiat currency, bank accounts and cryptocurrencies. ARYZE Digital Cash are distinguished as "full-reserve stablecoins" meaning that each and every token is backed 1:1 by ultra secure and investment grade government assets, ensuring high liquidity and freedom from leverage or other financial risks. ReForge is a cross-chain protocol built into Digital Cash that enables the transfer of stablecoins between different blockchains, and conversion between different variants of Digital Cash. MAMA is ARYZE's very own decentralized finance (DeFi) Web3 platform for Digital Cash where users can trade, pool, and earn rewards safely and easily.
ARYZE partners with leading digital asset exchanges, financial institutions and marketplaces deploying its capabilities to help connect consumers and businesses with new kinds of financial services and the world of digital assets. Paving the way for innovative financial solutions, ARYZE has achieved significant milestones and recognitions, such as: "Best ESG / SDG Token" (Tads Awards, 2021), "Forbes 30 Under 30 – Europe" (Forbes Finance List, 2020), "Most Innovative Financial Ecosystem Developer" (Corporate Vision Magazine, 2020), "Top 10 Promising Fintech" (Fintech50, 2019), "People's Choice Award" (SDG Tech Awards, 2019), "Top 50 Nordic Impact Company" (The One Initiative, 2019), and "Best New Fintech Startup" (Copenhagen Fintech Lab,2018).
About ARYZE BVI
ARYZE BVI, a wholly-owned subsidiary of ARYZE ApS, is incorporated in the British Virgin Islands and specializes in the issuance of stablecoins including ARYZE Digital Cash. By leveraging the innovative technology and expertise of ARYZE ApS under a fully regulated fund management agreement, ARYZE BVI provides secure and dependable digital asset management solutions. A service provider agreement delineates the relationship between ARYZE ApS and ARYZE BVI, promoting a robust digital assets ecosystem which securely meets the evolving demands of Web3 finance. ARYZE BVI is registered with the BVI Business authorities (Company Number: 2104176) and complies with the BVI Business Companies Act, 2004.
ARYZE BVI operates with its own management team, board of directors and corporate governance framework, enhancing the subsidiary's complete independence and capacity to make strategic decisions in line with its own mission and goals.