The Payments Association Crypto 101 – Virtual Training Course September 2022
September 27, 2022 @ 10:00 am

-

September 28, 2022 @ 3:30 pm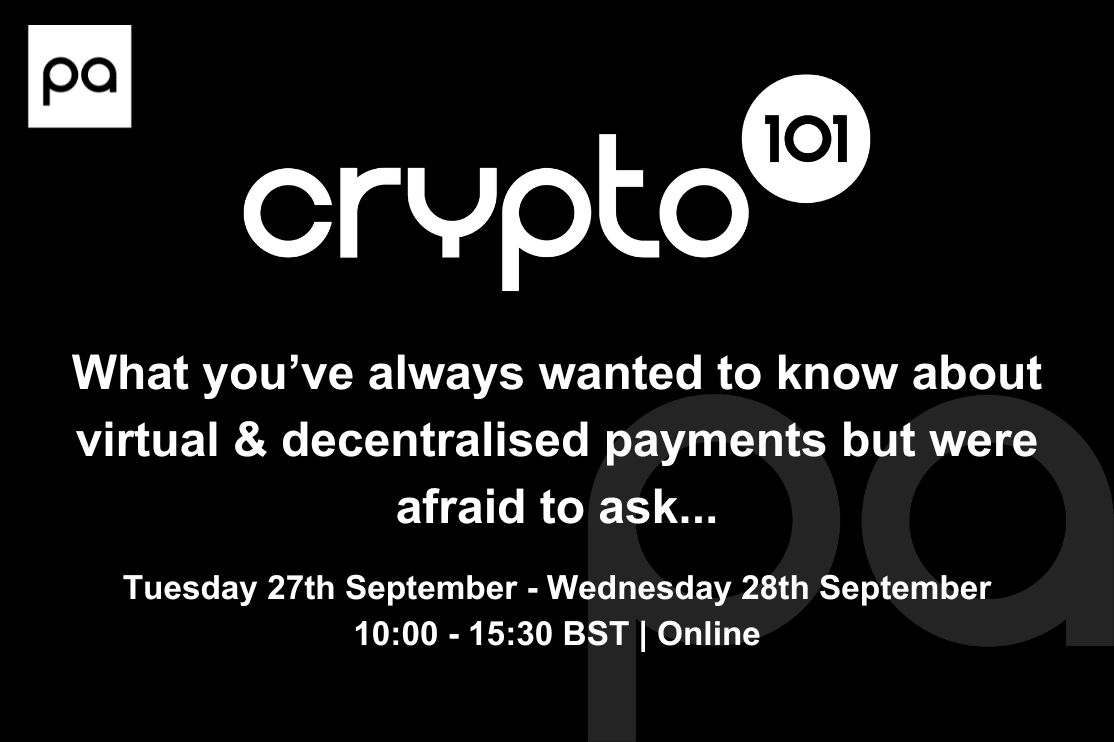 What you've always wanted to know about virtual & decentralised payments but were afraid to ask…
This broad and comprehensive overview of the fundamentals of virtual, crypto and decentralised payments gives an in-depth snapshot of this particular aspect of the payments industry for a better understanding of how it all fits together. The course combines presenter-led sessions, thought-provoking videos and quizzes. Drawing on real life examples, it weaves together the underpinning principles, key stakeholders and regulations. with practical applications for all three. It will bring an understanding of the key issues and opportunities, with practical advice to take back.
Course Content
START –  Registration and Introduction
PART 1 – INTRODUCTION: CENTRALISED vs DECENTRALISED
PART 2 – BLOCKCHAIN FUNDAMENTALS
PART 3 – DIGITAL/ VIRTUAL ASSETS
PART 4 – TRANSACTING IN A DECENTRALISED PAYMENTS ECOSYSTEM
PART 5 – RISKS – AN OVERVIEW
PART 6 – REGULATIONS
PART 7 – MARKET OUTLOOK
CLOSE – Final considerations
(Note: for the virtual courses, regular breaks are scheduled for mid-morning, lunch, as well as a number of frequent smaller breaks throughout)
Speaker: Neira Jones, FBCS, MsC
Neira advises organisations of all sizes on payments, fintech, regtech, cybercrime, information security, regulations (e.g. PSD2, GDPR, AML) and digital innovation. More than 20 years in financial services and technology made her believe in change through innovation & partnerships. She always strives to demystify the hype surrounding current issues and also enjoys her work as an expert witness. She likes engaging on social media and regularly addresses global audiences as a keynote speaker or chair person.
Tickets
This is a member-only event.
Login to your member account
You may be entitled to complimentary passes or discounts, and access to exclusive content as part of your corporate membership. Sign in using your work email address to continue:
Set up your member account
Logging into your member account means you can:
* Availability depends on membership level that has been applied to your Corporate account. Terms and Conditions apply.