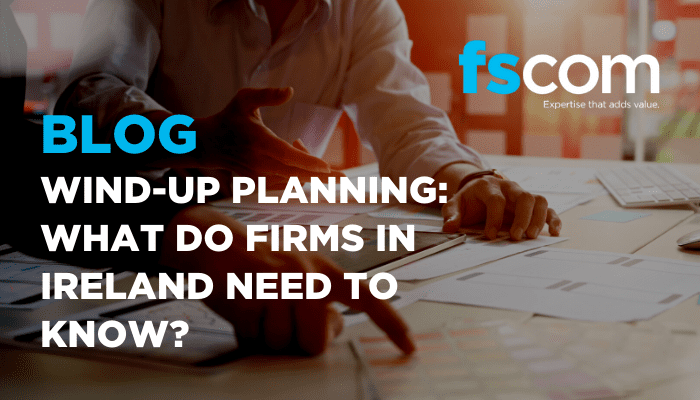 Wind-up planning – or wind-down planning as it is confusingly also known! – is becoming increasingly important for payment and e-money institutions in Ireland. The Central Bank of Ireland put it squarely on firms' agendas by bringing in new requirements as part of the Dear CEO letter sent to firms in December 2021.
In this blog, we look at the 'what, why, when, where and how of a wind-up strategy. We dive deeper into the regulator's expectations for an exit strategy and offer practical advice for firms on how to improve their plans.
What is wind-up planning?
A wind-up plan refers to the Central Bank of Ireland's expectation that, if firms get into financial difficulty, they will have planned for an orderly insolvency process which is not to the detriment of their customers. An appropriate exit or wind-up strategy should be embedded within the business model and operational strategy, allowing customer funds to be returned as soon as is reasonably practicable.
This expectation was introduced in the Dear CEO letter to payment and e-money firms last year. While most topics in the letter were familiar to firms, this area was relatively new.
Why is it important?
An effective wind-up strategy is important for companies because it demonstrates their commitment to customers that they should not end up out of pocket if the firm fails.
The Central Bank also sees it as increasingly important. Its reasons include:
Protecting customers, because damaging economic effects of the COVID-19 pandemic have raised the financial risks facing businesses.
Protecting the financial markets and the wider economy. The Central Bank wants to ensure that, if a firm ceases its regulated activities, it achieves cancellation of its permission with minimal adverse impact on its clients, counter-parties or the wider markets.
The success of the Payment and E-Money sector. As the Dear CEO letter put it: "This sector has grown substantively over the last number of years. Payments and E-money firms play an increasingly important role in the financial system and in the lives of consumers."
Where should wind-up planning happen?
Wind-up planning should involve many stakeholders across a company, but the Central Bank expects that the most senior members of the company – including the Board – should review and agree the strategy.
As to where guidance on wind-up planning can be found, the Dear CEO letter is the best source of information. Prior to the letter, there was no formal regulatory requirement or guidance on wind-up planning for payment and e-money institutions, but the letter makes clear that firms that are regulated or seeking authorisation are now being required to submit these plans. This follows the move of authorisation and supervision responsibility to the Credit Institutions Supervision Directorate in 2021.
When should a wind-up strategy be agreed?
The Central Bank expects authorised payment and e-money institutions to have a wind-up strategy and firms may be asked to submit their plan by their supervisor. All new applicants will also have to submit a wind-up plan. Plans should be reviewed at least annually.
How should firms improve their wind-up planning?
A critical point to note is the Central Bank's expectation that payment and e-money institutions link their wind-up strategy to their business and operational model. It cannot be done in isolation from the company's wider strategy.
Firms can improve their preparedness for failure with three steps:
1) Identify the relevant wind-up scenarios, indicators and thresholds; relevant contractual agreements; and the stakeholders involved in winding up the company.
2) Stress test their business model and financial forecasting.
3) Plan out the key steps and individuals involved in winding down the business, and compile a communication matrix for the process with allocated actions and action holders. Document this plan with an executive summary.
This approach will help you to assess if you would have adequate resources (that's capital, liquidity, knowledge and manpower) to wind up in an orderly fashion, especially under challenging circumstances. Our advice, based on our experience working with UK firms on their wind-down planning, is to leave time for this process: it always takes longer than you think.
At fscom, we work with clients and offer workshops to help you to develop a proportionate and effective wind-up strategy. This includes sharing:
Best practice templates made bespoke to you.
Previous experience of robust wind-up strategy.
Our team's knowledge and expertise.
Interactive, engaging workshops.
A slide pack of a wind-down plan for presentation to Board and the Central Bank of Ireland.
If you are looking for assistance to develop a robust wind-up strategy to ensure you are prepared for the worst-case scenario, talk to us today.