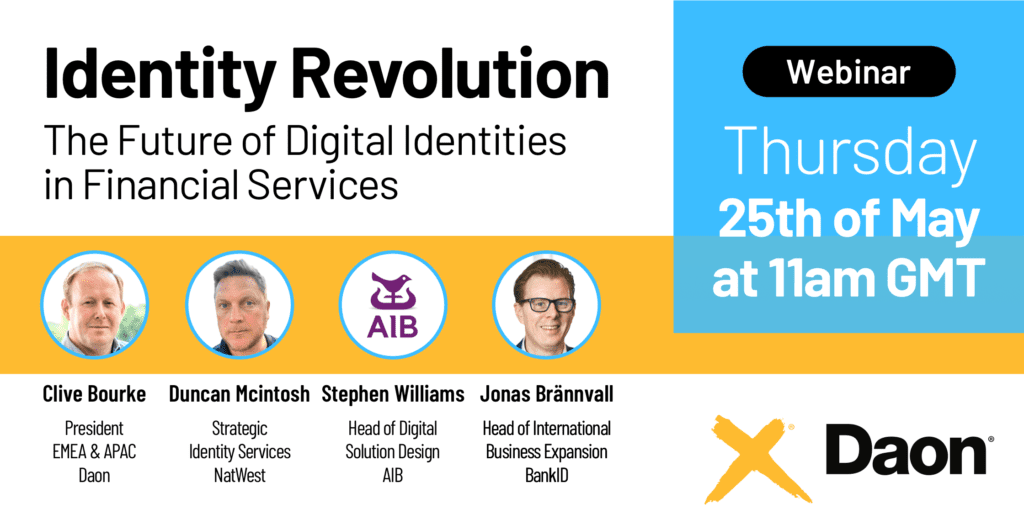 Join Daon and our guest speakers from AIB, BankID and NatWest in our thought leadership session to discuss how financial institutions in the UK and Europe are getting ready to leverage their digital identity programs to enhance their customer experience, improve security, and comply with regulatory requirements.
Digital Identity is becoming a necessity in different countries around the world, each one with its own processes and regulations. According to the digital watch observatory: "It is estimated that governments will have issued about 5 billion digital IDs globally by 2024".
Apart from the practicalities for end users to access public sector services, the financial services industry is the one which can benefit immediately from using digital identities to help prevent fraud and money laundering, just to mention some.
In this 45 mins webinar session, we'll discuss in a panel format how FSI in the UK and Europe are facing the changes digital identities will bring to its customers, how it impacts customers in their everyday banking, and how financial institutions can leverage the digital identities. We will discuss biometric authentication, multi-factor authentication, digital onboarding, enhanced identity verification, third-party partnerships, and regulatory compliance.
Some topics we'll cover:
• What role do financial institutions play in the digital identity space?
• The impact of digital identity on AML and KYC processes?
• How financial institutions are leveraging digital identities in the UK and EU?
Speakers:
• Duncan Mcintosh – Strategic identity services, NatWest
• Stephen Williams – Head of digital solution design, AIB
• Jonas Brännvall – Head of international business expansion, BankID
• Clive Bourke – President EMEA & APAC, Daon (Moderator)